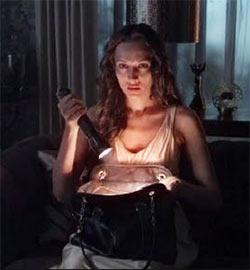 There is more to this inventive Pizza than meets the eye, says Nishi Tiwari

The horror genre in Hindi films has had quite the patchy past.
So when I first heard that the rights of Pizza -- one of 2012's biggest surprise hits in Tamil cinema -- were sold for a whopping amount to make a Hindi remake, I wasn't exactly stoked.
Strong word of mouth and generous recommendations from critics suggested that the Tamil original was a breakthrough of sorts, not only in terms of storytelling, but also because it turned out to be a commercial success, a rare feat for cinematic spook-fests.
The Hindi remake starring Akshay Oberoi and former Miss India Parvathy Ommanakuttan, has been directed by debutant Akshay Akkineni and, save for a negligible number of changes, sticks to the original plot.
Kunal, a pizza delivery boy, leads a routine life with his aspiring writer wife Nikita, who is working on her first novel -- a horror story – and the young couple has many a passionate conversation regarding their respective stands on all things supernatural.
Kunal is steadfast in his belief that such things don't exist, until one day, as prophecised by his wife, he encounters the beings from beyond while delivering pizza.
The film pretty much centres on the mysterious goings-on in the house where the fateful pizza is to be delivered and to put it mildly, it is scarier than you'd expected in there.
Relying heavily on atmospheric devices -- Kunal and Nikita's house, although spacious and well-lit, is teeming with film posters, DVDs and books on the horror genre, rendering the whole setting very ominous, deft camera work and background score incorporated wisely -- the scary bits in Pizza are like a recurring nightmare that occurs when we're least expecting it.
There is a fair bit of laughs too (quite a tricky facet to incorporate in films of this genre), thanks to the presence of such acting gems like Rajesh Sharma (who was a hoot in Ghanchakkar) as Kunal's superstitious boss, and his two bumbling colleagues -- D Santosh and Hussain Dalal.
Speaking of performances, first timers Akshay Oberoi and Parvathy Ommanakuttan do a fair job as Kunal and Nikita -- there's no overacting, as is wont to occur in the case of debutantes keen to prove that they can act.
But the most striking feature of Pizza, or its star topping, if you will, is the thriller it shapes up as towards the end.
It's all the more exciting considering the fledgling pace at which the film initially kicks off, taking its own sweet time to arrive to the point.
Speaking of which, this one's shot in 3D, which is less intrusive than it normally is. That said, the film would have worked just as well without it.
Also, horror film buffs may spot some similarities (or inspired scenes, since this is such a well-written film) with The Exorcist, The Shining and The Conjuring, which become sort of inconsequential when the story picks up pace.
If you're a fan of the genre and have lamented the sorry state Hindi horror films have been in, give this one a chance.
It's a spook-fest that might just instill hope for better things to come.

Rediff Rating: