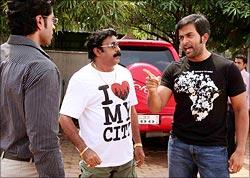 Paresh C Palicha reviews Malayalam film City Of God. Post YOUR reviews here!

It seems to be the phase of complicated narratives in the Malayalam film industry.
The unprecedented success of Traffic early this year started the trend and now, filmmakers will not stop until they milk the idea dry. The story -- being told in multiple perspectives with multiple plots running parallel -- heads for thematic as well as literal collision in the climax.
The latest addition to explore this idea is City of God, directed by Lijo Jose Pellissery (the director who made a promising debut with last year's Nayakan, starring Indrajith) and written by Babu Janardhanan. Still, it is to the credit of the writer-director team to make a story full of grey characters with unpredictable temperaments that it slowly works on us.

The story consists of characters found on the fringes of society. They may be an essential part of any growing city like Kochi yet they never disturb the equanimity that the upper strata live in.
There is Jyothilal (Prithviraj), who is a criminal working for a rich real estate businessman Sony Vadayattil (Rajeev Pillai). He does the dirty work for his boss. He is a kind of soul-keeper for drug abusing Sony.
At the other end of the spectrum is Swarnavel (Indrajith), a Tamilian who works on a construction site. He is smitten by the much married Marathakam (Paravathi Menon) staying in the same migrants' colony, working at the same place with him.
Swarnavel compares Kochi to what the Gulf or USA is for a Keralite. The third party in the narrative is Suryaprabha (Rima Kallingal), a starlet who had made compromises to reach a position of respect in her profession yet she cannot chase away her past.
Then there is Viji Punnoose (Swetha Memon), who has a score to settle with Sony and Jyothilal. She does not mind using her sexuality to accomplish her mission. She seduces a young man to be her partner-in-crime.

The narrative keeps moving back and forth, with scenes being repeated from various angles denoting the point of view of the characters or telling the back story of the main players. The pace is meditative and taxing for the lay viewer, who has been spoon-fed with every development in the plot being underscored by dialogues or background music. But here the viewer is required to invest his intellect and undivided attention to grasp the proceedings.
Added to this the conventional technique is done away with. When we expect a high octane action at the end of a scene, our hero just gets up and walks away, defusing the situation.

Almost three-fourth of this film is shot in Tamil with the colony of migrant labourers as the backdrop. We can easily see the influence of maverick director Mysskin in capturing the raw and loud emotions is concerned.

Indrajith hogs the limelight as Swarnavel. He seems to be the loudmouthed emotional guy with a mirth-spreading personality. Prithviraj as Jyothilal is a brooding kind of a man who tends to weigh his words before they fall out of his mouth, which suits him very well. Rajeev Pillai holds his turf very well in the ensemble cast.

All three female leads Rima, Swetha and Paravathi have roles that are equally as far as progression of the plot is concerned. Rima as the heroine who can hide her despair and the signs of physical abuse beneath the dab of mascara is perfectly cast. Swetha as the sweet-talking but shrewd businesswoman does charm. Paravathi is a dynamo in a role that requires her to go overboard.

Overall, City of God is a good watch when compared to the senseless stuff we have endured in this holiday season.

Rediff Rating: