'It's also a movie-crazed kid's idea of a great time,' discovers Sreehari Nair.
In this season of heart-warmers and socially-conscious fares, Rajesh Krishnan's Lootcase manages to be that rare thing: A motion picture of no great significance, made by someone with a bubbling sort of film sense.
One scene in the movie has Kunal Kemmu's Nandan Kumar, in a dingy room, doing a mock tango with a cash-filled suitcase he has chanced upon, and as he ends his number by looking upwards in glee, Director Krishnan cuts to a shot of the gangster who has lost possession of the suitcase, standing on the upper verandah of his mansion, eating a banana, while peering dejectedly at the ground below.
The two frames are spliced together in a manner that suggests the gangster is looking at Nandan with helpless rage, and we, the audience, may feel caught up, for that moment at least, in the dance of fate.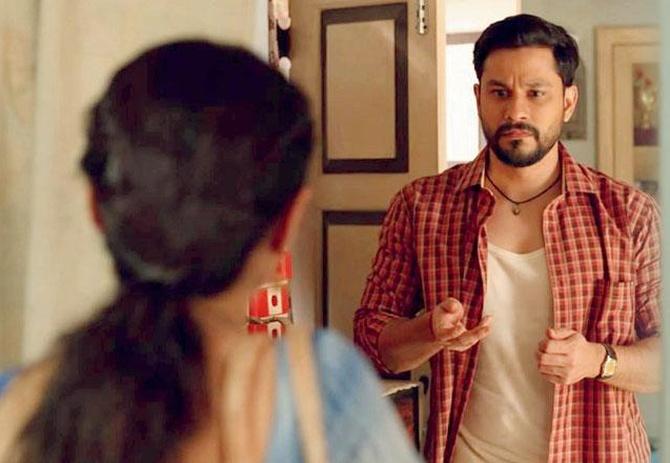 In another instance, sequences of Nandan engaged in domestic hara-kiri are intercut with sequences from his office annual day program captured in all its tastelessness.
This peculiar, baroque style -- which allows for the energy of one scene to flow freely into a seemingly unrelated scene -- is a minor revolt.
Film analysis, in this age of home viewing, has become committed to the idea of 'repeatedly pausing a movie, and dissecting it image by image'. And Lootcase, in its modest little way, has put the sting back into the idea that cinema is meant to be consumed as a 'rhythmic flow of images'.
The free-flowing style of the movie makes sense on a thematic level too: It suggests how a chance crime becomes the plane where people of different social classes are equalized and joined.
Nandan has pocketed his suitcase of big cash but he also finds himself entangled now in a nexus of gangsters, politicians, and policemen. It's the coming true, at once, of the common man's ultimate fantasy and the common man's ultimate nightmare!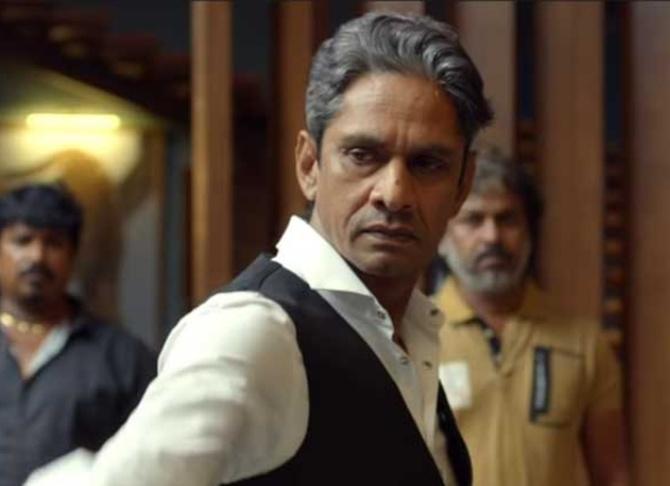 The aforesaid theme may have inspired scores of dimly-lit noirs, but Lootcase's tone is steadfastly comic. And it's more than just the lines -- the film is drenched in lurid colors, with characters living in makeshift homes, and has not one moment of piety; as a matter of fact, it's as if the devil had custom-ordered it.
What sustains the devilishly comic tone of the film, I think, is its rather surprising temperance -- there's no attempt at putting, every contradiction and every irony, within quotation marks (which was the most infuriating aspect of a movie like Super Deluxe).
And so, when Rasika Dugal's Lata admonishes her husband Nandan for carelessly throwing around 150 rupees, we may be tickled by how out-of-touch her reaction is to the reality: poor Lata has not the slightest inkling that Nandan has been stuffing their little house with money to the tune of 10 crores.
We may be tickled, but all Director Rajesh Krishnan is interested in, is capturing the everyday craziness of the moment (her frayed nerve, his sluggish response).
And throughout the movie, we may find ourselves so swept away by the river of craziness that Krishnan and his co-writer (Kapil Sawant) set forth that the big arc of the story may come to us only in retrospect: how it's about an Average Joe, who, acting on his impulses, brings a giant (Gajraj Rao as MLA Patil) to his knees.
And it may take yet another bout of afterthought before we deduce that the whole drama rests on the strange event of a gangster passing to eternity with his foot squarely on a car's accelerator.
There's something instantly charming about a film that doesn't wallow in its own cleverness, that's blessed with the let's-get-on-with-it attitude, and Lootcase is one such film. It reserves its highest respect for the kind of irony that we experience fleetingly; and such notes, it plays with a light hand.
If this film had a riper sense of sin, or if it had a stronger nose for rot, if its violence had a thicker texture, then we could have, perhaps, hailed the arrival on the scene, of the Next Sriram Raghavan.
But Rajesh Krishnan is someone who has received all his ideas about evil, and about corruption, from movies, television shows, and crime news.
He has the depth of an advertising whiz-kid, and the dark elements in his story are nothing more than a middle-class Mumbai boy's reveries of the underbelly.
It's hard to tell if Krishnan sees the world in anything more than movie terms, but he has true film-making energy, and this combination of shallowness and flash (and more good movie directors have come out of this tradition than any other) becomes evident in the way he uses his actors.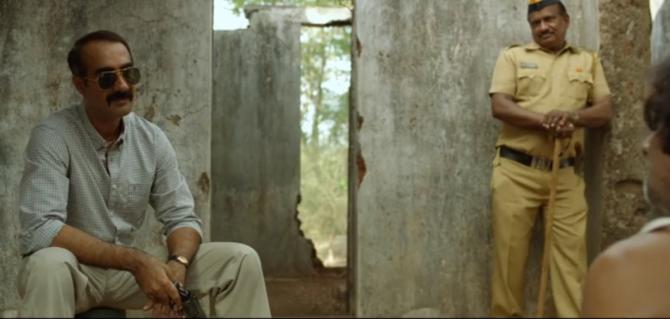 First off, I wouldn't go so far as to call Lootcase 'a wonderfully-acted film' because Krishnan doesn't help his actors bring out themselves (as it is, the term 'immersive performance' is a cookie-cutter cliche. An ideal performance in cinema is one where an actor, simultaneously almost, looks into himself, taps into a constant thread of the character he's playing, and, if he's intuitive enough, uses the public image he projects).
Krishnan's real talent is not for letting his actors free, but for aligning them to same longitude of artifice and quirkiness. And, in this film, it's plain that that the little traits of his characters were worked out first, and the characters themselves came later.
So Gajraj Rao plays a sadist, endowed with the softest touch. MLA Patil is a man who knows the common perceptions that people have of politicians (that they're ruthless and self-serving) and he uses these perceptions smoothly, strategically, without putting them into action. He's like a magician who performs difficult feats, and who then turns to the crowd and says: 'Look...No Hands'.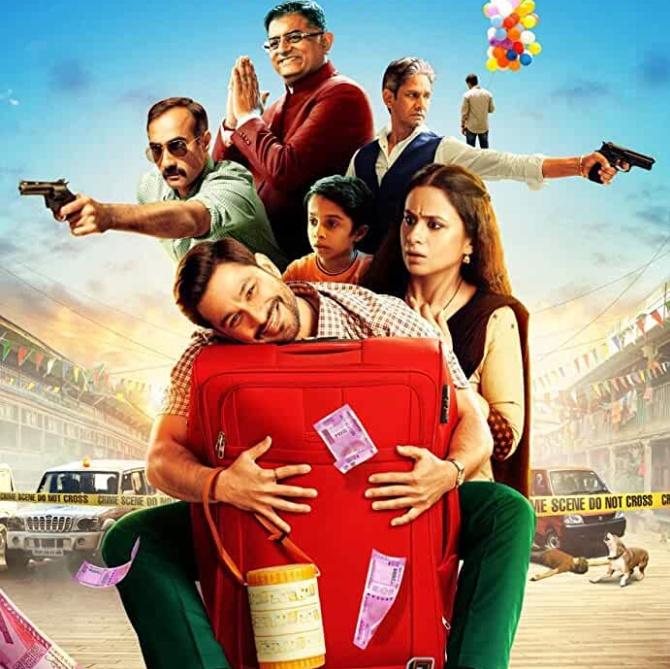 Vijay Raaz's NatGeo-loving Don feels like a movie idea that was waiting to happen. He's drawn not from life, but from that oddity pool from which most caper characters are drawn.
Also drawn from this pool is top cop Madhav Kolte (Ranvir Shorey: improvising in character) who gets defined in our head by the permanent scowl on his face, and which scowl changes to worry every time someone mentions the place 'Bhoomarbavdi'.
It's as if, these characters did not exist before the movie, and so, we feel a great sense of justice when every single one of them is bumped off just before the screen turns black.
You can almost imagine Krishnan and Kapil Sawant saying to their merry bunch: 'You see, we are your sole creators and, therefore, retain the exclusive right to destroy you as we please.'
Among the major characters who are allowed to live, Kunal Kemmu's Nandan Kumar and Rasika Dugal's Lata seem to have been granted lifelines because they are too commonplace and too everyday to cause any real trouble.
Kemmu, in 99, had shown us that he had it in him to be our very own suburban hustler. Now, owing to a series of personal and professional events in his life, the actor appears to have lost touch with those base juices. But he still has a sense of humour about himself (in a passing scene, he makes fun of his shirt, and he has your complete attention there) that makes you root for him even when his timing slips.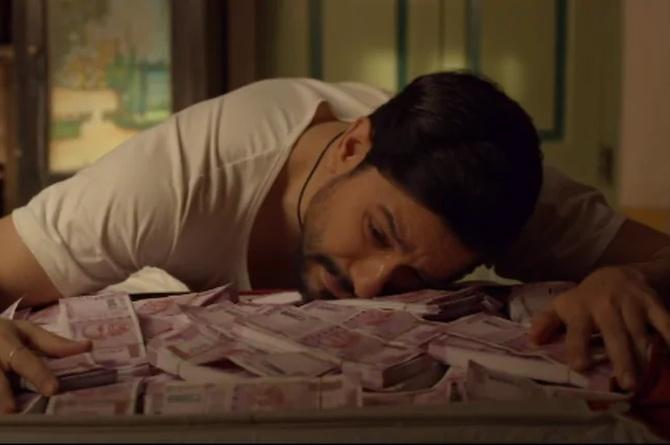 Rasika Dugal's physical vitality is the key to her performances. Here, she looks a little 'pruny' and that, I thought, was distracting.
But she's still a formidable presence and Dugal's emotional intelligence as an actor keeps you invested in her Lata (who dominates her husband by the inflections in her voice).
Nandan and Lata lack epic proportions and when their back-and-forth starts to feel repetitive and the caper elements become defused, Rajesh Krishnan and Kapil Sawant allow the story to be told through digressions, and by giving the minor characters just enough lift.
And so, we meet a rickshaw driver whose displays of vulnerability land like punchlines, and who flinches with his one eye shut every time his faux-sincerity is called out.
There's the slack-jawed, slow-moving chawl bumpkin who looks as if he has walked straight out of a Laxmikant Berde movie, and into this one.
And finally there's Vijay Nikam as Nandan's boss, the press owner who wants to be the daddy he could never have, and who, in trying to correct one form of tyranny, may have birthed a new variant of the same old problem.
The people in Lootcase loop in and out of one another's orbits, and save some tiny bits of discordance, everything in the film goes with everything else. And it's all bound together by Rajesh Krishnan's vision, which feels strangely personal because he seems to be mixing his own middle-class upbringingwith the Kiss Kiss Bang Bang ideal of the movies that captivated him as a kid.
It's when Nandan, toward the end, finds himself in a den, with a gang of creeps who wouldn't mind killing him to advance their own fortunes, that we miss Rasika Dugal's face -- at this point, the routine domesticity of the initial scenes comes back to us.
But just as Nandan vows to walk away from this shady world, back to the comfort of ordinariness, the big bag of cash becomes re-available to him, and he's pulled back into the dimension he was planning to leave.
The entire film is a realisation of the secret middle-class dream. It's also, however, a movie-crazed kid's idea of a great time.
---
Feature Presentation: Rajesh Alva/Rediff.com