Kuttey's muddled momentum cannot cover up the trail of loopholes it leaves behind, observes Sukanya Verma.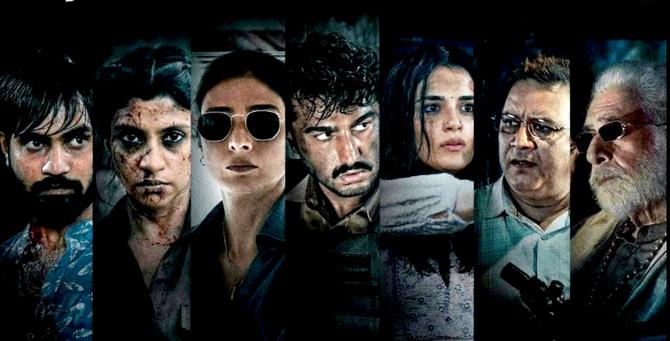 Few minutes into Kuttey, a character recounts a metaphor for loyalty through the story of a lion, goat and dog.
Few scenes later, another shares a fable about a frog and scorpion's ill-fated trip across the river (yes, the same one as Darlings) to highlight one cannot go against one's true nature.
Maybe it's the violent outcome in these animal analogies that make them such a cinematic fit around crime capers.
By the end of Kuttey, I was reminded of Kolobok, an old Russian folktale where a freshly baked round of bun rolls out of the kitchen window and avoids getting eaten up by a rabbit, a wolf and a bear only to be outwitted by a trickster fox, who promptly gobbles it down.
Eventful journeys and twist endings are the backbones of the bleak, black comedy genre and Vishal Bhardwaj knows it like the back of his hand.
But his involvement in Kuttey is limited to co-producer, composer, additional screenplay and dialogue writer duties, which marks son Aasmaan's directorial debut.
Home schooled in his father's ideas of film-making before obtaining a formal degree from New York's School of Visual Arts, Bhardwaj Jr's yet-to-develop style finds inspiration in the shadow of his distinguished dad as well as his creative influences like Quentin Tarantino and Guy Ritchie.
By opting for quite a few members of papa's go-to team (Gulzar, Naseeruddin Shah, Tabu, Konkona Sen Sharma, Gulzar, Sreekar Prasad), the mood feels all the more on-brand.
Echoing Kaminey's rain, romance and reckless state of affairs and Maqbool's smooth-talking soul sellers in khaki against a typical Tarantino narrative wherein the scattered plot is broken down into multiple chapters sandwiched between a fiery prologue and punchline of an epilogue, Kuttey doles out scenario after scenario that exist more for itself than to take the story forward.
Of these contextless vignettes in lock-up cells, police vans, seedy bars, claustrophobic cars, flyover bridges and prowling jungles powered by a pulsating synthwave background score, some sparkle, some reek of indulgence.
Credited for its story and screenplay, Aasmaan withholds a fair share of information until interval point and expects the audience to go in blind, consuming its chronology-of-crime for what it is while the ensemble cast congregate in their own good time amidst frantically designed action set pieces involving a monsoon shootout, poolside slaughter, gully chase between cops and crooks and jungle jumble.
As kinetic its energy is, chaos breeds incoherence and Kuttey's muddled momentum cannot cover up the trail of loopholes it leaves behind.
Power and greed collide over a truck full of cash that sets off a deadly domino effect among corrupt cops and Canada-bound lovers with everybody wanting a piece of the pie by hook or crook.
Kuttey's eclectic group of actors is both a source of fun and frustration.
Rock solid as ever, subordinate policeman Kumud Mishra's indecisiveness masquerading as integrity seems a bit misplaced in the devious scheme of things.
As his superior, Arjun Kapoor's innate likeability comes in the way of his boorish endeavours towards personal gain. Admittedly, Kapoor gives it his all but isn't half as cunning as Kuttey needs him to be.
On the other hand, Tabu's profane, unscrupulous 'Madam Sir' unlocks new levels of wicked yet retains just about enough humanity to make us care about her desire for 'angdai'.
Naseeruddin Shah's wheelchair bound drug lord wears an understandably constipated expression while barking orders to finish off rivals even as resident rebel Radhika Madan spits fire, a la Sweety rebelling for a life outside her golden cage by romancing the family minion (Shardul Bhardwaj).
Radhika's candour stays true to Kuttey's unhinged ways but Eeb Allay Ooo fame's Shardul is completely side-lined and overpowered by this mix.
Most perplexing is to witness a righteous, racoon-eyed Konkona Sen Sharma's quasi-Naxalite marching in and out of her two scenes like a parodical element.
Kuttey has its moments but not enough whimsy or bite, the sort Faiz Ahmed Faiz's (Yeh galiyon ke awaara bekaar kutte, Ki baksha gaya jinko Zauq-e-gadai) reproachful verse packs in when the end credits roll in Aasmaan's mum and singer Rekha Bhardwaj's affecting voice.
There's a comic book quality about its Kill Bill: Volume 2-inspired visual of a neon red sky filled with black silhouettes and intense call for Azaadi.
Kuttey emulates a great deal of Kaminey's rainy, nocturnal ambience but lacks the finish, the framing, the idiosyncrasy, the lyricism.
Expletives are fired left, right and centre but convey more punctuation than pungency.
The humour ranges between fart jokes, crass dialogue and campy imagery (Anurag Kashyap's fleeting, farcical cameo) but it's the spontaneously blurted one-liners concerning WhatsApp group for shady deals or sidekicks showing up in sports jersey that evoke a chuckle or two.
The final bombshell is a scream, a masterstroke, no matter what your politics is, but doesn't land as cheekily as it ought to. Kuttey doesn't feel as clever as it is.
Its baggage of flimsily implied backdrops -- Kumud Mishra's bullied son, Arjun Kapoor's lullaby-whispering daddy, Tabu's string of bad romances, Radhika's impending wedding, Konkona's rebellion and the backstory behind Naseer's 'ande' woes bear little connection to their acts of depravity.
There are pacing issues galore as well as the sloppy sewing together of multiple storylines or bringing in a canine or two into the frame for the sake of symbolism.
But at 112 minutes, Kuttey, warts and all, seldom overstays its welcome.
The first-time director has a flair for cynicism and conversation, but needs to work on the synergy of his storytelling. In Kuttey, he relies too much on his influences.
In his next, I hope he comes completely into his own.
After all, Aasmaan's the limit. Right, Bhardwaj?
Kuttey Review Rediff Rating: