Onir has got what it needs to make films that are sensible, thought-provoking and entertaining at the same time.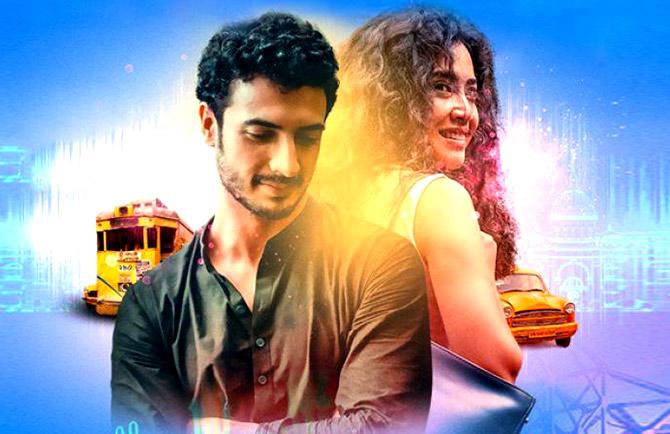 Onir's Kuch Bheege Alfaaz leaves you with moist eyes and a joyful heart.

The film's title is a bit of an oddity in an era ruled by Facebook, Twitter, Tinder and WhatsApp.
But the director's delectable treatment of this love story weaves the modern and the old-worldly charm of romance with such deft ease that even if heartstrings are tugged over memes, pings and forwards, it seems no less than real life.

Having said that, Kuch Bheega Alfaaz is not just about mush and unadulterated love.
It also explores layers of pain, sorrow, regret, inadequacies, imperfections and loneliness that are part of a person's life.

'Tell me something... Don't you feel lonely sometimes?' RJ Alfaaz (a marvellous debut by Zain Khan Durrani) is asked, midway in the film.

These words keep haunting your thoughts as Alfaaz's romance with Archana Pradhan (Geetanjali Thapa, equally marvellous) blooms over WhatsApp, even as they struggle to overcome their angst and inadequacies.
Both Alfaaz and Archana are burdened by their past.
Alfaaz's past is riddled with guilt, making him a loner with just a pet dog for a friend.
Meanwhile, Archana tries to hide her leucoderma (a disease that leaves white patches on the skin) in order to lead a normal life and find her soulmate.
Once the 115-minute film winds through the characters' past and present and lets you share their frame of mind, things become a little predictable.
Yet, Onir makes no effort to bring in unwarranted twists and turns and this does not detract from the film.
Complimenting Onir's emotional masterstrokes brilliantly are Abhishek Chatterjee's story, screenplay and dialogues -- a mix of Hindi, English and subtitled-Bengali -- that will have an immediate connect with the WhatsApp generation.
Nusrat Jafri's cinematography, which showcases a rarely seen Kolkata (last seen in Mani Ratnam's Yuva), is testimony that there is more to the city than its iconic Howrah Bridge.

Every frame brings to light a Kolkata more captivating and bewitching than the one generally seen in Bollywood films.
In the acting department, both Durrani and Thapa leave you teary-eyed (especially as Alfaaz shares the reason behind his guilt and Archana reveals her skin condition) more often than not. They are wonderful actors and hold their own on the screen.

Mona Ambegaonkar as Archana's empathising, loving, caring and bindass mother brings in the warmth that is much needed to cut though the sometimes overwhelming sorrow and pain.

Shray Rai Tiwari, who plays Archana's friend-cum-shoulder-to-cry-on, is another actor worth watching out for in the days to come.

But the cake, as well as its icing, is Onir's deft direction. The man has got what it needs to make films that are sensible, thought-provoking and entertaining at the same time.
Rediff Rating: