The harum-scarum-ness of Kaala is astounding, exclaims Deepa Gahlot.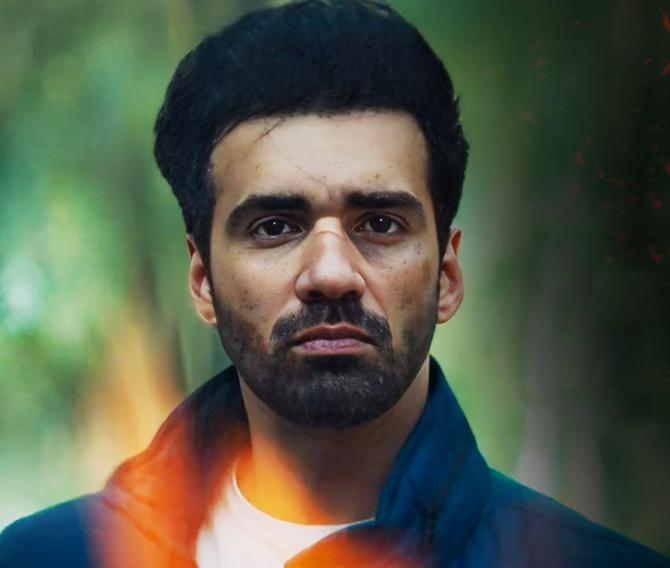 There have been at least two recent Web shows that made money trails interesting: Scam 1992 and Scam 2003.
Bejoy Nambiar picks up the intriguing idea of large sums of currency being turned from white to black and being smuggled across the border into Bangladesh, where it is supposedly used to fund terrorism, drugs and other crimes.
However, his Kaala skims over where currency worth Rs 15,000 crore (Rs 150 billion) comes from and where it goes but comes up with 10 convoluted and mostly boring episodes that hop timelines and places till the viewer is dizzy with confusion.
The show is stuffed with characters and incidents that have no bearing on the main plot.
There are backstories and strange motivations of people.
Once they are sifted through, there is Ritwick Mukherjee (Avinash Tiwary), an Intelligence Bureau officer, who wants to break the money smuggling racket.
Years ago, his father Shubhendu (Rohan Vinod Mehra), who survived a massacre in which 11 soldiers were killed, had been branded a traitor.
His story goes back to an unofficial military mission of shutting down tunnels across the Bangladesh border, in which Bismil (Hiten Tejwani)'s brother was killed, so he seeks revenge. Joining up with three evil Indian soldiers, he attacks the convoym but spares Shubhendu because he had tried to save his brother in the tunnel.
Now, Shubendu wants to kill those three and take revenge.
His senior Himmat Singh (Saurabh Sachdeva) was court martialled and jailed, it is not clear why, but they gather intel about the money smuggling and tip off Ritwick.
This may be because the most evil of the abovementioned three, Balwant Rana (Jitin Gulati), is the kingpin of the racket, under another name and guise.
Balwant is given a detailed backstory and a gay love affair.
The script (with five writers and a dialogue man working on it, probably in different locations and no communication with one another) enters a maze and by the time it emerges, the viewer has probably forgotten where they started.
Shubhendu was hiding in plain sight, with a fake identity, and has a different family consisting of disabled wife and football playing daughter, Aloka (Elisha Mayor). She has a lesbian scene, for no possible reason, except if the guys have one, why not the women too? To be properly woke, a key character turns out to be transgender!
In Kolkata, where the show is mostly set, Ritwick figures out that the man involved with the money smuggling is a famous industrialist, Naman Arya (Taher Shabbir), but cannot make the charge stick without proof.
The CBI, IB, local cops and pretty much every curious bystander joins the party, and in an unintentionally hilarious sequence, force a bunch of bankers into a hotel room for days to unravel the scam. So there are pointless interactions and flirtations going on here.
It's all totally delirious, and not in a watchable way.
Jitin Gulati has the most fun with his baddie-ness while Avinash Tiwary can barely wipe the bewilderment from his face (interesting these two actors played main roles in this week's other OTT release, Bambai Meri Jaan).
Ritwick gets a romantic interest (Nivetha Pethuraj) because might as give the token female in the IB team something more to do!
Mita Vashisht appears in a brief role as the chief minister, the only one speaking with an exaggerated Bengali accent.
Shakti Kapoor pops up in a few scenes and doesn't even get any lines, just a villainish 'Heh heh'.
If almost every character gets a backstory, almost everyone gets a proper farewell too.
The harum-scarum-ness of Kaala is astounding. Didn't anybody read the six-writer effort and wonder what the heck was happening?
Kaala streams on Disney+Hotstar.
Kaala Review Rediff Rating: