Bambai Meri Jaan features horrific massacres and violence so brutal that it ought not to be seen on a home entertainment platform, warns Deepa Gahlot.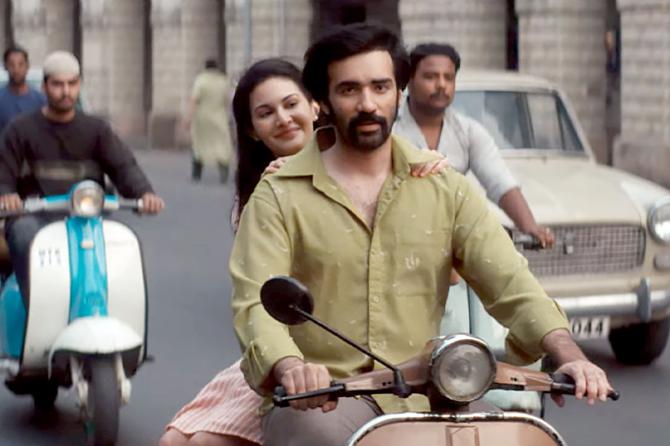 Mainstream Hindi cinema went through a phase of making adulatory films about gangsters.
There was a time when, with some help from the media, gangsters were as famous as movie stars. They were all but put on a pedestal and worshipped; films like Nayakan came close to doing that.
Hollywood had already started the deification of the Mafia don withm Francis Ford Coppola's The Godfather movies and major directors like Brian De Palma and Martin Scorsese carried the torch aloft. Bollywood, ever so eager to pick up a saleable idea, made dozens of gangster films taking the idea and copying even a few key scenes.
If America had Al Capone and the legends of the Irish, Italian and Cuban gangsters, Mumbai had its trinity -- Haji Mastan, Karim Lala and Dawood Ibrahim -- all of them were colourful enough to launch a thousand films.
But after all those films, is there enough fire left in the embers to fan a 10-episode Web series?
Excel Entertainment and Director Shujaat Saudagar seem to think so, and have gathered acting and writing talent plus a generous budget to make Bambai Meri Jaan (the title appears over a human heart to make the title literal).
Scripted by Rensil D'Silva and Sammeer Arora, based on prolific underworld chronicler S Hussain Zaidi's book, Dongri To Dubai, the narrator of the series is Ismail Kadri (Kay Kay Menon), the righteous father of three criminal sons and a feisty daughter. But there is no doubt that the series intends to lionise the leader of the gang, Dara (Avinash Tiwary).
Names are changed, facts mixed with fiction, but it is clear who the characters are.
Maybe with underworld activity no longer associated with Bollywood-ready personalities, filmmakers are nostalgic for the good ol' days of gang wars. Or maybe they think the new generation of OTT viewers needs to know about the gangsters who ran amok in the city in the 1980s.
When the dialogue (Hussain and Abbas Dalal overdoing the profanity) constantly refer to them as 'badshah' and 'sher', it is obvious in which direction their admiration flows.
Ismail Kadri is a cop, husband of homemaker Sakina (Nivedita Bhattacharya), and caring father, who remains honest in the midst of a rampant departmental corruption.
When crime in Mumbai -- at that time, it mostly gold smuggling -- gets out of hand, Ismail is given charge of the newly-formed Pathan Squad to go after the gangs of Haji Maqbool (Saurabh Sachdeva) and Azeem Pathan (Nawab Shah). Later, Anna Rajan Mudaliar (Dinesh Prabhakar) joins them with his network.
Even as a kid, Dara has a fearless and twisted mind. For instance, when the family cannot afford a goat for Eid, he steals one. After the owner comes to claim it, he finds a bloody goat's head in his bathroom. A direct hat-tip to the horse head scene from The Godfather.
Due to circumstances beyond his control, Ismail is suspended and for want of any other option, forced to work for Haji.
He believes his employment with Haji will save his sons from a life of crime but Dara is like a storm that cannot be controlled.
He starts by challenging and taking over Pathan's extortion racket in his locality and with the encouragement of a cop, Malik (Shiv Pandit), who wants to use him to defang the Haji-Pathan-Anna nexus, Dara has the ambition and gumption of taking over the city's underworld.
The period is recreated in the design -- the buildings, cars, props, costumes -- and beautifully shot (John Schmidt) but Saudagar and the writers are not too interested in understanding the larger socio-economic-political circumstances that created and fuelled these gangs. They concentrate their efforts in portraying horrific massacres and violence so brutal that it ought not to be seen on a home entertainment platform.
Quick shootouts are not so visually disturbing but sequences like the murder of Dara's journalist friend, and the revenge he unleashes on the killers, is too ghastly to watch.
In between the carnage, there are some warm scenes between the family, the surprisingly insistent voice of the sister, Habiba (Kritika Kamra) heard among her always-on-the boil brothers.
Habiba (or Hasina in real life) has already got herself a biopic with Shraddha Kapoor playing her.
The performances are uniformly good.
Kay Kay Menon, who has played cop and gangster in the past, now plays a shaky moral foundation for his family, lending the character a tragic dignity.
Nivedita Bhattacharya has a calming presence as the mother, who makes herself matter by constantly feeding the family.
Saurabh Sachdeva as Haji is impressive in the way he fills the screen whenever he is enters a scene.
But it is up to Avinash Tiwary to carry the show and he is talented enough to shoulder
Towards the end of the series, Chhota Babban (Aditya Rawal, playing him with a cheeky confidence) makes an appearance, indicating that there will be another season.
Interestingly, the show has a different end for the three big gangsters. In real life, they all died of heart attacks, one of them at the ripe old age of 90. So in all fairness, no film or show can claim that crime does not pay.
Bambai Meri Jaan streams on Amazon Prime Video.
Bambai Meri Jaan Review Rediff Rating: