JL50 is an ambitious thriller that progresses smoothly until it starts answering all the questions it has raised, notes Sukanya Verma.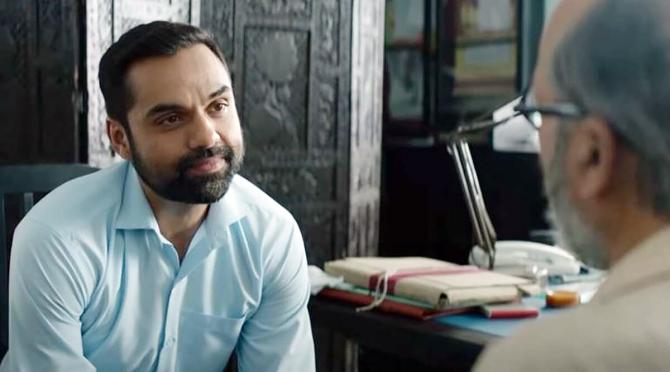 In an episode of The Twilight Zone titled The Odyssey of Flight 33, an airplane starts moving at an alarmingly high speed until the crew realise they have flown back in time and attempt to return home by keeping their wits about them.
The idea behind a flight as an instrument of time travel is explored with much trepidation in JL50's part-science fiction, part-sleuth drama helmed by Shailender Vyas. Except Vyas isn't interested in the wonderment as much as the corollary of events and the temptation to mend a mistake.
JL50 is an ambitious thriller that progresses smoothly until it starts answering all the questions it has raised.
Most of its action happens across the mountainous beauty of Lava and Kolkata's architectural landscapes between a plane going missing years ago and crashing into the hills under mysterious circumstances.
That the events of 1984 and 2019 are bizarrely connected is reaffirmed when the surviving pilot (Ritika Anand) identifies herself from 35 years ago. The only other person (Piyush Mishra) to make it alive from the crash may or may not be the breakthrough this case needs.
As the CBI officer assigned the task of untangling the chronological jumble, Abhay Deol cuts a believable picture of cynicism and dissatisfaction.
He is the sort of dry, brooding, dealing with divorce figure whose lack of faith is both a distinction and disease. Deol's restraint on a personal level and focus as a professional shows far more insights to his person than the script is willing to share.
Ditto for Pankaj Kapur's idiosyncratic touches as a professor of quantum physics. Whether he is lying low or divulging in bewildering details about wormholes and portals, one cannot think of any other actor better suited to sway the viewer into submission. When Kapur says it is possible, you believe it is possible.
But advancements in science, even the mythical ones, are fuelled by man's greed and thirst for power. His propensity to manipulate time, for better or worse, is weakly documented in Piyush Mishra's mad genius and Ritika Anand revisiting a ill-informed decision.
Mishra has an energetic presence but the uneven writing does little to substantiate his ideology. Saddled with a tacky wig and elusive characterisation, Ritika -- also sharing a producer credit -- dodders towards the conclusions JL50 has in mind.
When a two-hour film is broken down into a mini-series, it becomes fragments of unexplored possibilities and incomplete observations. The grammar of both is distinctly different, but when creative decisions are governed by OTT business models, such inconvenience is rarely regretted.
And so JL50's transcendental, enigmatic journey through past and present utilising Kolkata's eternally stuck-in-time imagery, erratic monsoon and gorgeous local music becomes a confused exercise in citing communalism, mythology, politics and India's preoccupation with mumbo-jumbo.
In building a skewed timeline told across four half hour episodes, Vyas gives way to glaring loopholes, which render its third act a limp endeavour.
What should be a moment of dazzling revelation is staggeringly bereft of awe, amusement or tension.
JL50 streams on Sony Liv.
Rediff Rating: