Hundred is all fun as it lasts, says Joginder Tuteja.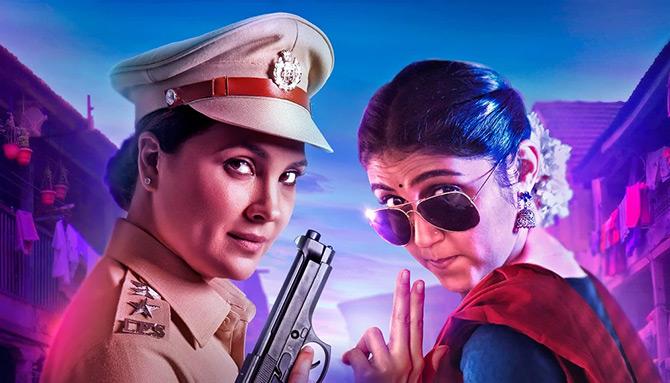 There is this girl, who is in her early 20s, with a heart that is as pure as it gets.
Then there is this woman in her mid-30s, who doesn't care two hoots about how the world judges her.
Both of them have 100 days to do something in life, hence the title of the series.
The girl (Rinku Rajguru of Sairat fame) belongs to the lower middle class and is dying of a brain tumour. That's why she wants to explore life, and that includes putting her neighbour's car on fire and well, losing her virginity.
The woman (Lara Dutta, making a comeback in front of the camera) is a cop who has to deal with three men in her life: Her chauvinistic boss (Parmeet Sethi), a casual husband (Sudhanshu Pandey) and a toyboy-cum-informer-cum struggling actor (Karan Wahi).
With a Mumbai setting to it, Hundred is a quintessential Bollywood offering with the makers (Ruchi Narain, Taher Shabbir and Ashutosh Shah) bringing on the grammar that is known to them.
That also means that there is the occasional Marathi thrown in, something that Ram Gopal Varma and Mahesh Manjrekar used to do in most of their films at the start of the millennium.
Like those two film-makers, there is a gangster angle in Hundred as well, which is designed as an action-comedy, instead of a gritty dramatic thriller.
So this series has a light-hearted feel, and ensures that audiences across age groups enjoy it.
In a way, the casting of two women as the central protagonists helps because you get to see things from a different perspective.
Rinku is fun to watch each time she comes on the screen as she goes through her household chores while taking her of her family of men (an unemployed father, a grandfather and a ready-to-leave-the-room-for-her-boyfriend-at-a-price kid brother). This could well have been the story of Rekha from 1982's Jeevan Dhaara. She never complains though and takes life as it comes.
Meanwhile, Lara Dutta wants to crack that one big case so that she can move on from being the police force's 'item girl' where all that is required of her is to preside over functions, be the focal girl in flash mobs and welcome Venezuelan ministers.
The only person who understands her to an extent is Karan Wahi who prides in being committed to her. But he's heartbroken on realising that he is a mere resource.
As for Parmeet (in fine form again after Special Ops) and Sudhanshu (who only screams at workplace but is subdued at home), they are hardly of help.
An unlikely liaison is formed between the two women, as Lara ropes in Rinku for her operations, which includes foiling a kidney racket as well as sex trafficking.
Rinku does not mind it as she graduates from her chawl boyfriend to Karan to a sophisticated operator (Rajeev Siddhartha) of a 'satta baazaar' cell, which is led by Makrand Deshpande (lovable and striking in all-white Abbas-Mustan-like attire).
The performances are neat all around with Lara showing yet again that she was largely under-utilised in Bollywood.
Rinku is fun to watch right through though she needs to take care not to get typecast.
Karan is quite good as the Haryanvi jat who has to double up as a Punjabi rapper for perspective producers.
Rajeev Siddhartha comes into his own towards the finale.
Parmeet and Sudhanshu are apt for their parts.
Hundred is fun though one must confess that the whole premise is unbelievable.
Why would a senior cop, whose career is on the edge, rope in a rookie to do the job for her, especially when she has been goofing up each time?
But this is where realism takes a backseat and entertainment takes over, as these goofy incidents lend good entertainment, something that sets the stage for the next season.
Rediff Rating: