Four More Shots Please! 2 has all the ingredients to keep you hooked, says Namrata Thakker.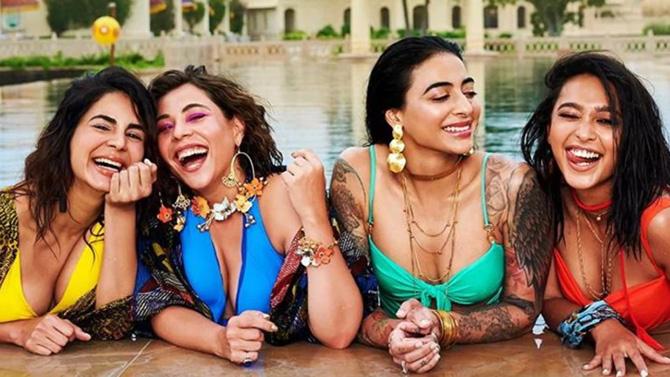 Season one of Four More Shots Please! was super fun and entertaining. Its second season is equally enjoyable.
In the finale episode of season one, the four friends -- Damini Rizvi Roy (Sayani Gupta), Anjana Menon (Kirti Kulhari), Umang Singh (Bani J) and Siddhi Patel (Maanvi Gagroo) -- get into a huge argument and go their separate ways.
Season two takes off exactly from here.
Siddhi drunk dials Umang while she is alone in Istanbul, sulking over the chaos that happened four months earlier.
Umang panics and decides to help Siddhi.
She convinces Damini and Anjana to come along with her to Istanbul, and that's when the story takes off.
The four friends meet after months and have a lot to catch up on.
And what better way than to sail over the Bosphorus and have a quick heart-to-heart chat while looking super gorgeous?
Once the four friends are back in the bay, their individual stories take centre stage.
Damini has a tough time finding a publisher for her book as it is too controversial while Siddhi tries her hand at stand-up comedy and succeeds eventually.
Anjana quits her job, courtesy her sexist boss and goes solo. She even break-ups with her young boyfriend as she doesn't want marriage or kids.
Umang is still heartbroken over girlfriend Samara Kapoor (Lisa Ray) leaving her. But when she finds out Samara is back in the city and going through a rough time, Umang steps up and helps her deal with anxiety issues and bipolar disorder.
Amidst all these, there is loads of sex and sex talk too.
The boys -- Prateik Babbar, Ankur Rathee, Milind Soman and Sameer Kochhar -- are the eye candies for a change in the show and that's actually quite exciting.
They lend good support and their characters are well-etched out.
Sayani, Kirti, Bani and Maanvi, on the other hand, try too hard at times and fail, which is a bummer.
Having said that, these ladies truly own the show.
Of course, there is never a time when they are badly dressed or look ordinary. But that happens in most Bollywood films, right?
Four More Shots Please! 2 has all the ingredients to keep you hooked.
The story is more mature and relatable.
The ladies, even though they continue to make mistakes, aren't afraid of the consequences and their friendship is thicker than ever.
Apart from friendship, sex and relationships, the makers have also thrown light on subjects like gender discrimination at work, body shaming, anti-national propaganda, same-sex marriage and even open marriage, making season two more interesting.
Not to forget, there is a big fat Indian wedding as well and it will remind you of Yeh Jawaani Hai Deewani.
Rediff Rating: