Hasmukh just doesn't make you laugh and that's its biggest tragedy, sighs Moumita Bhattacharjee.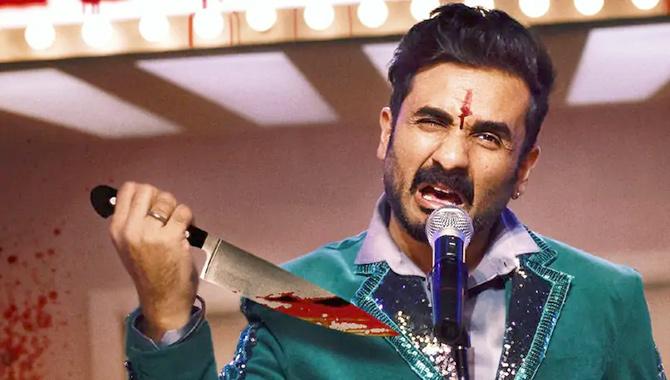 When there's Vir Das promising a thriller show where he is a stand-up comedian, you are stoked. Why?
Simply because he does a swell job of using the mundane stuff of our lives and spinning a funny tale out of it.
I still laugh at his jokes on Indian weddings on Netflix.
But it seems when a similar thing gets a cinematic turn with a change in mannerisms and dialect, it loses its punch.
Vir Das's Netflix show Hasmukh struggles for the better part of the 10 episodes.
Hasmukh (Vir Das) is not a slave to Gulati (Manoj Pahwa), but a student of comedy.
At least that's what he thinks.
But even after four years of being with him, Hasmukh doesn't get a chance to perform on stage.
It also doesn't help that earlier, he froze at one such occasion.
Gulati sneers at his inability and in a fit of rage, Hasmukh kills him.
He then takes the stage, wows the audience at daroga ke behen ki shaadi and becomes famous.
But when the subsequent shows fall flat, Hasmukh and his manager Jimmy (Ranvir Shorey) realise he needs a kick before going on stage.
He kills, gets the 'pheel' and leaves everyone ROFL.
Hasmukh becomes a sensation and is scouted by a big channel called Alankar TV run by Sinha (Ravi Kishen).
Post that, it's a usual progression of Hasmukh going for the kill (both literally and figuratively) while Jimmy cleans up the mess he leaves behind.
But while the daroga (Innamul Haq) in Saharanpur never seems alarmed by the falling bodies (after all, Hasmukh only kills bad people), the Mumbai police isn't so lax.
They go sniffing around to find the culprit when people start turning up dead.
But that's not the main plot here.
It's Hasmukh's realisation that Mumbai is a tough place to stay and how it is difficult to win a show like Comedy Ka Badshah with talent only.
What disturbs me more here is that it's a show on a stand-up comedian and yet, the jokes fail to make you laugh.
To be fair, there are some fantastic lines like when Hasmukh says, 'Ladkiyon, pyaar karte ho Hrithik, Tiger, Salman aur Akshay se, lekin interval mein samose to Suresh hi lata hai.'
My favourite is where he likens women with time.
He says, 'Aurat na, samay ki tarah hoti hai, dhyan rakho, nahi to naikal jati hai.'
But that does not make you laugh.
It's surprising because six writers worked on the story including Das, Suparn Verma, Director Nikhil Gonsalves, Amogh Ranadive, Neeraj Pandey and producer Nikkhil Advani.
The premise is very interesting.
A performer uses murder as a drug to get it going on stage.
But Hasmukh seems confused about whether to be a tale of an underdog or a whodunit or a setup on how cruel the industry is or how you need more than just talent to become famous.
Shoving everything in one show takes away the intention behind it.
Had it been done well, Hasmukh could have been a perfect masala action thriller on Netflix.
The pace of the show is a serious turn-off.
Till the fourth episode, it chugs slowly.
Things finally start to look up when they move to Mumbai, perhaps because a lot of things happen at once.
Also, Gulati's ghost turns up every time he kills and starts his gig on stage.
Vir Das gets the nuances right, but he doesn't fit the role like a hand-in-glove. It could also be because we aren't used to seeing him in small-town set-ups, if we don't consider Revolver Rani here.
His acts in supporting roles in Go Goa Gone and Delhi Belly outshine Hasmukh because he seemed more at ease there.
Also, the character is one-dimensional with hardly any graph.
Ranvir Shorey is the trump card with his perfect comic timing and outbursts. It's really good to see him in a show that gives him scope to do more. His character reminds you of his performance in Pyaar Ke Side Effects although it is more powerful here.
Amrita Bagchi as Promila is fab. The cold and calculating demeanour makes her a perfect match for the role.
Ravi Kishen plays the lech he has played so many times before.
Hasmukh just doesn't make you laugh and that's its biggest tragedy.
Rediff Rating: