Coolie No 1 is a cheap comedy for silly people, asserts Syed Firdaus Ashraf.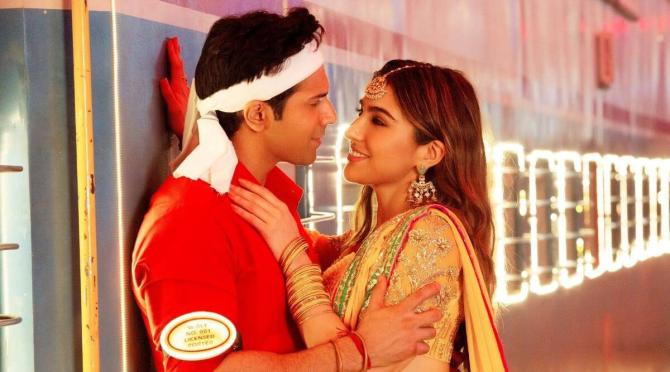 I make my daughter watch Hindi film classics right from Mughal-E-Azam to Amar Akbar Anthony to Dilwale Dulhaniya Le Jayenge.
I believe if today's generation has to understand India of different eras they must watch yesteryear movies.
I did include Coolie No 1 among the list of movies for my now college-going daughter.
I have seen this Govinda-starrer a hundred -- yes, you read that right, 100 -- times, since it released on June 30, 1995.
Every weekend until Hero No 1 released in 1997, I would watch Coolie No 1 on my VCR.
If I was depressed, I watched Coolie No 1.
If I was happy, I watched Coolie No 1.
David Dhawan's movie was made for all moods.
I have memorised each and every dialogue in the film. If you wake me up in the middle of night, I can narrate the dialogues for you.
And not to forget its songs.
When my daughter saw the film, she could not believe her father loved Govinda, who was 'so irritating'.
She felt Coolie No 1 was 'cheap comedy' for 'silly people'.
And that is the exact feeling I got when I watched Varun Dhawan's Coolie No 1.
This David Dhawan film, without Govinda, is a cheap comedy for silly people.
Except the actors and locations, Varun's Coolie No 1 has everything that the 1995 film did.
Director David Dhawan did a Control C and Control V of the original movie and just shortened the film's length to 2 hours and 14 minutes.
Varun Dhawan tries hard to be Govinda, but fails miserably.
He is worse when he acts like the duplicate coolie and mimics Mithun Chakraborty.
Sara Ali Khan looks like she was paid very well to do the role and is not bothered where her career would head after the movie.
From owning a resort in Goa to settling down in Mumbai's Sion Koliwada area, she tries hard to repeat Karisma Kapoor's innocent act from the original, but is very unconvincing.
Javed Jaffrey, a fine comedian otherwise, should be ashamed of himself if he thinks he can act like Sadshiv Amrapurkar.
Why did you accept this role, Javed?
Rajpal Yadav is an insult to Shakti Kapoor.
Johnny Lever comes up with some additional funny lines, but his role is limited.
The only actor who does his best is Paresh Rawal. He tries to act like Kader Khan, but falls short of expectations.
It looks like Paresh Rawal knew the film was not working, but still gave his best shot.
The biggest failure of the movie is its script.
David Dhawan forgot the most elementary part of India: Coolie No 1 cannot be remade in 2020.
This is the age of digital India. This is not 1995 when there was no Internet.
You cannot make a film where a resort owner (Sara) falls in love with an impostor coolie, who photoshops pictures of himself posing with with Donald Trump and Amitabh Bachchan.
The least she would do is Google him or check his Instagram or Facebook profiles.
Davidji, please come up with a new script next time!
Rediff Rating: