The second season of City Of Dreams has more pulp, hardly any juice, feels Sreehari Nair.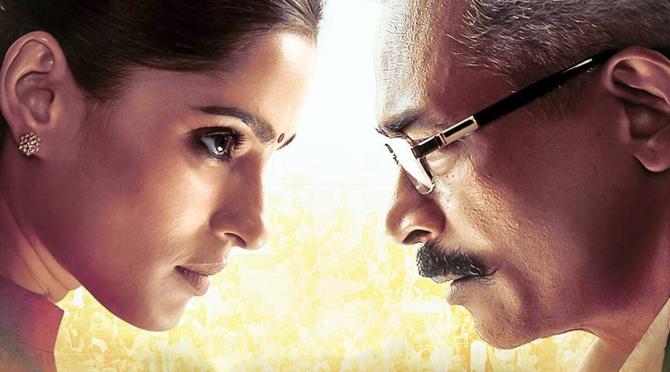 Season 1 of Nagesh Kukunoor's City of Dreams, for all its pulpiness, aspired to paint an epic vision of the corruption of Mumbai.
You can find this vision depicted on the show's cover image, which has a fleet of fishermen's boats -- that original iconography of Mumbai's spirit as well as its sins -- competing with the skyline of the metropolis for screen space.
Season 1 of the Web series managed to give us the dirt on each of its characters, while keeping us always in close range of the basic humanity of every single one of them.
I also felt the show was surprisingly sexy because, though it was primarily concerned with the swine, we were dealing nevertheless with a set of intuitive, charming, multidimensional swine.
Season 2, however, drops all pretenses of depth: It is 'pulp served straight up' (Category Definitions are important, especially in an age such as this one, where, a wonderful B movie, the trashily enjoyable Sarpatta Parambarai, is being raised to the status of a soul-stirring masterpiece).
If you want to know what 'pulp served straight up' is, watch City Of Dreams 2 for instances such as the following back and forth that occurs between a corporate brat and his fiancée, in a Japanese restaurant.
Fiancée: I like how cocky you are.
Corporate Brat: I hope you like my c***.
The above bit is more like a defining characteristic than an anomaly this time, and if you deem such bits tasteless, you wouldn't make it too far into the season.
For, the most interesting sequences in S2 -- including a sequence of fellatio being performed inside a parked car -- seem like they were dreamt up by the screenwriter with the keyboard between his legs.
The tumescent writing may have paved the way for some superb exchanges but, unlike in Season 1, this time, these exchanges are not balanced by an effort to get at the texture of feeling and thought.
On that subject, here's another pulsating prattle that takes place between Atul Kulkarni's Ameya Gaikwad and an up-and-coming firebrand politician.
Ameya Gaikwad: They say you are the new Tendulkar of student politics. What's your name, Sachin?
Firebrand Politician: Mahesh.
The second season is littered with such scorching conversations, but there's no behaviour on display.
Every character has been reduced to a saleable 'adjective' or two, but nobody ever moves as if with the aid of an authentic 'verb'.
The show wants to be a subtle indictment of the Indian Democratic System, but aside from the active players, the secondary personages as well as the faces that make up the crowds all seem uniformly lobotomised.
I think I know why things feel different this time.
Season 1 had come out of Nagesh Kukunoor's curiosity for a Mumbai whose plates were shifting, where new power centers were being formed. (In this New Order, Khargar was shown to be slowly replacing South Mumbai as the preferred safehouse of smelly secrets).
The look of the show was pretty dull, but Kukunoor had the rapidly changing world outside supplying a burst of Negative Capability, thanks to the constant pressure exerted by which hidden currents suddenly came to the surface, and we got to engage with people and not types.
A good bulk of the action in Season 2 happens inside living rooms and boardrooms, mansions and dark warehouses. The exterior shots are clearly too rushed and they don't offer the requisite geographical mooring.
Consequently, you don't feel that there's a city in the background furnishing the force field of sex and death. And so, even as the show continues to look uninteresting, the confrontations, which were crackling last time, this time around, they seem strange for the sake of it.
It's as if the emotional force, the internal force, has completely gone out of the story.
The story takes off from where the first edition had ended: Ameya Gaikwaid, paralysed after an assassination attempt, mourns the death of his son and the loss of his power, both of which have been orchestrated by his daughter, Chief Minister Poornima Gaikwad (Priya Bapat), who is at once striving to lay the foundation of a cleaner form of administration and keep her sexual orientation a secret.
There are a dozen other stakeholders in the tale and, as is customary in Web shows, the endeavour is to keep the plot racing forward (the father-daughter tussle eventually comes to a boil), and parellely take us deeper into the lives of the individual stakeholders.
But Mumbai, the object of their quest, has been framed merely out of a few tabloid obsessions (Riots; Construction of the Metro; the paradox of the Remote-controlled Chief Minister), and so, when the characters try to attest their authority over this piece of land, they appear to be spouting pearls into a void.
And spout they do, the tritest truisms of the arts: 'Power is Money'; 'No rest for the wicked'; 'Imitation is the best form of flattery' -- not to mention, a banality each from Casablanca and The Godfather.
And as if they came with the package, we have journalistic clichés making up the titles of the Episodes: Moment of Truth; Skeletons in the Closet; Collateral Damage. Just to keep up with the fantasy, I could imagine Nagesh Kukunoor declaring in interviews, 'You see... all my characters are gray.'
It was plain that the principal players, because they exist in such a pulpy atmosphere, had to go on discovering fresh dimensions to them, or else they'll start to weigh down on the viewer.
And though Priya Bapat (knows when to speechify for the camera, and when to simply stay back and let her lover take possession of her), Ejaz Khan (a cool, cool performer, equally adept at showing us encounter specialist Wasim Khan's resourcefulness and his personal strife), Atul Kulkarni (elevates sketchily written frames simply by his understanding of the Maharashtrian psyche) are terrific, their characters, as the episodes roll on, begin to feel like talking portraits.
We watch in embarrassment as their inner lives and their natural reflexes are slowly drained out of them.
The brief to every actor seems to be this (and it reeks of an Om Puri classic from Kukunoor's own Bollywood Calling): 'You have to look and sound like a smiling assassin.'
The pursuit of grayness becomes so amplified that an idealist news reporter, played by Geetika Tyagi, starts to give off airs of a misfit, of an inflexible idiot who needs to be shaken up.
This same brand of tyranny is felt in another instance, when a scene of lesbian lovemaking gets interrupted by one of the girls' over-sincere boyfriend. 'Shhh, boy; can't you just shut up and allow the girls go at it?' I almost blurted out.
I liked Ameya Gaikwad's dust-ups with the young firebrand politician, whom the wily fox had once given the slip, and who now reserves for Gaikwad the choicest Marathi swear words even as he goes along with every plan that the old hand devises.
But except for this arc, the people in Season 2 mostly talk with the empty confidence of one self-applauding before a mirror, and so, they quickly get taken down by someone else who has practiced this routine better.
Sushant Singh is added to the mix this time as a glum-looking, cigar-chomping South Indian Don, Anna, who speaks exclusively in telegrammatic sentences, and who carries within him Tamil Cinema's penchant for shallow sadism.
Anna is so single-note that you cannot classify him as anything more than an unwise career move for the actor.
Sachin Pilgaonkar's Jagdish Gurav is the only one whose scope has been enlarged and the meaning of whose character deepens, at least in some quotable measure. Pilgaonkar smartly turns the weasel's punchlines into whispers, endowing them with a certain self-doubt, and so, you get an interior view of this consistently duplicitous person.
Gurav is a cold-blooded bastard who has no longing, no permanent human attachments, and in the world that Kukunoor has designed, Gurav feels the least out-of-place.
There are two love stories, one exaggerated, the other implied, only one of which I expect to be applauded by the literal-minded critics.
There's the Sandeep Kulkarni-Flora Saini love story, of a regular middle-class man falling for a mole well off his limits, and the corrupt tenderness of this section reminded of the Pam Grier-Robert Froster tango in Jackie Brown.
Now contrast this charming, unassuming chemistry with what develops between the aforecited Corporate Brat and his fiancée.
This is the love story that I am sure will get most of the critics to shed their liberal tears.
And yet, the whole arc of the Brat turning a new leaf and his fiancée (Shriyam Bhagnani, I'm guessing, is not a trained actor; but her vacant eyes work to her character's advantage) becoming the conscience of the show hit me like a bigger lie than the whole c***-showboating of the early episodes.
Love stories teetering on the edge of danger, loyalties on the verge of shifting, plans that can turn on a dime -- there's always something happening in the second season of City of Dreams.
A lack of imagination is not the show's real problem.
Its problem is one that it shares with our funniest stand-up comedians, who are bright but not deep enough to sustain your interest in their brightness.
Sure, there's always something happening in the second season of City of Dreams; and that's because The Indian Swine -- complete with its excesses, its demons, its self-deceptions -- when allowed to run loose, is bound to spawn a tale of constant twists and turns.
But the larger aesthetic truth, I guess, is this: When an artist has true vision, he doesn't let the swine run loose.
City Of Dreams 2 is streaming on Disney + Hotstar.
Rediff Rating: