'Though it's a story of inspiration, Meghna Gulzar's Chhapaak is not the kind of film you walk out feeling entertained or ecstatic about,' says Sukanya Verma.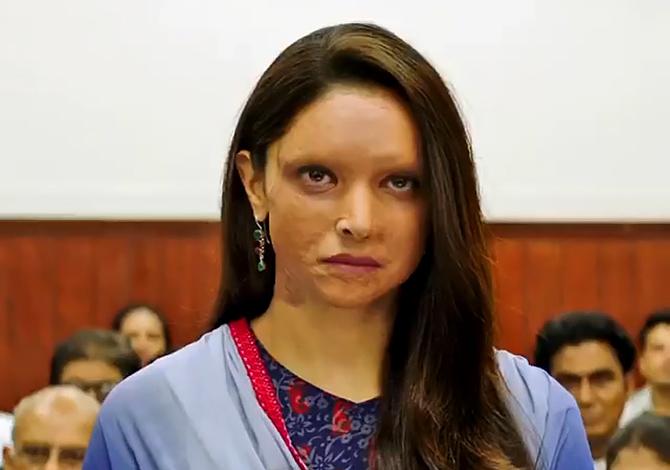 More than half a decade ago, a monster threw chemical on my friend's face because he wanted to punish her for breaking up with him.
The episode injured her eye, altered her appearance, smashed her confidence and changed the entire course of her life.
It was front page news in the national newspapers and the subject of speculation as some came out in support while others loose talked.
Naturally, it was a deeply traumatic time for her and it took a lot of pep talk, courage and trust before she could move ahead.
She left the city, pursued further studies, found another job and began anew.
If you meet her today, you'll never guess this is her story.
People don't dwell on their misfortune, but there's no undo switch for certain experiences. It's as Tolkien wrote: 'There are some things that time cannot mend. Some hurt that goes too deep, that have taken hold.'
Learn to live with it should not be anybody's only choice.
Malti's ordeal (Deepika Padukone) is even more horrifying.
Though it's a story of inspiration, Meghna Gulzar's Chhapaak is not the kind of film you walk out feeling entertained or ecstatic about.
Inspired by acid attack survivor Laxmi Aggarwal's true story, it's an uneasy reminder of the constant state of vulnerability a woman lives through all her life, where not even a shred of her aatma or anatomy is safe from the likelihood of violation.
If anything, the worrying statistics before its end credits reveal a substantial jump in instances of acid violence.
Meghna Gulzar documents Chhapaak's grim reality barefacedly without losing sight of its character's quiet determination to fight the reasons that make such heinous crimes possible in the first place.
It opens with scenes of protest, no different from the ones storming the country right now underscoring a perennial short supply of sensitivity chips among people in power.
I find the quality in heaps in Meghna Gulzar though sensitivity comes naturally to her and shows in her storytelling aesthetics and gentle handling of ill-quipped characters confronting complex situations.
The soft-spoken film-maker has a keen eye for noting the uncomfortable truths without crying hoarse about it.
Be it to observe a hierarchy in crime where rape and acid violence are pitted against one another or society's discriminating attitude alternating between callousness and pity.
She jumps headlong in Chhapaak.
When we first meet Malti, it's been years since the attack and she's desperately seeking a job that will support her family.
Pain and practicality go hand in hand, a certainty Meghna Gulzar bluntly puts across in her straightforward show of police procedure, medical rehabilitation and courtroom procedure.
Though not one for in-your-face drama, she does stress on the environment of insensitivity, caste politics, misogyny by throwing in scenes that intensify the tragedy, the taunts or the thin rope a family's walking as they fall apart.
'Poora phone ladkon ke phone number se bhara pada hai,' remarks a lady cop and reads out a list of male names revealing a deep-rooted, problematic view of holding a woman responsible for provoking crime.
Contrary to some reports, Meghna Gulzar hasn't changed the attacker's religious identity nor does she play it down as evident from the sheer malevolence exhibited by a burkha-clad figure. But it is never an excuse for communal colouring or demonisation.
In Meghna Gulzar's balanced worldview, there is still some room for all that is good and fair.
Cruelty has left her disfigured, but compassion has given her wings.
Malti receives generous patronage from her father's influential and affluent employer, her lawyer and assistant are single-minded in their fight for justice that calls to amend obsolete laws.
Malti's all-woman support system inspires her to crusade for fellow survivors and raise funds through the NGO she works for alongside journalist-turned-activist Amol (Vikrant Massey).
Their breezy interactions offer a rare glimpse into Malti's person. As strongly she feels about acid ban, she wants to live a little too. Just because she has gone through a harrowing time, does it mean it should be her only identity round the clock?
There is a lovely scene that puts Amol's pessimistic progressive in his place.
Chhappak conveys her strain in the most basic of things.
It's in the gaze of everyday world where even a guy offering you to go ahead in the queue barely feels like chivalry and the only people she hangs out with have suffered the same fate. It's confining and discriminating.
How Malti learns to drop the veil and stop caring about the stares is a goal at which Chhapaak gently and gradually arrives.
If Raazi took a detailed look into a character's tormented morality and angst, Chhappak gives weightage to the cause.
It is as much about individual suffering as it is about craving dignity and normalcy in life.
The nature of her scarring is already so acute, brooding on in any further would be inhuman, exploitative and Gulzar firmly abstains from it.
Malti's screams, when the attack happens or on discovering the extent of damage, will echo in your ears for a long, long time. That too feels like a luxury when she innocently asks the plastic surgeon if he can make her a 'ear' next?
Deepika Padukone puts herself out there like never before both in physicality and inwardness.
A portrayal marked by changing dynamics where prolonged misery and gradual progress converge in ways you need to know but not necessarily notice.
Her devastating transformation is akin to watching a wounded bird in agony. As she slowly but surely takes a flight towards purpose, Deepika gains in heft and heart.
If her co-star Vikrant Massey embodies a dour faced, wry-natured activist in Fabindia kurtas quite effectively, Madhurjeet Sarghi as the upright lawyer behind Malti's triumph steals every scene she is in with her power packed display of empathy and ethicality.
Chhapaak is solid, uncomfortable viewing, but it is also meditative and meandering. Towards the latter portions, it wanders off a bit unsure about the direction it wants to take -- a personal story, a public story or catch a breath in Meghna Gulzar's verse.
The process of healing, physical and psychological is slow, painful and expensive. As is the course of its long and arduous legal battle.
Chhapaak's to-and-fro timeline, penned by Meghna Gulzar and Atika Chohan, travels between decades to highlight the struggle as well as acknowledge the support.
Monsters abound as does humanity when compassionate folk rally around her in the form of doctors, lawyers, well-wishers demonstrating the power of collective altruism in society. Sometimes a tad overzealously and overcompensating in its depiction of the lawyer's husband in an extraordinarily understanding light.
Chhapaak gets its casting (Gautam Kishanchandani) down pat.
The editing (Nitin Baid) is seamless.
The camerawork (Malay Prakash) breathes the mood through all its hues and highs.
The ageing and passing of time isn't specifically striking but Deepika's physical transformation by make-up artist Clover Wootton is simply exceptional.
'Usne mera chehra badla hai, mann nahi,' believes Malti.
Truly the only 'manns' that need to change are the ones that empowers such atrocity.
Rediff Rating:

---
Sukanya Verma is the Principal Movie Reviewer for Rediff.com.
She can be contacted at mailto_sukanyaverma@rediffmail.com
---