Remove the jump scares from Bhoot Part One: The Haunted Ship and you are left with nothing, feels Moumita Bhattacharjee.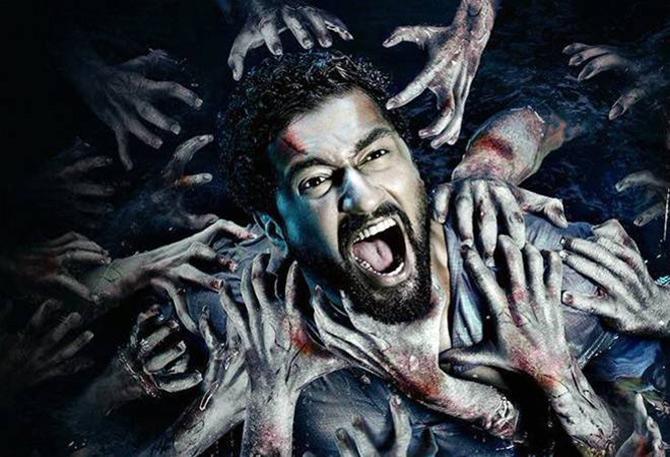 The last time I saw a movie called Bhoot, I had nightmares for a week.
Ram Gopal Varma made me believe in such dark forces that I still do.
This time, I might get over it in a day.
With Bhoot Part One: The Haunted Ship, Karan Johar's Dharma Productions steps into the dark world and makes that point apparent with dreary logo animation.
Bhoot Part One: The Haunted Ship is about a haunted ship, as the name suggests, which reaches Mumbai's shores unannounced.
What Is strange is that it has no one on board... at least not the ones you can see without skipping a heartbeat.
Prithvi (Vicky Kaushal) and his friend Riaz (Akash Dhar) are in charge of setting the ship on sail as soon as possible.
Prithvi, who is battling his own demons and hallucinating about his dead family, witnesses hauntings in the ship and decides to dig deeper. Whether it is his hallucinations guiding him or there is something sinister lurking in the ship is something you need to find out on your own.
Bhoot Part One has the humongous task of making people believe that Karan Johar can scare people.
After a mediocre attempt with Netflix's Ghost Stories, this is supposed to be his redemption.
Well, it succeeds in parts, as the jump scares are totally worth it.
They aren't original, but definitely shake you.
You will want to stay away from snapping your fingers for a while after watching this movie!
The first half keeps you on the edge of your seat. Unfortunately, the second half comes crashing down.
The twist definitely gets your attention and would make you rack your brains as to how it can be possible.
What also helps is that the film gets to the point almost immediately and does not meander.
I would like to give it an extra point for not resorting to sex (Vikram Bhatt, you can continue with Horrex, no contest there) or comedy (Stree wins) to lure audiences to the theatre.
Another big asset of this film is its short run time.
A big applause to the Sound Design team as that scares you more than the actual sequences. The biggest strength of horror movies is the build-up to the spooky scenes and in Bhoot, they did a swell job.
But all that could not mask some of the things that will put off any horror genre aficionado.
For one, the clichéd plot behind the mysteries of the ship.
I would have still discounted that had it not ended in a lame twist.
The moment you admire the CGI work, you reach the climax and it's all over.
Also, the film leaves you bewildered at times. For example, the entire girl trafficking sequence seems redundant. If it was done to prove how Prithvi doesn't care about putting his life in danger after losing his family, it does a really bad job of it.
His mental state becomes evident in the narrative anyway, a separate sequence for just that is like an indulgence rather than establishment of character.
Also, the way Ashutosh Rana's character has been handled towards the end is laughable.
Vicky Kaushal's character does not have any graph for you to enjoy this talented actor's range. If he is not brooding over his loss, he is running scared or looking for clues.
Meher Vij is very ordinary. In fact, her act during the big reveal is so uninspiring that it makes you laugh. It's as if she has lost interest in the plot by then.
Ashutosh Rana is still in Raaz mode. He needs a better horror film now.
Remove the jump scares from Bhoot Part One: The Haunted Ship and you are left with nothing.
After a point, even that stops making an impact.
P.S. It credits a 'Bone Breaker' towards the end. Do stay behind for that, you won't be disappointed.
Rediff Rating: