'Now, I am receiving so much love. Producers can rely on me now.'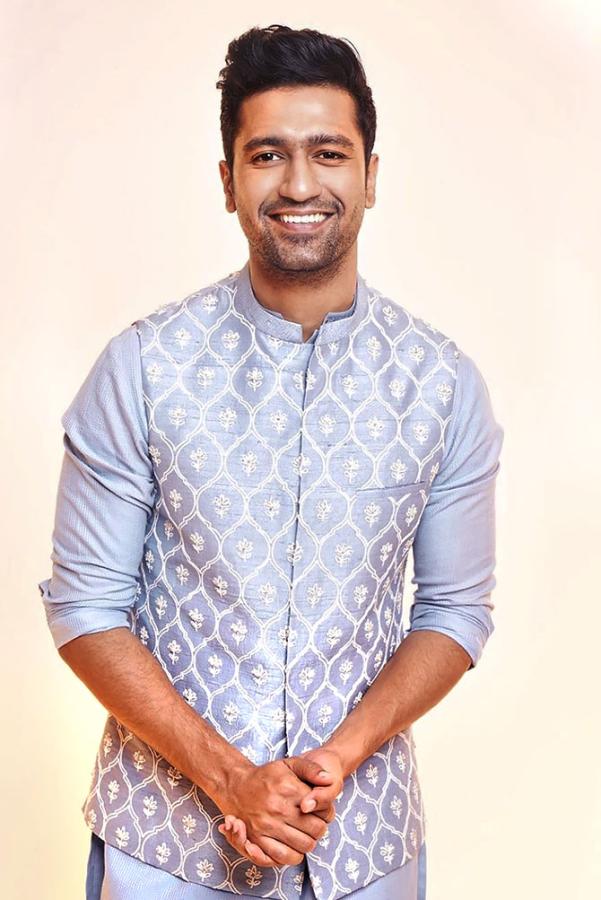 Vicky Kaushal starts his innings this year with the horror film, Bhoot: The Haunted Ship, which releases on February 21.
The rising star tells Rediff.com Contributor Rajul Hegde just how scared he is of ghosts, and adds, "I would love to overcome that fear because I get very jealous of people who enjoy horror films. I wonder don't they feel scared at night?"
Do you believe in ghosts?
Nothing has happened to me that I would believe in ghosts but when somebody says this has happened with me, I would not say I won't believe it.
I get scared too.
Sometimes I get sleep paralysis at night, where you feel somebody is sitting on you and you can't move your body. That was a scary experience, as I did not know the scientific reason for it.
Later, I found out that the body will not move if you are very tired and that is the time you feel somebody is sitting on you.
Once I hallucinated -- or it did really happen? -- that I saw a shadow passing.
Apart from that, I have not experienced anything.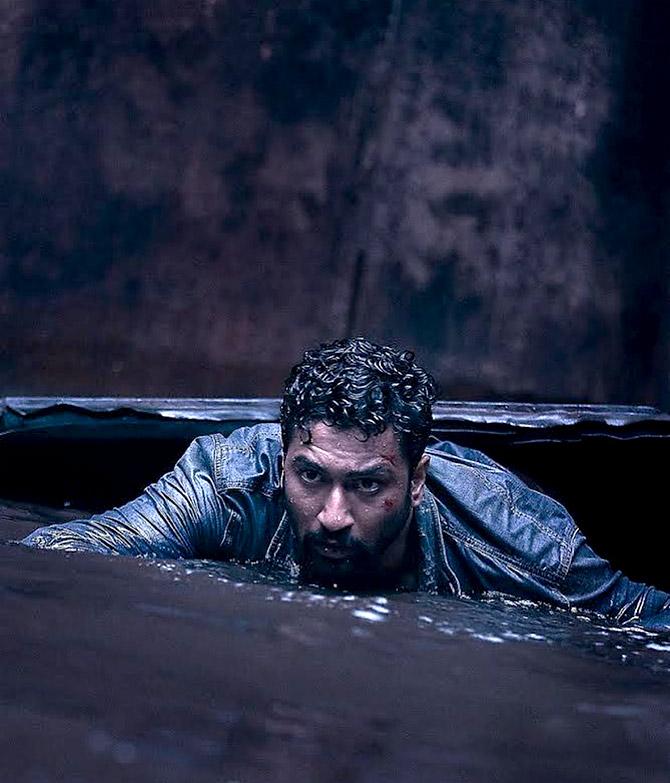 Did you have any spooky experiences while shooting?
Once, a ladder was falling on me, but it suddenly stopped when it was just three inches away.
I had a feeling that maybe there was someone on set who was getting disturbed due to us.
So I silently requested and said we are making your biopic, please let it happen smoothly!
Do you enjoy watching horror films?
I rarely watch horror films. Maybe once a year I feel that okay, I am a grown up now and can watch a horror film.
I feel really scared while watching horror films.
I have seen a few like Conjuring, Paranormal Activity and Annabelle.
I prefer watching horror films with a set of friends, especially those who are more scared than me.
That gives me a little courage and also, we make fun of each other.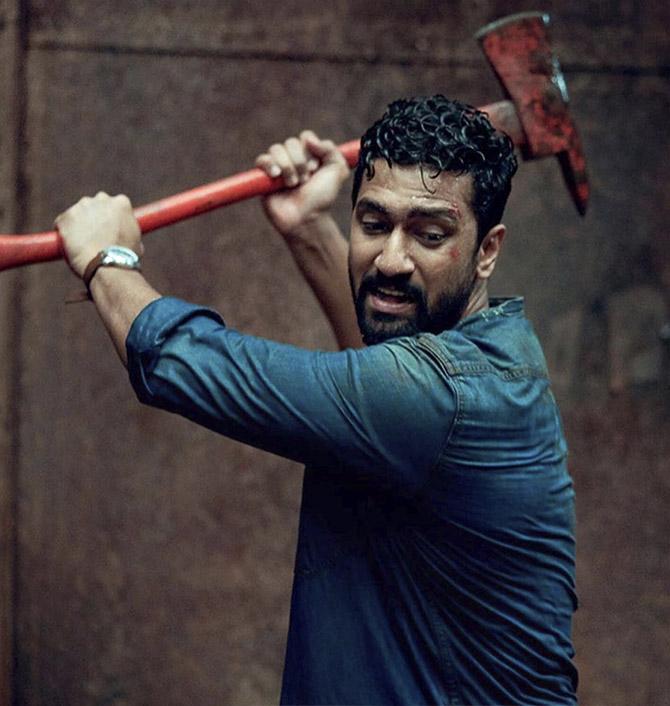 You are so scared of horror, yet you star in one.
I was okay with shooting a horror film because I knew the moment there would be a cut.
I would sit and sip tea with the ghost.
So I could manage that.
I would love to overcome that fear because I get very jealous of people who enjoy horror films.
I wonder don't they feel scared at night?
In a horror film, if I see something in the kitchen, I will probably see the same thing in my kitchen!
It becomes difficult to sleep alone at night.
I had a phobia of water which has reduced quite a bit after shooting this.
I swam underwater in a 25 feet deep swimming pool and enjoyed it.
How different is Bhoot from other horror films?
The freshness comes from the fact that it's really sticking to the genre.
There is no side track, no songs, no comic relief or anything to lure the audience to watch a horror film.
It is just a horror film, nothing else.
This film is a mix of psycho-thriller and pure horror.
As you have seen in the posters, there is a paranormal entity, not something going on in your head.
If people like this, we can keep evolving this.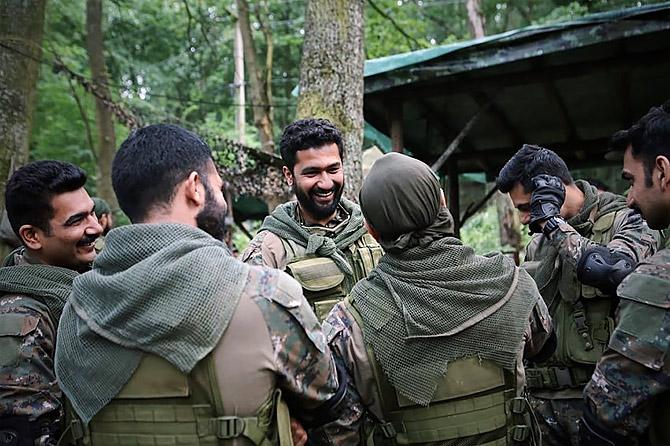 You have become a bankable actor after the success of Uri: The Surgical Strike, and now, you're doing films back-to-back.
It has been a beautiful year.
There was a time when I was even ready to pay to get work. Now, I am receiving so much love.
Producers can rely on me now.
I am getting to work with those film-makers I had dreamt of working with.
My self-confidence has increased.
I feel I am on the right track.
Uri was made by a debutante film-maker. I had never played a solo lead before this, so it had a huge responsibility.
The film clicked, and the audience accepted it.
As long as the script works, you must go for it as you never know what the next Friday might bring for you.
The industry is going through a beautiful phase where people are not dependent on the film's packaging.
If the content is good, there is an audience for it.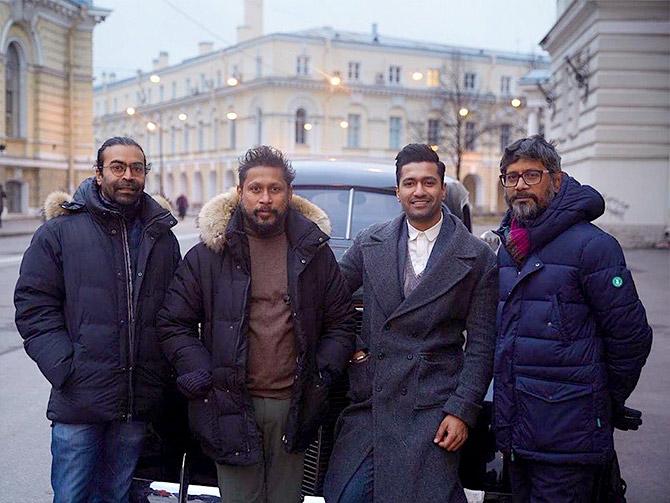 There are reports that you have increased your fee.
Mujhe chulha bhi toh jalana hai (I have to keep the home fires burning). (Smiles).
It's not like I have hiked my remuneration, it's just that sometimes you take up films which can wrap up in 20 days and then there are some films where you devote a lot of months.
When you invest so much and give so much time to prep, the logistics should be according to that.
At the end of the day, you are selling your services.
We do not have fixed pay cheques.
It's not like if you give a successful film, you hike your remuneration.
There are other logistical reasons due to which the amount keeps changing... it increases as well as decreases, but people only talk about the hike.
From drama to action and now horror. Did you chart your career this way?
No. I will not be able to justify my work if I plan and stick to it.
It will make me rigid as an actor.
It's important for me to be a part of good films made by good film-makers because people are interested in watching good stories,
I hadn't explored action before Uri, so there was a hunger in me.
In Bhoot, I did horror for the first time.
I don't want to get complacent.
What are the challenges of playing a historical character in Takht?
I have always wanted to be a part of a historical drama.
This one is as big as it gets, with a great ensemble cast and Karan (Johar) directing it.
They have their own pressure to make the narrative as true as what is written in history.
For us, as performers, the pressure is the same.
If I'm playing the character of Prithvi in Bhoot and Aurangzeb in Takht, the emotion has to be honest.