Betaal does scare the wits out of you in certain sequences, but as a whole, fails to make a mark, sighs Moumita Bhattacharjee.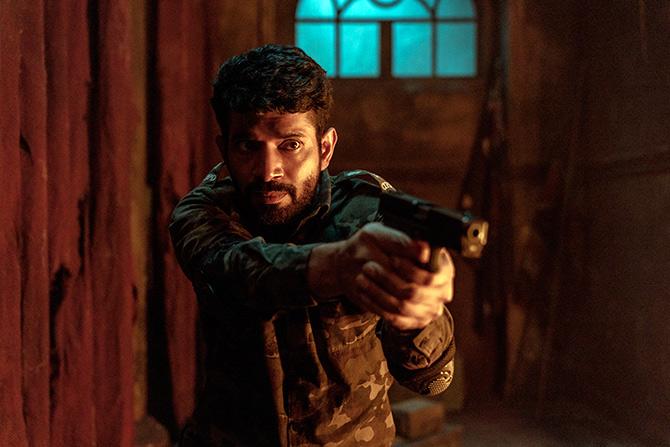 India attempts a zombie horror story with Netflix's Betaal, backed by Shah Rukh Khan.
Do you think I am dropping names? You got me wrong.
The fact that India made a zombie horror is an achievement in itself. Go Goa Gone was a comedy and a fantastic one at that.
But is just existing in the Indian OTT scene enough for Betaal to pass the test? Nah!
Putting the folklore of Vikram Aur Betaal to use, Netflix's latest show is quite gory and spine-chilling but it could have been so much more.
Vikram Sirohi (Viineet Kumar) is the second-in-command of a CIPD team. Apart from 'saving the citizens', they also get their hands dirty, thanks to the corrupt Commander-in-chief Tyagi (Suchitra Pillai).
With a tainted conscience, Sirohi goes about his business.
This time, he and his troops have been told that certain Naxal villagers are opposing the government's decision to build a highway, as it required a tunnel to be opened. The tunnel has been jammed shut to keep evil at bay.
The work is for a slimy contractor, played by Jitendra Joshi, who just wants to be rich and doesn't pause at anything for his gains.
Despite the villagers' warnings of not destroying the tunnel, the cavalry marches on and gets the job done.
In the process, they unleash hell on earth.
The first episode starts well, establishing the sacred ritual wherein 'Mausi', a village elder, connects with Betaal and bellows a warning.
But then the pace starts boring you.
The lot is pretty chatty and is only interested in hurling orders at each other. Or maybe that's because the whole point of the show is you shouldn't blindly follow orders as it can lead to you turning into zombies or worse, get sudden grey hair!
The tribe of the undead is of the commander from East India Company Colonel John P Lyndoch, who had harnessed the energy of Betaal, was cursed and buried alive with his troops in the tunnel.
Now, Patrick Graham and Nikhil Mahajan had the luxury of plenty of Hollywood movies to figure out how to get a zombie apocalypse in place.
So naturally, there are nods to Walking Dead and Game Of Thrones.
The folklore is the standout piece that separates it from the rest. They did get that right.
Having done an effective job with Ghoul, Graham's panache of attempting things horrifying is commendable.
Although there are jump scares to elicit a reaction, they have been kept minimal.
The costumes of the zombies have been done well as they belong to the British era in India. The killings, sudden twists, character deaths and more, get to you and stay with you, making you wince in fear.
Betaal is not just a zombie horror show but veiled social commentary as well.
There are fake encounters by the government, a Naxal problem, a malicious news anchor spewing venom on television, aided by Tyagi's stupid response which is cheered by her unit, capitalisation, corporatisation and much more.
It's a good attempt, but ends up boring you.
You don't feel sorry for the villagers or how soldiers are forced to do encounters. The subplots are just there!
Also, there are questions unanswered.
What was a child doing at the site where villagers are tortured by soldiers and a fake encounter is enacted?
Aahana Kumra, who plays the strong Ahluwalia, has one side of her face disfigured. Nowhere do they tell us what had happened to her.
And I have another question: Why is a zombie flying? They even talk!
While Viineet Singh had the burden of carrying the show on his able shoulders, it's some of the character actors who shine.
Viineet does a good job but at times, he doesn't really have the confidence and grit of a soldier. He overcompensates.
It's Manjiri Pupala, who is a scene-stealer here.
From getting a different dialect to those glowering eyes, you miss none of it.
What hurts is the cliche character of the contractor played by Jitendra Joshi. You have seen such characters in so many films that he doesn't disgust you by him.
Aahana needed more space to evolve as a character, but the directors weren't too interested in her.
All in all, Betaal does scare the wits out of you in certain sequences but as a whole, fails to make a mark.
Rediff Rating: