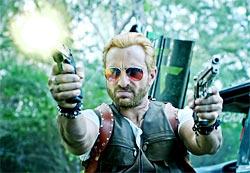 Rediff.com's film critic Raja Sen, who has written the dialogues for the zombie-comedy Go Goa Gone, tell us why Saif Ali Khan's character is such a gamechanger.

From the very first time I read an early draft of the Go Goa Gone script, I've been telling anyone within earshot to watch out for Saif Ali Khan, declaring that this film could be his Tropic Thunder.

With the film a day away from release, perhaps I should clarify that comparison with the epic comedy: He might be the actor-producer, but I'm not drawing a parallel between him and Ben Stiller's Tugg Speedman; he might be putting on an outrageous look and accent to assume another cultural identity, like Robert Downey Jr did in his Oscar-deserving turn as Kirk Lazarus, but that's not where I'm pointing either.

Nope, I'm saying Saif's Boris could do for him what the Les Grossman character -- the bearded, fat, fantastically profane Hollywood producer with dancing shoes -- did for Tom Cruise.

It could win him his cool back.

It's not that we don't like Saif. Quite the opposite, in fact. We know he can act, and most women think he's quite spectacularly hot. He's articulate and interesting and wears his fame lightly but with style. And many a bonus point for getting married to the biggest star in the country without creating newschannel-gridlock.
We know he can be great, and he might have bent backwards trying to show us that, but since 2006's Omkara, he's steered depressingly clear of being memorable. He's had some whopping hits, but the lesser said about them (coughRace2cough) the better.
And he's tried hard, experimenting with atypical films like Tashan and Agent Vinod and even that badly written Disney cartoon, Roadside Romeo.
Look, I'm not claiming Go Goa Gone will be Saif's best film. I haven't even seen the film myself yet. But when I read the script -- by filmmakers Raj Nidimoru and Krishna DK, and writing parter Sita Menon -- the character of Boris stepped above the rest of the zombie-comedy script and blasted everything around him to smithereens. Effortlessly, with that smirk in place.
It's an amazing, truly unique character, and hats off to the filmmakers and to Khan for embracing that loony aesthetic so wholeheartedly.
I made no secret of my Boris-awe, and when the filmmakers (and perhaps more importantly, my poker-buddies) asked me to write his lines, I leapt at the chance. It was last minute work done on an insanely sleepless schedule, but it was a helluva lot of fun.
So I came aboard to do dialogues, starting with writing out things for Saif's unforgettable character to say, and then taking on everyone standing around him.
It was a blast, like I said. I've worked with Raj and DK and Sita before, writing dialogues for their first Hindi film 99 a few years ago, and the cool thing about their scripts is the fact that they invariably come from a place of true originality.
There's a lot of buzz about GGG being like Zombieland, but all that will die down the minute people watch the film; its a blood and guts riot, and it is, without a doubt, very much its own beast.
(Also, thanks to all that zombie gore and the obvious Adults-Only rating it came with, I didn't have to worry about keeping Saif's tongue in check: when surrounded by flesh-eating corpses I wager all our vocabularies would be at their most colorful.)
The reactions so far have been overwhelming. Especially to one particular line Saif says in the trailer about Delhi that some eager Khan-fans have even, flatteringly enough, turned into an animated gif. That just feels mega -- and I'm glad there's so much more Boris to discover.
A Russian mafia don who isn't quite a Russian mafia don after all, Boris is tough, smart, occasionally foulmouthed and a man who doesn't suffer fools gladly. He knows the need of the hour and keeps his eyes on the prize -- though as the other characters may well attest, his idea of the prize itself may change, from time to time.
So much about him is so unexpected, and he's as rock-n-roll as can be. It's been a pleasure writing his lines, and I can't wait to see how all of you react to Boris in all his badass glory.
So cock your shotguns, crack your knuckles and head to theatres. Boris and I are waiting for your reviews.