A Simple Murder gets trapped in its mesh of staggered sub-plots and too many characters, notes Moumita Bhattacharjee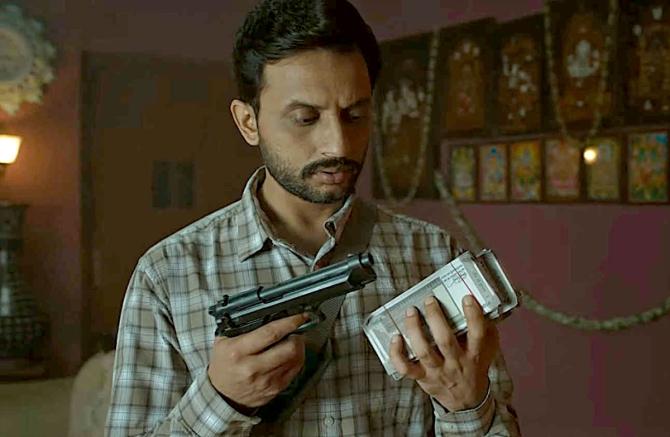 Watching Mohammad Zeeshan Ayyub as the main lead is such a refreshing change.
His talent has been wasted in so many movies as a sidekick to the heroes -- or as he likes to call himself in Tanu Weds Manu Returns, The Kandha.
OTT is such a godsend for such actors who deserve more time under the sun than the rest.
A Simple Murder has other equally talented actors like Amit Sial and Sushant Singh, but Ayyub stands out!
A Simple Murder doesn't play out as simply as the name suggests and that's where the conflict lies.
Parth (Zeeshan) is trying to build his start-up while living off his wife Richa (Priya Anand). The latter is clearly unhappy in the relationship and has a thing going with her boss Rahul (Ayaz Khan).
Meanwhile, a young couple is on the run from the girl's minister father who is against their relationship since the guy is a Muslim.
He instructs Panditji (Yashpal Sharma) to kill them both who in turn mistakenly gives the job to Parth. The latter botches it up completely.
Panditji realises his mistake when his real henchman played by Sushant Singh arrives.
The biggest asset of the show are the comedy scenes which are effortlessly woven in the series, at least in the first couple of episodes.
So as you dive more and more into the chaos and confusion, they keep you amused.
You don't lose your attention as someone or the other gets killed and you'd like to know why.
Despite the murders and killings everywhere, thanks to the humorous storytelling, you don't get bothered by it. Akhilesh Joshi, the writer, it seems, is heavily inspired by the 1990s.
The bar that Parth frequents often plays the exact song from the decade which defines the mood of the scene.
But after a couple of episodes, the gags become infrequent and you begin to lose interest.
Thankfully, there are just seven episodes with a promise of a sequel at the end.
Ayyub obviously takes the cake. Be it delivering funny dialogues deadpan or breaking down in front of a rat, he aces every scene.
Amit Sial and Sushant Singh's characters have limited graphs, but being excellent actors, they get your attention.
The hilarious exchange between Vikram Kocchar and Gopal Dutt is the icing on the cake.
All in all, A Simple Murder gets trapped in its mesh of staggered sub-plots and too many characters.
A Simple Murder streams on Sony Liv.
Rediff Rating: