Angad Bedi and Sikander Kher shine in this fast-paced thriller, notes Namrata Thakker.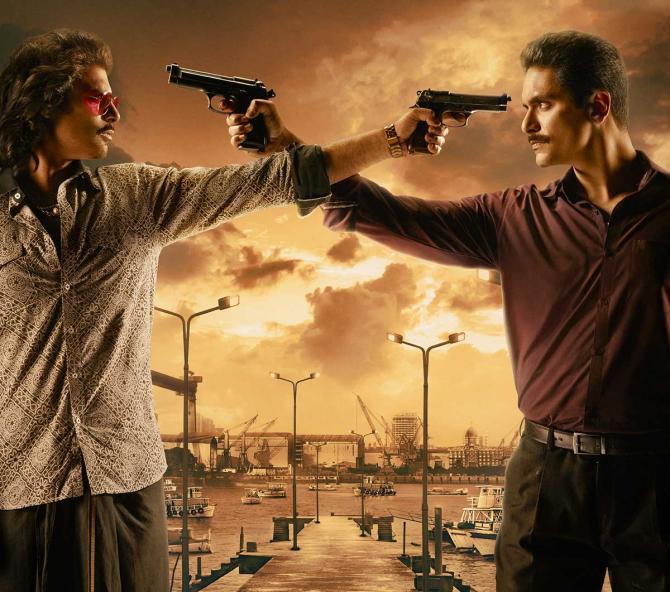 Director Akshay Choubay's first Web series Code M, which came out earlier this year, was quite a hit. Television actress Jennifer Winget headlined the cast.
Choubey is back yet another exciting series.
Mum Bhai is a cop drama, which revolves around Angad Bedi's character Bhaskar Shetty.
Sikander Kher has a prominent role along with Sandeepa Dhar and Sameer Dharmadhikari.
Set across three decades, the crime thriller focuses on Mumbai and how the city was dominated by the underworld in them 1980s and 1990s.
The makers have also highlighted the nexus between Bollywood, politics, the underworld and the media as well.
The 12-episode series introduces us to Bhaskar Shetty as a rebellious teenager who injures his school teacher for trying to take advantage of his mother.
After the incident, Bhaskar's mother sends him to Mumbai where Rama Shetty (Sikander Kher) not only takes him under his wings, but also teaches him how to fight and survive in the big bad city.
Rama is a small time criminal but soon joins a deadly gang whereas Bhaskar ends up joining the police force.
His rebellious attitude quickly earns him a place in the Anti-Terrorism Squad which is led by Karekar (Sameer Dharmadhikari).
The ATS head is on a mission to wipe out two warring gangs that have been ruling the city for long. And Bhaskar becomes his top encounter specialist.
As Bhaskar becomes the poster boy of ATS squad, Karekar isn't happy with his success and fame.
the
To make things worse, Rama Shetty joins one of the gangs that is on the hit list of ATS.
Bhaskar wants to be more powerful and rich and doesn't mind shaking hands with one of the gangs, but on his own terms.
With his rising popularity, fame and money, Bhaskar obviously makes too enemies.
How he tackles them all while growing his own empire forms the story.
Mum Bhai doesn't offer anything new as far as the storyline is concerned.
We have seen it all. But the twists and turns make the series engaging.
It also lacks in the action department.
Despite being a crime thriller, there is hardly any high octane action sequence.
The last two episodes felt a bit rushed and the makers could have done a better job with the climax.
A big reason why I enjoyed watching the show was its runtime. Each episode is about 20 minutes long and that is definitely a breath of fresh air.
The story is well-paced and never seems too stretched or forced.
Of course, the narrative has too many cliches, but good performances and crisp storytelling makes up for it.
Acting wise, Angad Bedi is a delight as a fearless yet arrogant police officer. He nails the part perfectly.
He's probably one of the most under-rated actors in Bollywood currently.
He -- and Sikander Kher -- really shine.
Both are convincing with their South Indian act and the whole mysterious play around their ever-changing equation is also captured brilliantly.
Most of the supporting actors are also good, including Sandeepa Dhar.
Mum Bhai ends on a high note, promising to be back with a second season, which I am already looking forward to!
Mum Bhai streams on ZEE5 Premium.
Rediff Rating: