... And sometimes, that's enough, says Sreehari Nair.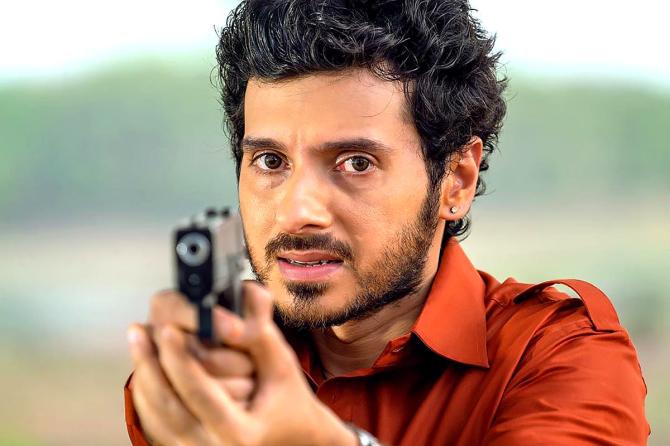 I think you can enjoy the second season of Mirzapur if you tuck away the central plot somewhere in the back of your mind -- the whole revenge angle -- if you don't take it too seriously, and instead bathe in the many chance pleasures that the show offers.
I want to begin by rattling off a few of these pleasures.
The second episode features an act of betrayal, one that happens so quickly and with such startling force that even the otherwise monstrous and unfeeling Munna Tripathi (Divyenndu Sharma) cannot help but wince in pain.
The moment is beautifully built up, the foreshadowing is masterful, and it results in the upsetting death of a character whom I had, up until then, thought of only as a jokester.
Watch out for a wonderful long tracking shot that opens on the banks of a river, then continues daringly, and turns unexpectedly.
On a technical level, that shot is a masterpiece of coordination. But there may have been a problem-solving dimension to all that daredevilry -- how do we make heart-stopping a routine gun-battle?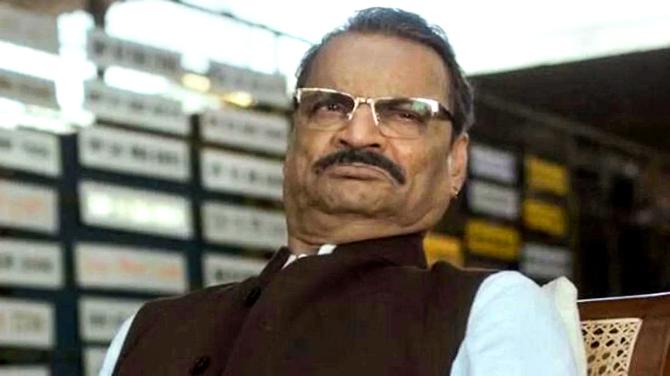 I beamed at the sight of Lilliput, that pocket-sized dynamo, used always as a comic punctuation, who, here, plays Dadda Tyagi, a power-crazed dealer of second-hand cars and pistols, the ceilings of whose office have been scaled down to fit his height.
The ceilings are just one part of an elaborate ego game: Dadda surrounds himself with furnishings that seem like offshoots of his inferiority complex.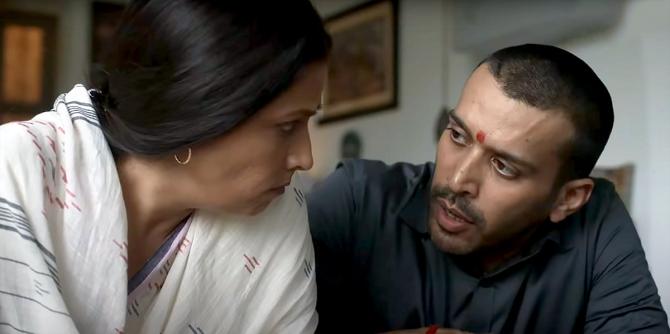 There is an actor I don't remember seeing before, Anjum Sharma, who has Al Pacino lips.
Sharma plays Sharad Shukla, and, in a scene of him being frisked, he sighs like how Michael Corleone does when Captain McCluskey checks him for any hidden weaponry.
In a shocking sequence, Shweta Tripathi's character, Golu Gupta, is whipped, and since the whipping happens by her own demand, the sequence opens up for us some understanding of the cipher that is Golu.
Giving Golu the belt is Vijay Verma, who plays identical twins, two characters, one of whom has eyes that betray a constant twinkle and the other who sees with a fixed stoniness.
Now that, if you ask me, is a sterling example of range -- not range, in the broader sense of 'He can do comedy, action, and he can dance also,' but range, in the sense of how real actors go about defining the term.
If you are attuned to the idea that screen acting is at the end of the day a body-focused art, you can derive great joy out of watching how, in a moment of moony stillness, Isha Talwar's neck gleams and gleams.
Madhuri Yadav, her character, is rather prim and 'white', but Talwar is such a terrific physical actor that every time she moves, vibrations get loosed into the wind.
Do keep an eye on how she slumps into a chair, slowly, in a scene of her getting high with Munna. Luminous!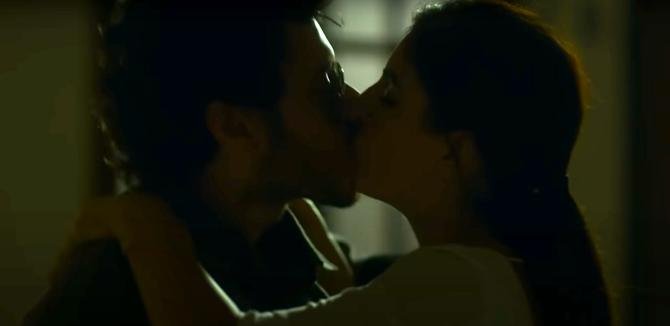 Surface-level pleasures like these are what make up Mirzapur.
And they come to define how you must approach the show: as something that's entertaining but leaves no residue.
It is candied Wasseypur, impersonally directed (the lighting is what one can now quite legitimately refer to as Web series-grade lighting).
Following the Aristotelian dictum, there is both Action and Spectacle here.
The incidents occur at breakneck speed and the actors take the colourful ethnic dialogues and run with it (the swearing is exquisite).
There is even an instance to rival the 'Luca Brasi Sleeps With The Fishes' moment from The Godfather, but in the manner of its re-creation here, it suggests the greased-lightning sensationalism of Mario Puzo's book and not the airiness of Coppola's vision.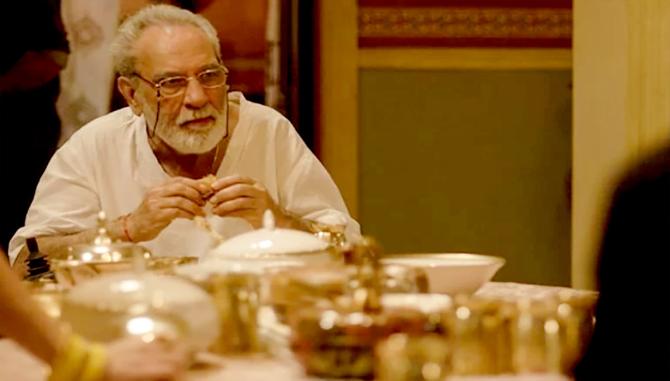 The two seasons of the show taken together, Mirzapur feels just this side of an ambitious soap opera, kinky yes, but also something that parades its tumescence with pride.
Kulbhushan Kharbanda's Bauji, who, when he gorges, doesn't bother flicking away kheer from his lips, takes from the lion the animal's desire for easy sex and bad table manners.
Oh, and how well Kharbanda eats!
He actually eats!
And in doing so, he sets an example for younger actors.
Sometime back, I jotted down my reasons for disliking Panchayat (I thought it was a middling show), and one of the reasons was the actors's reluctance to eat the food that they are served as part of a scene. Almost everyone on Panchayat was fake-eating, and that killed the authenticity of those scenes for me.
Kulbhushan Kharbanda, on the other hand, seems to know that when a character sits at a dinner table, he is supposed to do more than just take harmless nibbles.
Kharbanda seems to know that the simple act of putting food in your mouth changes your character's relation to a scene. So there he sits, old Bauji, ripping open huge slabs of meat, downing munchies, and popping in motichoor laddoos.
Ah, such flaky joys of film criticism are what a critic stands to miss out on when he gives himself heavyweight airs, and goes about looking for depth in a show like this one.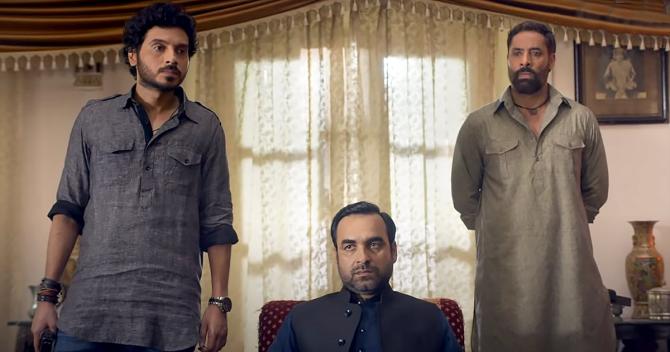 Mirzapur, in fact, is perfect for a country whose movie critics are given to sounding like schoolteachers, scanning a work of art for moral direction.
Just the other day, I happened to read a critic talking up Scam 1992 because it taught her that 'Greed is Bad' and as she spelled this lesson out to her readers, she gave Gordon Gekko's 'Greed is Good' line the finger.
What are these: Poster Girls for Notre-Dame?
Greed may be good or bad, that's beside the point; what's important is that it's a stimulating enough subject for artists to return to, over and over again.
In Mirzapur, perversity has its own music and is treated objectively.
There is a scene of Munna Tripathi, Sharad Shukla, and Vijay Verma's Tyagi gathering around for drinks, and hurling at each other's parents the choicest obscenities.
If you give yourself over to it, you will notice how finely modulated that scene is -- ending in peals of laughter, but with a sense of danger always circling its edges.
With men like Munna and Tyagi grabbing all the colour, it is the good-natured people who come off as most impotent and grating.
As the honest Ramakant Pandit, Rajesh Tailang is pitched up like Polonius, or, as Hamlet calls him the 'tedious old fool'.
But since this is the wily Tailang we are talking about, Ramakant becomes a character with unexpected comic shades; a man, who, when he has to utter even a casual lie finds himself not up to the task.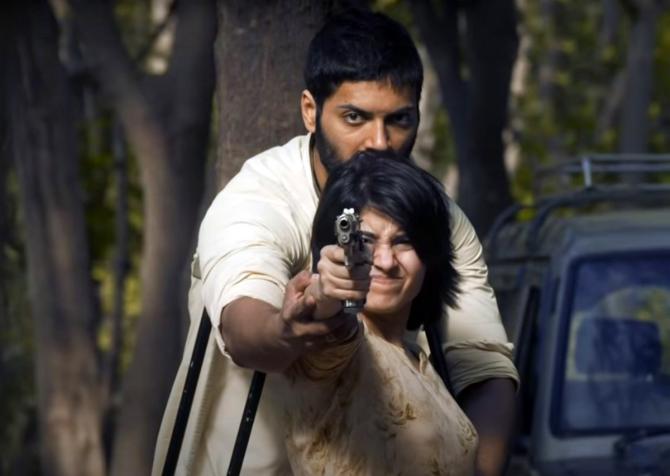 I much preferred Ali Fazal's Guddu Pandit of Season 1, where he was unpredictable as the slow-witted brawn.
Here, his toughness feels one-note, and the idea to photograph him from his limping leg up is a visual choice with no give.
Vikrant Massey's presence I didn't miss, but Shweta Tripathi Sharma makes sure that his solemnity still pervades the franchise; she, here, is a priestess gone bloody-minded.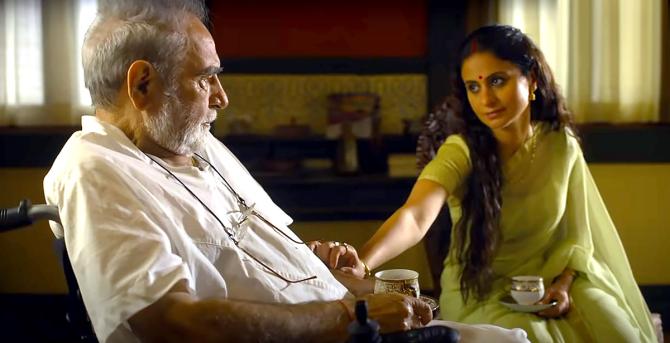 Things are more fun in Kaleen Bhaiya's mansion, where, contained within a simple remark, a passing gesture is the lonely howl of generations.
You watch Isha Talwar's Madhuri being placated by Kaleen Bhaiya (Pankaj Tripathi), and as they bond in a father-daughter sort of way, as the new daughter-in-law's feathers are smoothed, the camera zooms out to reveal the elder daughter-in-law of the house, a bored, pregnant Beena Tripathi (Rasika Dugal), chewing away at a toffee, grunting sarcastically.
Beena is the scheming lady of the weeklies, given her due.
She knows the drill; she's on her own power trip.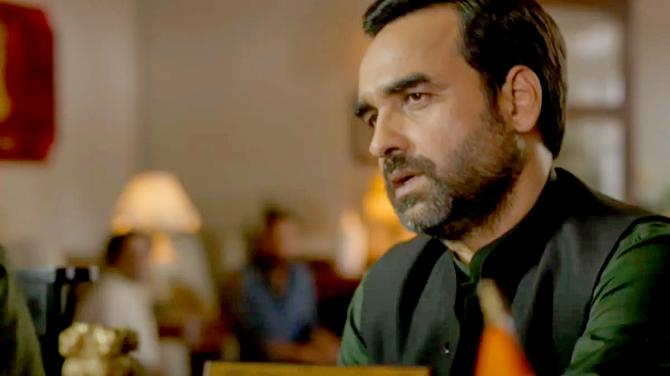 Is Pankaj Tripathi less effective than the last season?
Surely, as a figure, Kaleen Bhaiya doesn't loom as large, this time.
But Tripathi, whose great strength is in his silences, knows the trick of waiting a long moment while his words gather weight.
And in a Web series eager to jump from nugget to nugget, it is Bhaiya who suggests the pain of the tide turning, of time moving too fast.
Tripathi's performance lends the show its stability.
And when he rebukes his son's wayward ways with the example of his own good manners and clipped speech, he underlines the wisdom that shady fathers pass on to their shady sons; it is less wisdom you can use, and more the self-memorialisation project of politicians.