14 Phere delivers on the feel-good factor, but if you are looking for ground-breaking humour, it will fail to work its way into your hearts, notes Anita Aikara.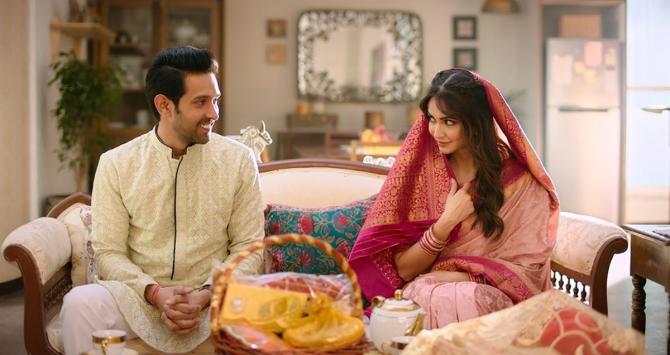 It is said that all marriages are a mystery to outsiders, and 14 Phere is set on that very premise.
Sanjay (Vikrant Massey) falls in love with his senior in college, Aditi (Kriti Kharbanda).
They start living together in a fancy apartment in Delhi, without their families' knowledge.
Sanjay is a Rajput, while Aditi is a Jat. They want to marry, but don't ever bring up the topic with their families.
Aditi's father is no fan of love marriages, and Sanjay's dad almost gets his son married to a girl from the same caste.
Minutes into the movie, mustering some courage, Sanjay announces that he doesn't want to marry the girl his parents found because he loves someone else.
The next minute his grandfather aims the gun at him, and Sanjay is forced to lie about the girl he likes.
'Jaat se woh ladki bhi Rajput hain (the girl is also a Rajput).'
'Baap ka bahut bada business hain, Delhi mein bahut badiyaan ghar bhi hain (her father has a flourishing business and they have a huge home in Delhi).'
'Engineer, MBA ladki hain, aur university topper hain (she is an engineer with an MBA degree and is a university topper as well).'
'Aur jitna yeh log aapko dahej mein de rahe hain, utna woh saal bar mein kamalete hi (how much dowry these people are offering you, she earns that much in a year).'
That sets the tone for 14 Phere, a light-hearted take on the issues that couples face for marrying outside one's caste.
Sanjay and Aditi come up with a full-proof plan of tricking their parents to tie the knot.
Taking the help of Sanjay's theatre friends, who pose as their fake parents, the two set out to organise not one, but two weddings.
But will their plan succeed?
Or will the families discover the lie and stop the marriage?
Helmed by Devanshu Singh, the film also features Gauahar Khan and Jameel Khan.
The director's Chintu Ka Birthday clicked with the audience despite having no big names in the cast.
The movie tells you everything you already know about inter-caste marriages, but in a hopeful manner.
It is relevant and kudos to the director for trying to spin a film around an inter-caste love story without being preachy. It's nice to have a movie on the subject that doesn't end in tragedy.
However, the film doesn't quite make for an entertaining watch.
It begins on a high note, but neither does the plot nor do the characters leave much room for something swoon-worthy.
It's easy to lose interest in the latter part of the film as things begin to get predictable.
On reel, everything seems so perfect and simple that you'll begin to miss the complexities of life -- the climax is far too close from real life.
The end is very simplistic.
The high point of the film is Vikrant. It is fun to watch him in a delightfully simple role that seems to be written for him.
Kriti struggles to be effortless, but her role doesn't seem natural and convincing.
Delhi's Meryl Streep aka Zubina (Gauahar) is good and funny in parts.
In the middle of a pandemic and multiple lockdowns, it is now that the audience really needs escapism and some humour infused into their lives.
The movie delivers on the feel-good factor, but if you are looking for ground-breaking humour, it will fail to work its way into your hearts.
14 Phere is streaming on ZEE5.
Rediff Rating: