''I am fascinated by people who cannot accept things.'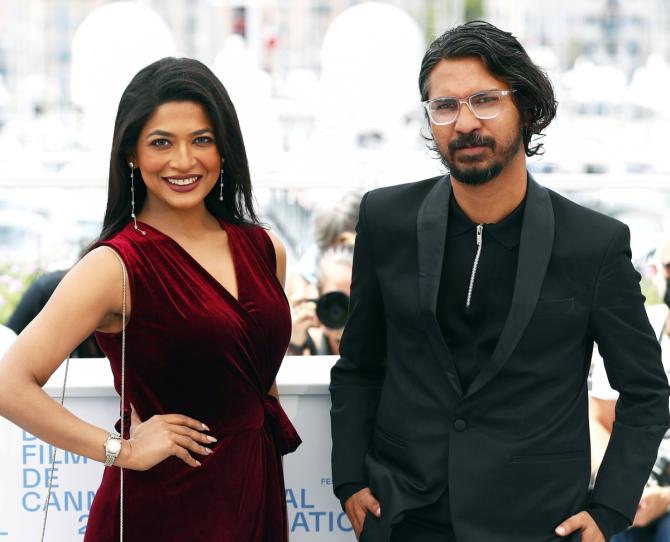 Abdullah Mohammad Saad is having quite the time of his life.
His second film Rehana Maryam Noor premiered at the Cannes Film Festival in the Un Certain Regard section. It is the first time that a film from Bangladesh played in the festival's competition section.
Saad's powerful film focuses on Rehana, a single mother and an assistant professor in a medical college, who struggles on a daily basis to keep up with her stressful job and parenting her young daughter, plus also maintaining sanity at home with her elderly parents and unemployed brother.
One day, Rehana witnesses a #MeToo like situation in the college, involving a student and a professor, and she becomes obsessed with fixing the wrong.
But Rehana's obsession will take her to a point of no return, where even her young daughter's future could be impacted.
Saad's remarkable film explores a committed woman's journey through difficult circumstances.
But she is courageous in her fight even when the odds are heavily stacked up against her.
Saad, 36, did not set out to make films. He initially studied didactics at the University of Dhaka and even once considered becoming a musician. Film-making was not his first choice of profession.
Eventually, he did start to make films, shorts, and then his first feature, Live from Dhaka, a black and white thriller about a man desperate to leave the city.
Live from Dhaka won the Best Director and Actor awards at the Singapore International Film Festival in 2016. It also played at the Rotterdam and Locarno festivals.
Rehana was well received by the audience and critics at Cannes. The film has already found a distributor in the US.
"We didn't know how people will respond. But at the end, things went really well," Saad tells long-time Rediff.com Contributor Aseem Chhabra.
Saad, congratulations on making such a powerful film and also the reception at Cannes. How are you feeling?
A little bit better now.
Were you nervous about how the film would be received?
Yes, we were very tense. We didn't know how people will respond. But at the end, things went really well.
In the programme notes, you mentioned how you have been through situations in life when you could have spoken out about something wrong that was happening but you kept quiet. I was wondering if the script that you wrote and the journey of Rehana was that therapeutic for you?
Some of it definitely comes from my personal experience. My obsession with Rehana is because she is very unlike me.
I am a regular, ordinary person who doesn't want to get into trouble.
I am fascinated by people who just cannot accept things easily; people who cannot move on so easily.
I think that's one of the main reasons why I wrote about Rehana.
Why did you make the film from a woman's point of view since Live from Dhaka was from a man's perspective?
I think it's because I am very influenced by my sisters and my late mother.
I have been observing them for a long time.
I have already written about a man, so I thought I should try to explore the narrative from a woman's point of view.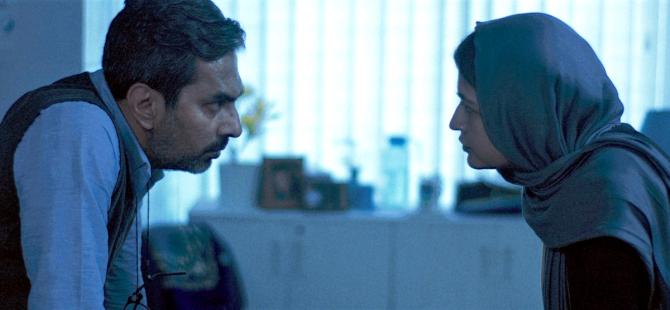 Do you think what Rehana does is right, especially at the end? As the scriptwriter and film-maker, do you feel responsible for her actions?
Well, I try and present my characters from all points of view -- the social, family and political. So I leave it to the audience.
For me, she starts as a witness, then she becomes a perpetrator and eventually, she becomes the victim.
After going through everything in life, I raise the question in the end and leave it to the audience: How should she raise her daughter in this world?
Do you have to compromise or do you face everything?
They are my jury.
I don't try to give any answers.
I don't have any answers.
Do you have children?
No.
Okay, but I am a parent, and I would have gone through the same dilemma as Rehana does. I probably think what she does is right. There was no way out. Did you think like that?
That is one of the interpretations. But I don't want to give any answers.
It would defeat the purpose of my screenplay.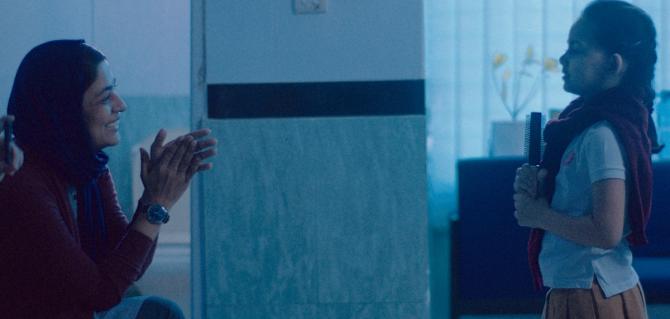 Tell me about the making of the film. There were a few things that stood out technically. First of all, the blue tone of the film. What was the thought behind that and your conversations with your cinematographer?
About the colour scheme, I made my first film in black and white.
When I decided this film is going to be in colour, I was looking for a theme that would capture Rehana's mood, her past and motivations.
I didn't want to shoot flashback scenes.
At the same time, I wanted to convey the feelings and frustrations she had been holding on to for so many years.
I wanted to capture her claustrophobia, being one person against the whole world.
I wanted the audience to sense what she had been holding inside her, without going into her past and motivations.
It is interesting you mention claustrophobia because of the way the film is shot, so often the camera is very tight and close on her, even though those are not close-ups. Often, we see her from the back, or we don't see things around her. Plus, there are so many scenes in the hallways of the hospital.
Absolutely, my landscape is Rehana's face.
I wanted to capture everything she's processing and everything she's not processing.
I tried to capture her from a close range.
My blocking design was motivated by the idea of creating claustrophobia because if I didn't do that, the audience would wonder what is happening to her.
I love the way this film is edited. The film's structure evolves with the editing.
The reason for this form of editing is because I don't want to be sentimental.
I don't feel comfortable with explaining too much.
I always try to leave space. That's why my editing often feels a little bit abrupt and harsh.
Also, I always try to leave early from a scene so that my audience should figure out what has happened.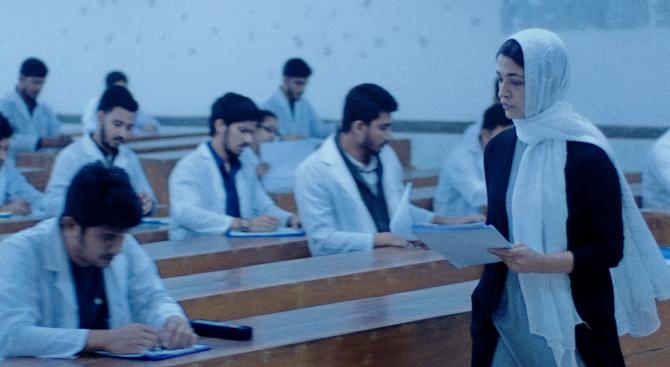 I believe you take 25-30 takes for each shot. Your actors must be very patient with you.
Yes, sure. Without their commitment, I couldn't do it.
I wanted everything to feel real.
With a single take, you do not get a lot of coverage.
The blocking was very complex.
We were working in very narrow corridors.
I had to figure how my DP and focus puller would move around, how I am going to synchronize all of that and make it feel natural.
There was no other way we could capture the reality without having the liberty of 30 takes.
It took time.
We rehearsed for nine months.
Even after that, we started shooting on location, we had to take time to hit all the important notes, so that every second, every beat of the film is real.
The experiences that Rehana encounters, the patriarchy -- not just from the men, but also from some of the women characters -- is that a reflection of what happens in Bangladesh or South Asia? It reminded me of India in a lot of ways.
To be honest, I am not trying to portray any society.
I don't think that's my role as a film-maker.
I am always very character-driven. I was trying to examine Rehana as a human being.
When you write about a complex character, you have to see them from as many angles as possible. That thinking happens in your writing.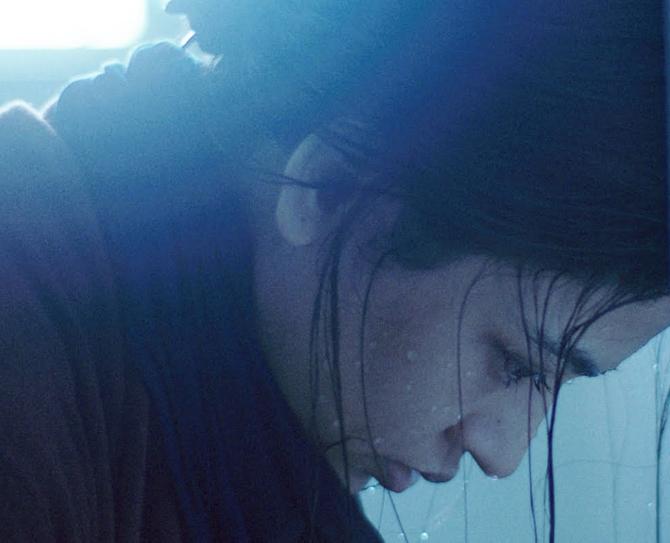 How did find your lead actress Azmeri Haque Bhadon? She is terrific and carries the whole film on her shoulders.
She has done some film work, but she is a famous model in Bangladesh.
When my casting director suggested her name, it was not a very obvious choice.
She comes from a very glamourous world, not the real acting world.
But when I met her and talked a little bit about her character, I could feel she seemed to connect with Rehana -- deeply and personally.
From day one, I could sense that she understood Rehana.
Then we did the look test with costumes and I really felt that is how I had imagined Rehana in my mind.
She also helped me a lot.
We talked a lot about her character but I didn't give her the screenplay for a while.
She didn't know the whole story when she joined the project.
I am so lucky I found her at the right time, the right place.
I am following the works of many young Bangladeshi film-makers -- your films and those directed by Mostafa Sarwar Farooki, Rubaiyat Hossain, Bijon Imtiaz.
What do you think is happening in Bangladesh that is contributing to this new movement of cinema? All of you are making fascinating films.
Thank you for saying that. But I don't know why it's happening in the last decade.
We do not have so much assistance structurally, but we continue to make films.
I don't know why, but all of us are so energized and inspired.
Rehana is the first Bangladeshi film in competition at Cannes, but we have been presenting films at other international film festivals in the last decade.
Feature Presentation: Rajesh Alva/Rediff.com