Happy Women's Day to all the beautiful ladies out there!
On International Women's Day, several Bollywood celebrities took to social media.
While Suniel Shetty penned a beautiful, strong, message, Luka Chuppi star Kartik Aaryan stayed true to his personality and posted a picture which was hilarious but sweet at the same time.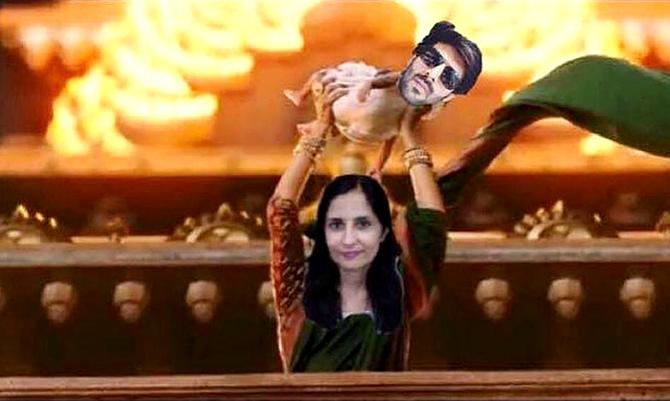 Giving his photograph a Baahubali twist, Kartik shared it on Instagram and wrote, 'To the Strongest person i know, Who not surprisingly is a woman. Happy Women's day Mummy Happy Women's day to all you Strong Women out there #HappyWomensDay #JaiMaheshmati #Baahubali #RepostKartikAaryan'.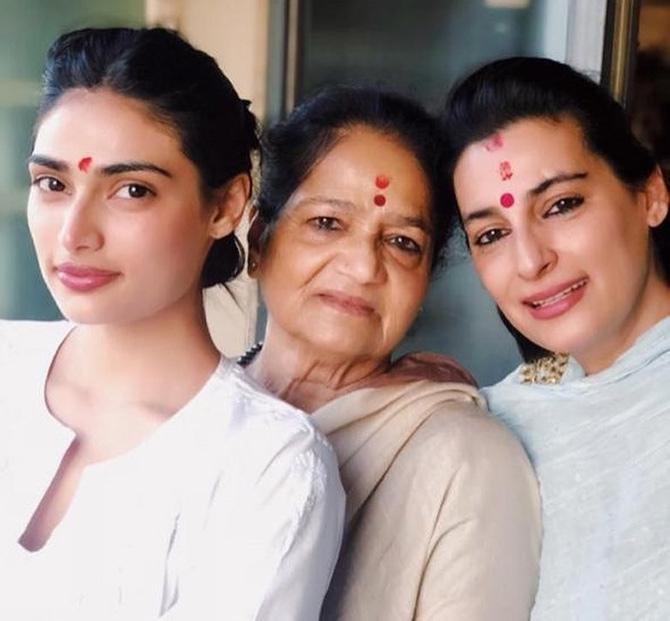 Suniel Shetty shared a picture of his daughter, mother and wife on his Insta feed and wrote, 'I read something really nice and wanted to share with all of you:'
'If we must celebrate a day for women, let us celebrate freedom from stereotypes, from expectations, from idolization, from sacrifice... Stop congratulating women for being the secret behind a successful man... Start saluting them for being successful.'
'Stop saying the mother is sacred for all the sacrifices she makes... Try to reduce those sacrifices! Stop telling women they are beautiful... Try telling them it's not important to be beautiful!'
'Stop praising her roles as mother, wife, daughter, sister... Celebrate her as an individual, a person, independent of relationships. Stop justifying her necessity to multi task....Give her a chance not to!'
'Stop these constructs which are aimed at making her strive for an impossible balance... Let her be inadequate... And happy!'
'Stop making her look at herself through a conveniently male viewpoint. Let her be imperfect, whimsical, irresponsible, boorish, lazy, fierce, opinionated, loud, flabby, ungroomed, adventurous, unpredictable, unprepared, impractical... Well behaved women rarely make HISTORY! HAPPY WOMEN'S DAY TO ALL MY BEAUTIFUL FRIENDS.'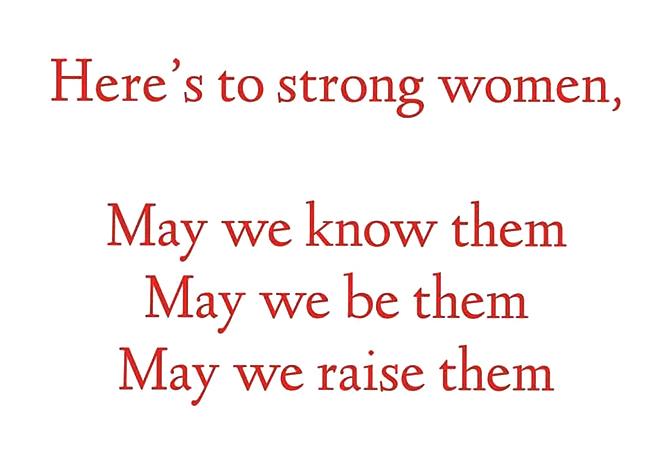 Mira Rajput had a rather simple message to give out. She wrote, 'Celebrate, everyday. #happywomensday'.
Shamita Shetty posted a collage on her Insta account and said, 'Happy Women's Day to all the beautiful, strong women out there. U have the power to love unconditionally forgive, nurture and at the same time ignite the spirit of power n hope. Thank you to all the women who paved the path towards our progress n struggled to take 'Womanhood' to a level where it is now! #womensday #strength #love #instalove #instapic'.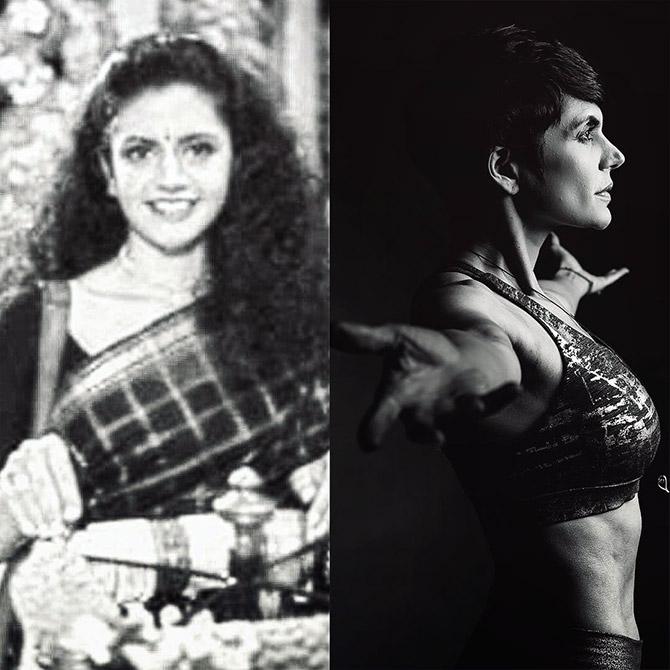 Mandira Bedi summed up her journey quite beautifully and wrote, 'I bumbled my way thru my 20s.. I had insecurities aplenty in my 30s.. but my 40s are all about self belief.. And self love.'
'Believe in yourself everyday baby! Celebrate yourself EVERYDAY #HappyWomensDay'.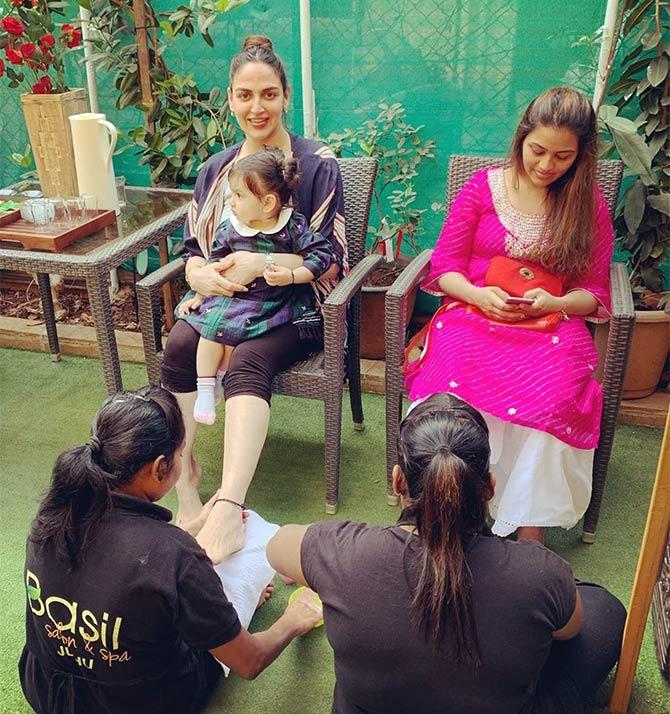 Esha Deol, who was last seen in the short film Cakewalk, was in for a surprise when she visited her daughter Radhya's school.
She revealed on Instagram, '#womansdaytreat at baby's school .... all the #mommies walked into this lovely blissful surprise #footmassage ..... organised by the school aaaaaaaah!!! What more can one ask for #gratitude #radhyatakhtani'.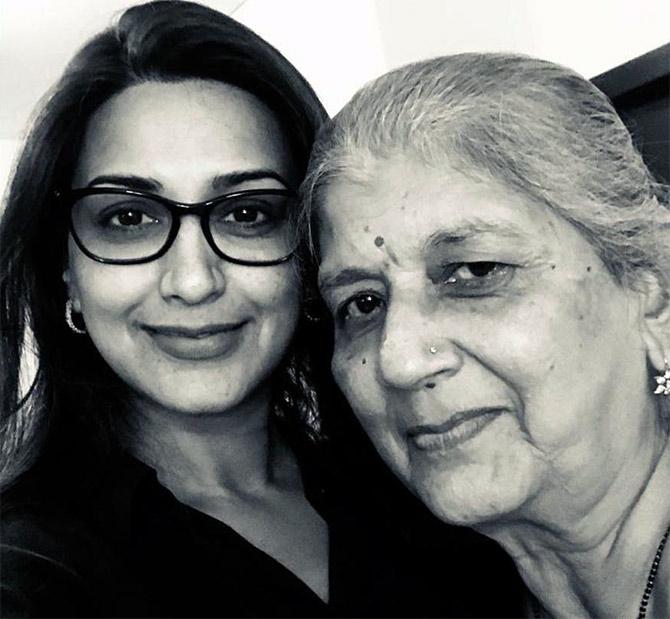 Sonali Bendre shared pictures of her mother and her friends on her Instagram account and wrote, 'They say, "Your vibe attracts your tribe".'
'Over the years, I've realized how special it is to have someone you can lean on. When they have been with you through all those highs and lows, it gives you the freedom to be yourself. That's just the kind of bond I share with these amazing women. They're all successful... they're all courageous. Each one of them shines through their unique personalities. But it's their constant support and encouragement that gives me the confidence to do whatever I wish to do. I'm really proud of my #GirlGang and am extremely happy to be spending not just #WomensDay but also every day of my life with them. I love you all!'
'P.S.: I'm pretty sure that even 50 years from now, we'll be the group of women causing trouble around us'.