Meet the first stunt woman in Bollywood.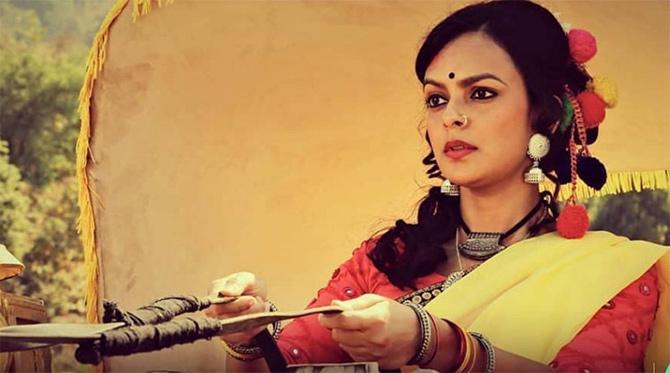 A young woman jumps high, her ponytail bobbing up and down. Then she breaks into a run in a lane in Ballad Pier, south Mumbai, on a Sunday.
A young man joins her, and ends the race with a somersault, landing firmly on his feet.
It is a particularly risky feat as the road is solid and will not forgive a fall.
Next, the young woman climbs a tall structure built like Mumbai's historic Flora Fountain.
She reaches the top, but doesn't jump. Another young woman jumps instead, and lands cleanly on her feet.
Welcome to the shoot of ZEE5's Web series, The Sholay Girl, which documents the life of Hema Malini's stunt double in Ramesh Sippy's cult film.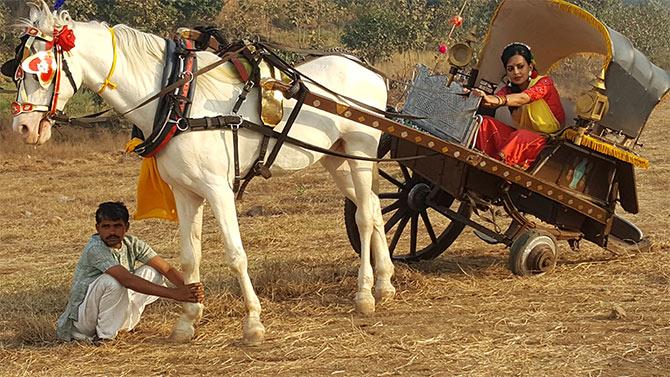 The life of Reshma Pathan, who has spent 50 years in Bollywood, will be played by actress Bidita Bag.
The Sholay Girl has been directed by Aditya Sarpotdar (who directed Marathi films Mauli, Faster Fene and Classmates), and costars Aditya Lakhiya, Sujata Sehgal and Vineet Raina.
Reshma, who is present on the sets, tells A Ganesh Nadar/Rediff.com, her extraordinary story: "I grew up on a pavement at Flora Fountain. I used to jump off the top of the fountain as a child."
That is, in fact, the scene that was filmed earlier, when Bidita's 'jump' was completed by her stunt double Arifa Almas Khan, who has participated in shows like Khatron Ke Khiladi.
A stunt director, who was a family friend, gave Reshma a chance to a better life by offering her a film in 1968, where she was the body double for dancer Laxmi Chaya.
"They would pay me Rs 175 a day, which I could not have made in any other job. My work helped my family get off the street and move into a home. I also bought a scooty," Reshma recalls.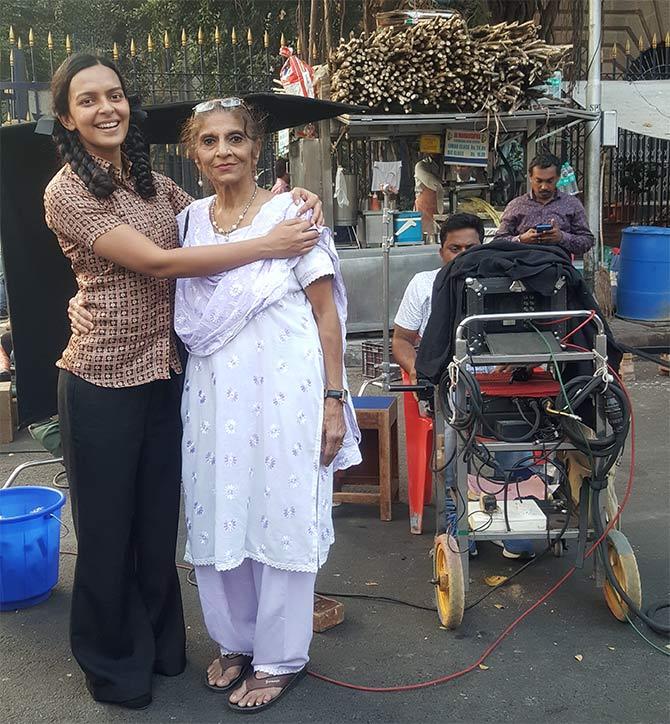 Reshma remembers the only Tamil film she has done.
"I went to Madras by train. I was told that someone would receive me at the station, but there was nobody," she recalls. "I waited at the station and realised that people had begun to stare. Even the cops were looking at me suspiciously. I was good looking in those days."
"Finally, I found a phone in a shop -- in those days, there were no STD booths -- but the man on the other end of the phone spoke only in Tamil! I was almost in tears, but luckily, the shop keeper knew Hindi and spoke on my behalf."
"I learnt that someone had come to receive me, but had not recognised me, so he had gone back. He returned, and the shopkeeper pointed me out."
"Before me, men were used as body doubles for heroines. I was the first stunt woman. Now, there are plenty. These days I don't feel well so I am not working," she says.
We see Bidita try to leap on top of a cab, while two people hold her on either side. She tries to kick.
The body double steps in, and leaps on top of the cab to deliver a mighty kick right on the villain's chest.
Surprisingly, there are no mattresses to catch the fall of these stunt aristes.
Bidita says she has two body doubles for this Web series, since it has a lot of action. It is all done to good effect by action director Pradyumna Kumar aka PK Swain.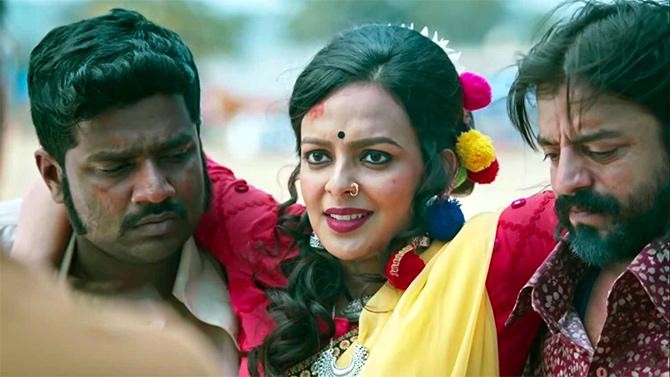 The actress recently wrapped up another biopic -- this time on Daya Bai, a social activist from Kerala.
Is it difficult to go from playing a social worker to playing a stunt woman?
"Both are different roles and different movies. And I am an actor," she replies with a smile.
The shoot stretches over 12 hours, even longer for the technicians, but no one looks tired.
The energy and enthusiasm on the sets is incredible.
The Sholay Girl will begin streaming on ZEE5 on Women's Day, March 8.