'Everywhere, people would ask me why I had left films. They wanted to see more of me.'
'Their words were music to my ears.'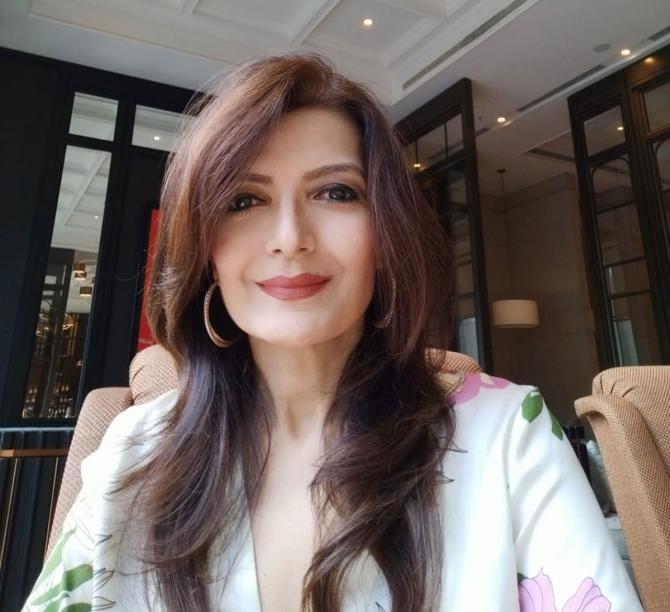 Nandini from Khoon Bhari Maang still brings back fond memories of Sonu Walia who one day, just disappeared from the screen.
We tracked her down to Mumbai, and discovered that the former Miss India was as elegant as ever, readying for a comeback as a producer. She's open to acting offers too.
But where did she vanish and why?
Sonu opens up about her fairy-tale marriage, and tells Rediff.com Contributor Roshmila Bhattacharya, "It was far more exciting going to the supermarket and being able to shop unrecognised."
One hears that you have turned producer.
Yes, Tegh Enterprises is ready with its debut production, Jogiyaa Rocks. It's a musical love story of a small town boy, who goes on to become a rockstar.
Today, we see such incredible success stories in almost every household across India.
Music reality shows are throwing up such phenomenal talent.
Of course, not everyone gets lucky.
This is the journey of one guy who did.
It features television actor Rohit Bakshi with Kirti Kulhari and Suzanne Mukherjee.
It's so exciting creating a film from a one-line idea. It's like having a baby.
Did you shoot during the pandemic?
No, we completed it in 2019 and had been planning a release when COVID struck. Now, we are talking to OTT platforms.
It was shot in Mumbai and Visakhapatnam.
The shoot was smooth, but we overshot and it required some trimming.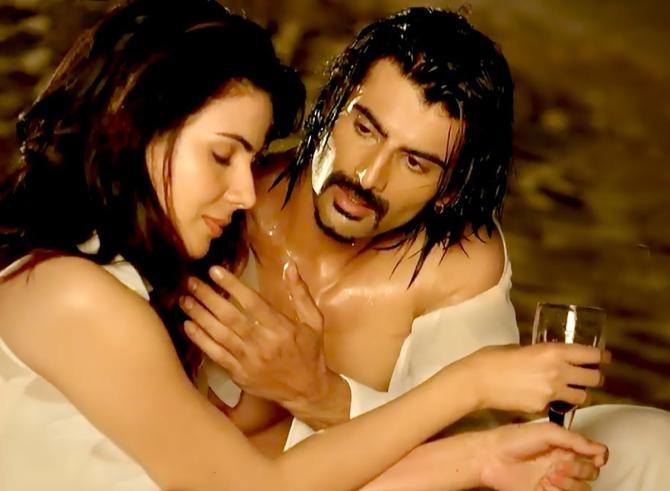 Where were you during the lockdowns? How did you cope?
I was in Mumbai with my in-laws. It wasn't so bad.
COVID is a wake-up call for us.
We were so busy chasing our dreams that we had forgotten what really matters.
Of course, there's been a lot of pain and suffering, loss of lives and livelihood.
But there's also been time for self-reflection, and the realisation that life isn't all about name, fame and money, which cannot even buy us our health.
It's about what makes us happy.
Faced with extreme challenges, we've rediscovered family, friends and ourselves. I feel blessed to have my parents, in-laws and sister by my side.
Don't you have a daughter too?
No, but my niece is like my daughter.
I'm badi maa to my brother-in-law Vineet Sharma's sons.
He has co-produced the film, co-directed it and composed the music too.
You quit films to marry an NRI businessman in 2000, right?
Yes, I moved to the US with him. We were very happy together.
I wasn't working, I was happy running the house.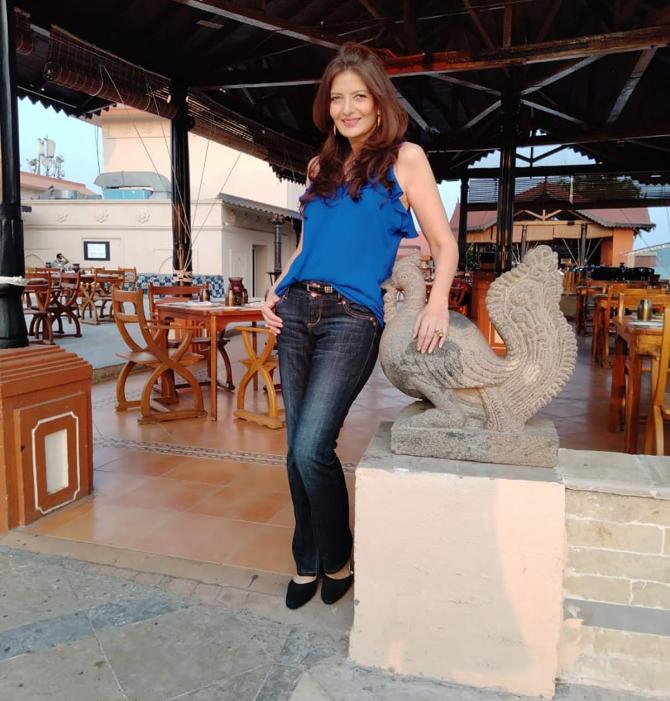 Didn't you miss the studios?
No, it was far more exciting going to the supermarket and being able to shop unrecognised.
My husband was in the hotel business and we would travel a lot.
Everywhere, people would ask me why I had left films. They wanted to see more of me. (Laughs)
Their words were music to my ears.
In retrospect, I realise acting is like swimming. You never forget. It's a part of you.
Your husband acted in and produced a few films down South…
Yes, he suddenly got interested in every aspect of film-making and roped me into the creative process too.
He'd make me work on the story and screenplay, the costumes and other prep.
I never went on the sets, I was happy working behind-the-scenes.
The experience came in handy during Jogiyaa Rocks.
Were you married to Pratap Singh or...
(Interrupts, with a laugh) Some people got me married to two different people because Pratap changed his name to Surya Pratap Singh for South Indian films.
To set the record straight, I was married just once to Pratap Singh.
We thought it was forever, but death stole him away.
When did the acting bug bite?
Doesn't every child want to become a model or an actress?
A school friend reminded me recently that when I was 14, in the ninth standard, I had made the whole hall cry with my performance in a play I acted in and directed.
That convinced me I could become an actress.
After I won the Miss India title and the offers started coming, this dream was within my reach.
Akarshan was the first film I signed, followed by Raj N Sippy's Mahaadev opposite Vinod Khanna.
Around this time, Gudduji (actor, producer, director Rakesh Roshan) called me to his office for an action thriller...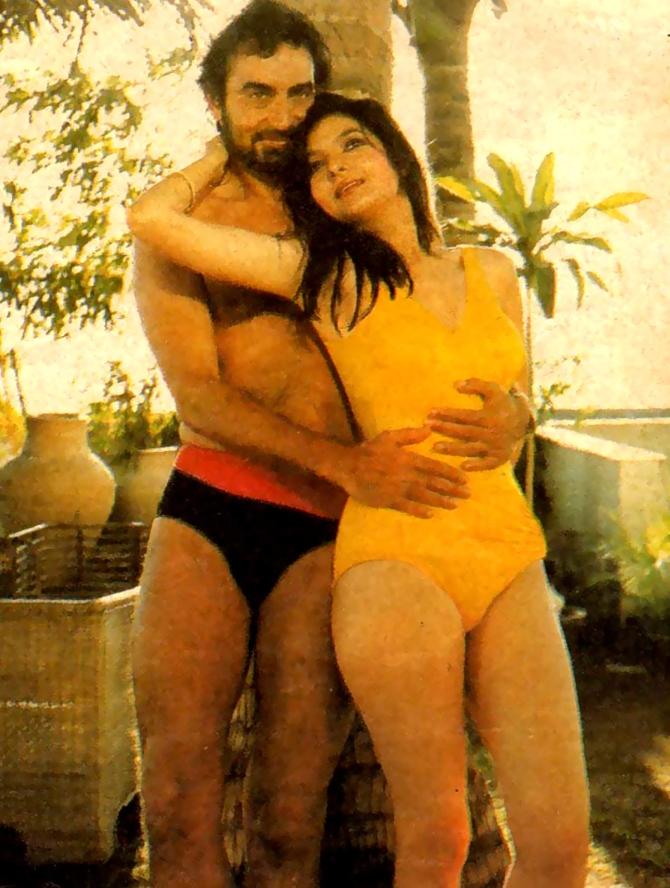 That would be Khoon Bhari Maang, which won you the Filmfare Award for Best Supporting Actress.
That's right. I could instantly see myself as Nandini.
For some, she was a grey character. For me, she was a girl blinded by love for this man (Kabir Bedi's Sanjay).
She believed in him, never imagined he'd betray and do what he told her, later regretting her actions.
In our society, the concept of Pati Parmeshwar is deeply ingrained in our women, no matter how modern.
Gudduji asked me what I had done.
When I mentioned the two films, he asked to see some rushes.
I was dubbing for Akarshan and invited him to Dev Anand's studio.
Fortunately, I'm a one-take artiste. Then, I didn't hear from him for a month.
Then?
Then, he called to ask if I could dance.
I showed him a couple of my songs from Mahaadev and that convinced him.
The film was released within six months, on August 12, 1988.
Thirty years later, people are still talking about it.
We did another film together, the romcom Khel. Tara Jaisingh was such a blast!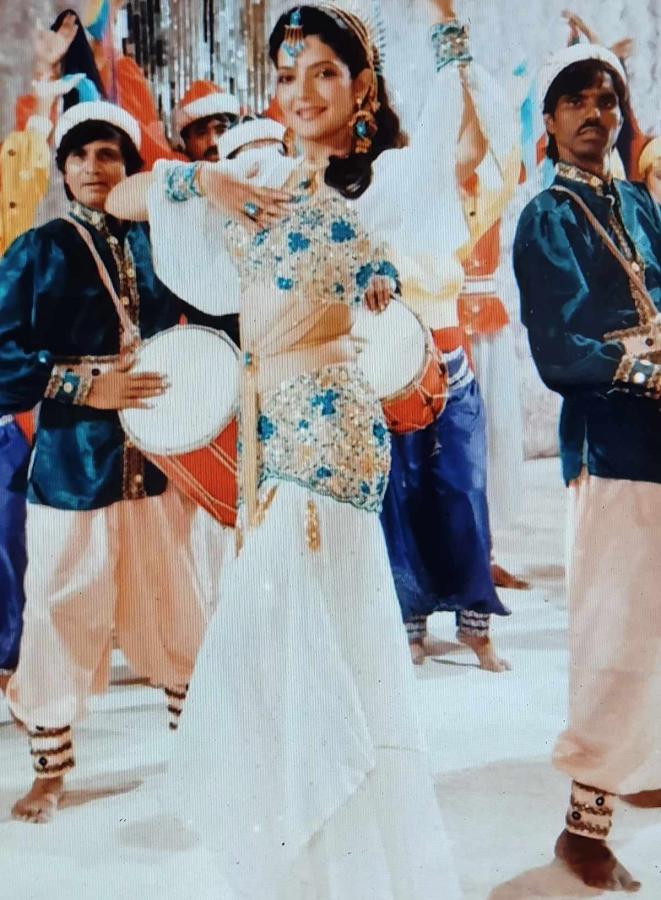 The dance face-off with Rekha must have been unnerving?
I had no time to be nervous because I was so busy.
I was simultaneously shooting for another film, so that I didn't even have time to go for rehearsals.
Thankfully, I pulled it off.
I'd like to mention Saroj Khan here. I love to dance and she choreographed me in two films,Numbari Aadmi and Mahashaktishali.
Mahashaktishali had seven costume changes and I rehearsed for 10 days with her assistants.
Sarojji would come in the evening, around 5 pm, and the first thing she would ask was if I had come on time. Once she was assured I had, she was all encouraging smiles.
The film didn't do well, but the dances were appreciated.
Sarojji really pushed myself to give my best.
Was there any character so different from the real you that you could never imagine yourself playing her?
I think Jenny D'Costa in Tahalka.
Writer-director Anil Sharma called me to his office and offered me a choice of roles.
I couldn't see myself playing any of them, but he could visualise me as Jenny, the widow of an army officer, with two young children, who helps the force of five in their mission against the evil dictator, General Dong.
He thought I was a perfect fit for this character.
I accepted the role and never regretted the decision.
Tell us about Hatim Tai.
That was fun. Having grown up on stories of princes and princes, jallads, jadugars and totas, I loved being a part of this magical world.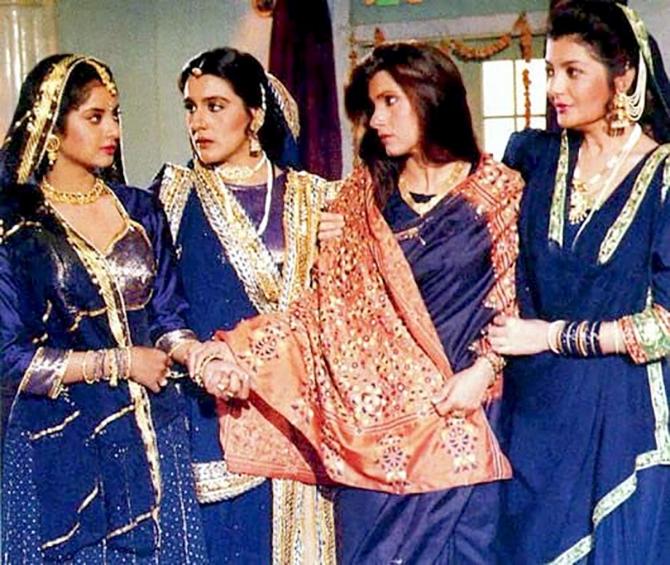 And a role that challenged you as an actress?
Dil Aashna Hai's Salma. There's that scene where Shah Rukh (Khan) and Divya (Bharti) are sitting before, trying to dig into my past to figure if Salma is her mother.
Since I was playing a college principal, I had to speak high flown Urdu. The language and persona was a bit of a challenge.
So was Mahabharat. I was one of the first actresses to move to television when these lavishly mounted shows were being made by big filmmakers and shot by people like V K Murthy like a movie.
The challenge that Chitrangada posed was the language as that was the kind of Hindi I had never spoken before.
Then, B R Choprasahab had these blackboards placed on either side with my lines written in bold letters.
I'm a good actress and no one guessed I was reading my lines out loud. (Laughs)
He later shared that he had used the same tactic with Sharmila Tagore too and that made it even better.
Now, when do we see you back on screen?
There are a lot of offers and I do want to get back to acting. I'm just waiting for that one offer I can't say no to.