'Akshay Kumar had done three seasons, then Priyanka Chopra came into the picture.'
'They are superstars; I am a director.'
Photograph: Kind courtesy Rohit Shetty/Instagram
Rohit Shetty says his television show Khatron Ke Khiladi 8 is doing "really well".
"When we were shooting for the show, we never thought it would be number one," says Rohit. "The credit goes to the technical team because there's a lot of content and humour, almost like a new format. That is what is working."
Rohit sums up his experience hosting the show, as Rajul Hegde listens in.
Is KKK 8 working because of popular actors this season?
We had popular actors earlier as well -- Aashish Chaudhary, Gauahar Khan, Niketan Madhok, Daya Shetty.
The whole packaging is good.
When I watch the episodes, even I am surprised.
It's not only about stunts. There is a lot of humour as well.
Ravi Dubey and Ritwik Dhanjani are especially good. They bring in the entertainment quotient.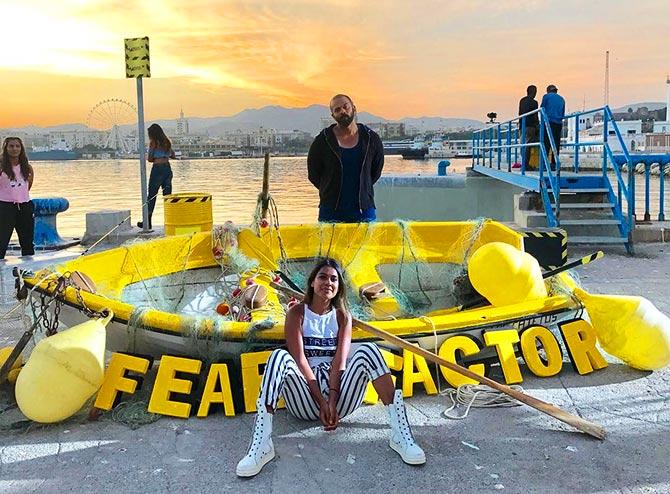 IMAGE: Nia Sharma with Rohit Shetty. Photograph: Kind courtesy Nia Sharma/Instagram
Which contestants surprised you the most with their stunts?
Nia (Sharma) is a strong girl. She expresses whatever she feels.
She is a tough girl. She is not scared of heights.
Shantanu (Maheshwari) is a strong-headed kid. He concentrates and does not have fear.
He has his own technique. His ideas are off, but that works for him.
There are other contestants like that as well, but these are young, so it's amazing.
Wrestler Geeta Phogat was recently eliminated from the show.
Sometimes, your days are not right. That's what happened with her.
It's about judgement and timing.
The luck factor also works.
She was a tough contestant and I expected her to move ahead.
When you started hosting KKK, did you expect to have such a long association with the show?
I was scared because Akshay (Kumar) had done three seasons, and then Priyanka (Chopra) came into the picture.
They are superstars; I am a director.
As a director, I would give my inputs and we changed the format.
I was very scared whether people would like me or not. But it worked.
We can be hooked to television only if there is entertainment.
If we repeat the same things, there will be no novelty.
Hosting looks easy, but I tell my team it's a difficult shoot. It's a stunt-based show.
We shoot for 18 hours, nonstop, for 45 days.
Would you be part of any other reality show?
Depends!
It's quite funny that I got offers from two, three dance shows, but how can I do that?
I can't judge dance and singing shows.
I used to follow Fear Factor when Akshay was hosting it, and before that, the American version.
What about a comedy show?
We have 50 percent comedy in KKK, that's why it's working.
When we start the journey, we learnt about their traits.
I thought they (the producers) won't keep the portions where I shout at them, but they have kept everything.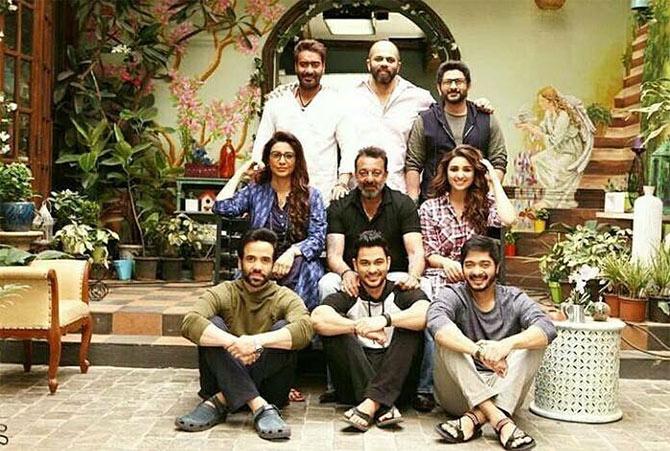 IMAGE: Rohit Shetty and his Golmaal Again team -- Ajay Devgn, Arshad Warsi, Tabu, Parineeti Chopra, Tusshar Kapoor, Kunal Khemmu and Shreyas Talpade -- have a special guest on set, Sanjay Dutt.
Will your film with Ranveer Singh be a remake of a south film?
We have bought the rights of (Telugu film) Temper, but our film is not exactly a remake.
We wanted to take four, five scenes from Temper, but thought it's better to buy the rights. That's what we had done with Singham also.
The film will go on the floors next May. The girl's part hasn't shaped up yet.
I will announce the female lead in December or January. It will be an action thriller.
You were planning a remake of Ram Lakhan.
That's on the back-burner now.
Will you direct a Web series?
Whatever happens in America happens here 15 years down the line.
I don't see myself making one now.