'I am not at peace.'
'I am stressed.'
'I close my eyes for five minutes and start imagining rats and snakes.'
Hina Khan relives her Khatron Ke Khiladi experience.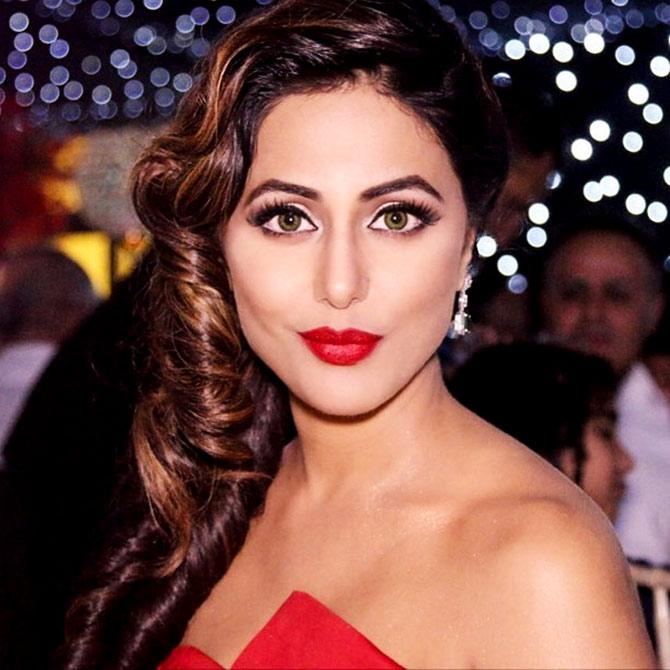 Photograph: Hina Khan/ Instagram
Television actress Hina Khan, who played a demure daughter-in-law for eight years in Yeh Rishta Kya a Kehlata Hai, is set to break out of her image.
She will be seen in Khatron Ke Khiladi Season 8 in a completely new avatar.
The actress looks back at the shoot in Barcelona, Spain with host Rohit Shetty and the other contestants, and tells Rediff.com's Rajul Hegde all about it.
What was it like shooting an adventurous reality show in Spain?
It was an incredible experience! It will stay with me forever.
This journey teaches you so much in life, things you would never discover about yourself.
I am good with heights but my biggest fear was creepy crawlies. Never in life have I imagined that I would do a task with a snake but I did it.
You discover your mental strength.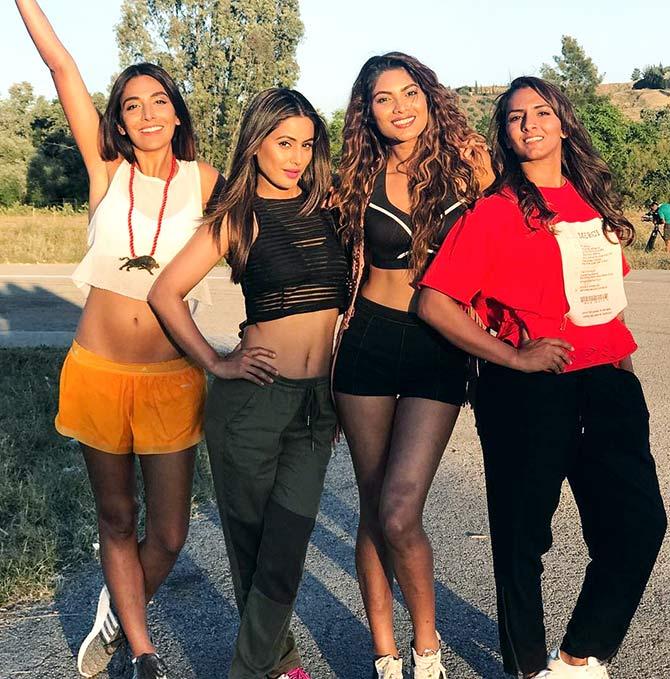 IMAGE: Monica Dogra, Hina Khan, Lopamudra Raut and Geeta Phogat in Barcelona. Photograph: Hina Khan/ Instagram
Who was your toughest competitor?
All the girls!
Lopamudra (Raut) will just not give up. I learnt that from her.
Geeta Phogat never gets scared of anything.
Nia Sharma would do all the stunts.
I never expected myself to do the stunts so well.
We girls literally killed it and nobody expected it!
I hope a girl wins and creates Khatron Ke Khiladi history.
I had this slogan for girls -- 'Ab ki bari jeetegi nari, girl power Khatron Ke Khiladi' which I used many times in the show!
What was Rohit Shetty like?
Rohit sir would tell us individually tell how to perform.
During my second stunt, I was crying and shivering because I was very nervous. That was my scariest stunt and of course, it had a gross task too, which I will never forget.
Everybody said if I don't want to do it, I could abort the task.
But Rohit sir kept motivating me.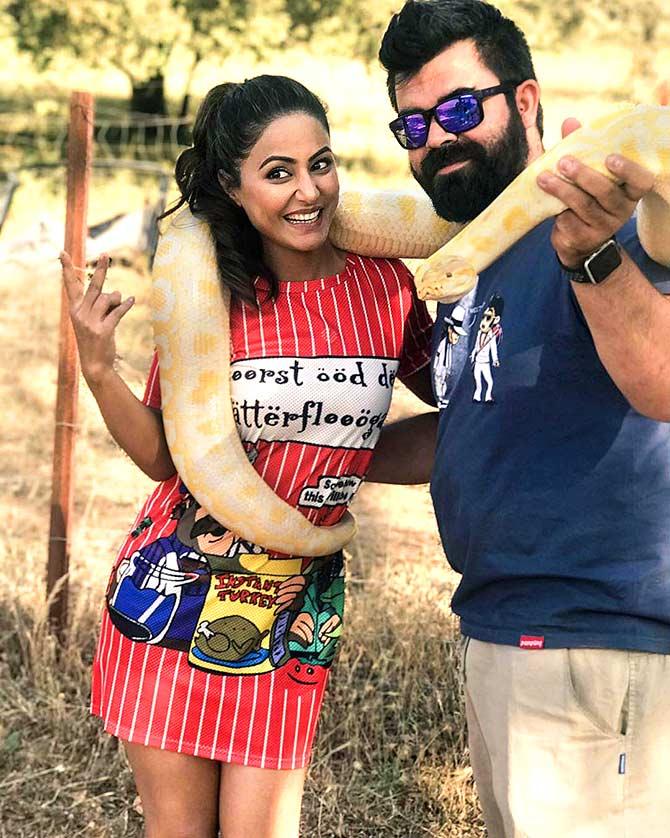 Image: Hina poses with a snake. Photograph: Hina Khan/ Instagram
You are on a break from television serials.
I took a four-month break after working continuously for eight years. Then, I did Khatron Ke Khiladi.
I just wanted to relax and take the much-needed break.
After Khatron Ke Khiladi, I want to take a break again because it was physically taxing.
You are glowing -- you seem to be in a happy space after the hectic shoot.
I am not at peace.
I am stressed.
I close my eyes for five minutes and start imagining rats and snakes.
I was bitten by a viper, there were two marks on my hand. It was not just the sting of the snake but other things too, while doing stunts, that bothered me.
I get so many dreams and nightmares!
I think it will take a couple of months to get out of this. But I am glad that I did it.
I got to see a different side of myself after eight years.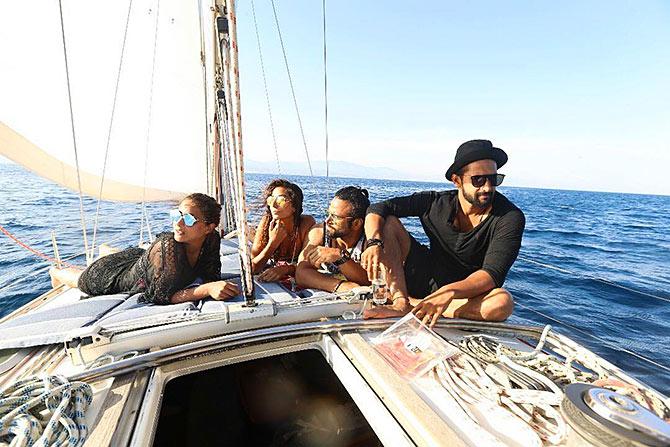 IMAGE: Setting off on a yacht. Photograph: Hina Khan/ Instagram
Nia Sharma, Lopamudra Raut, Shiny Doshi and Shibani Dandekar posted bikini pictures on social media while you did not. Are you not comfortable in one?
There is a certain line that I draw for myself, when it comes to what to post and what not to on social media.
I did have fun with the gang but whenever I got the time, I relaxed and gave my body a break.
All of us went on a yacht together. We jumped into the water and had a great time.
It's not that I am not comfortable wearing a bikini on screen. If I get an opportunity in future, why not? But right now, as an actor and as an individual, I don't feel the need.
Watch Khatron Ke Khiladi every weekend at 9pm on Colors.