After successful stints in Jamai Raja and Ek Hazaaron Mein Meri Behna Hai, Nia Sharma faces fresh challenges in Fear Factor: Khatron Ke Khiladi.
Rajul Hegde spoke to Asia's third sexiest woman.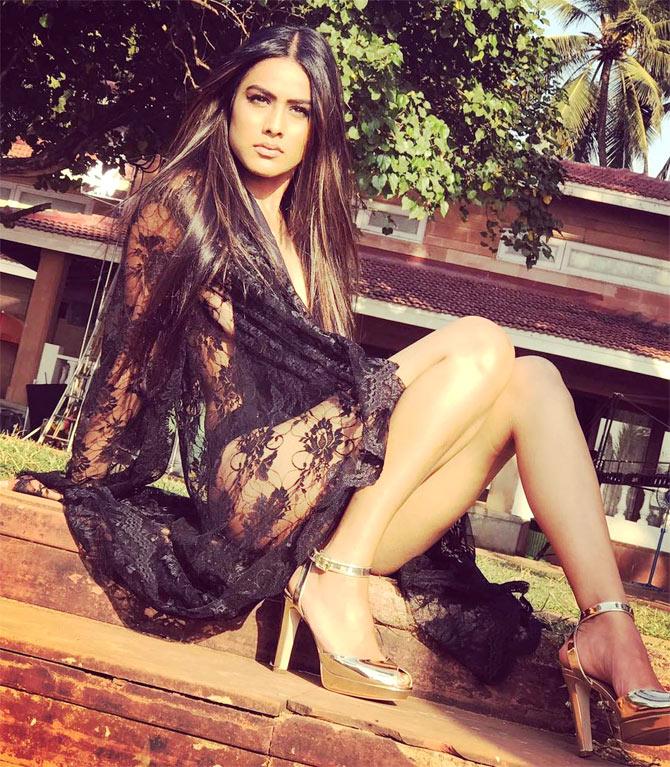 IMAGE: The gorgeous lady in black strikes a pose. Photograph: Kind courtesy Nia Sharma/Instagram
Nia Sharma beat Katrina Kaif and Alia Bhatt to bag the third place spot on the Asia's sexiest women list.
"When I was offered Fear Factor: Khatron Ke Khiladi," she says, "I felt 'Oh my God, what I am going to do there? I am so fattu (easily scared)'. After meeting the other contestants, I have realised that some of these girls have the same amount of fear in their head."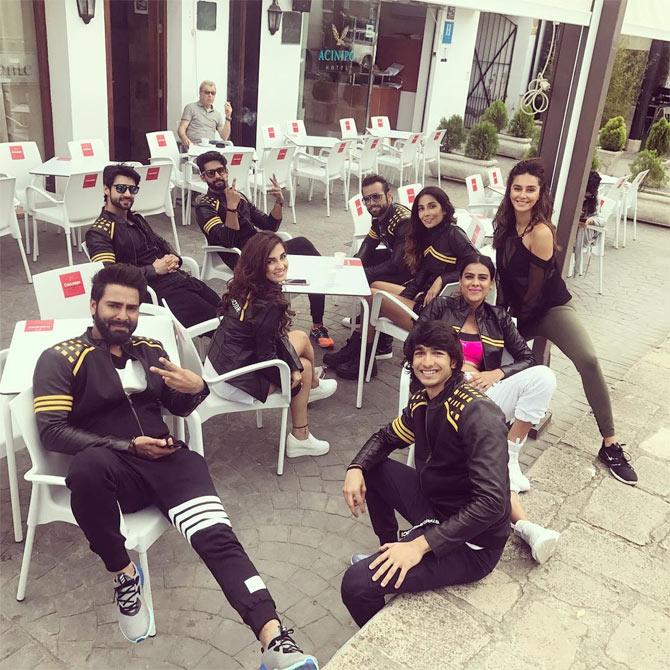 IMAGE: The Fear Factor: Khatron Ke Khiladi team chills together. Photograph: Kind courtesy Nia Sharma/Instagram
"If it was only about stunts," she adds, "they (the show's producers) would have got the best sportspersons like Geeta Phogat (the champion wrestler whose rise to fame was chronicled in Dangal) but they brought people with fears and phobias, so either we overcome them (fears) or give them funny drama by breaking down.:
"You never know," she quips, "I might meet a new Nia in the process."
"All the other girls (Hina Khan, Shiney Doshi, Lopamudra Raut) are also thin like me. If you take a look at the ratio, there are seven girls (Geeta Phoogat, Monica Dogra, Shibani Dandekar are the others) and just five guys, so they expect the girls to get out fast," says Nia.
"For the first time in my life I did cross fit workouts and learnt swimming for the show," she adds.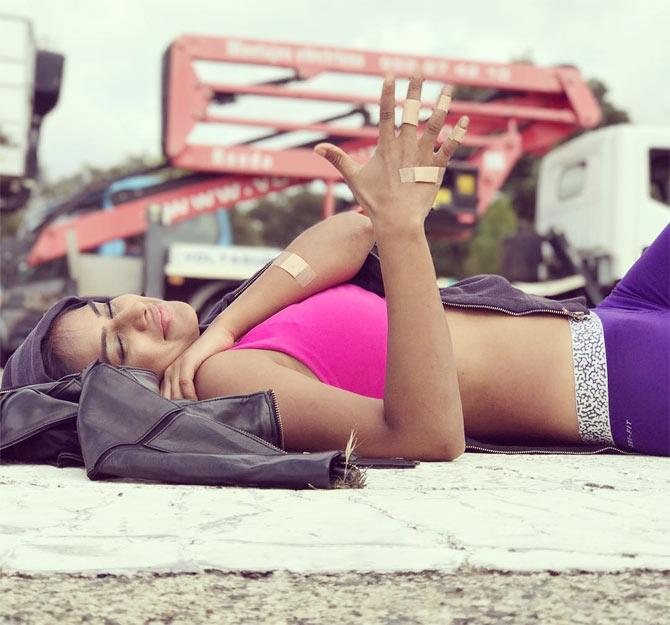 IMAGE: 'Ya it hurts real bad, and I cry real bad, but then the pain's worth it when you're done and you know you've done it right,' Nia writes. Photograph: Kind courtesy Nia Sharma/Instagram
Nia "hit it off well with Geeta. She is simple." /p>
"I feel Geeta will go on to break the jinx that women can't win Khatron Ke Khiladi," Nia predicts.
"I am fine battling lions, tigers, snakes, bulls, even hippopotamuses, but not lizards," she says. "I just might take the flight back home from Spain (where the show is being shot), if they trouble me with lizards." (Laughs.)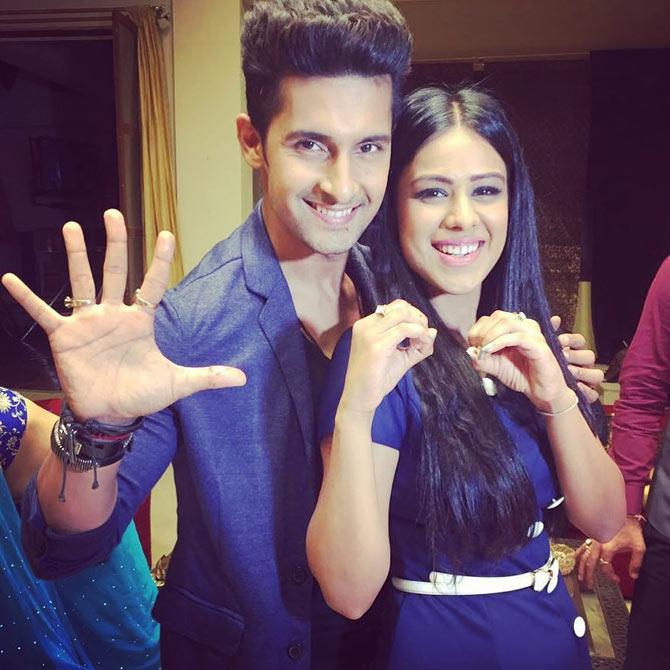 IMAGE: Nia and co-star Ravi Dubey celebrate 500 episodes of Jamai Raja. Photograph: Kind courtesy, Nia Sharma/Instagram
Ravi Dubey, her Jamai Raja co-star is also part of the show.
"I am going to be competing with Ravi whom I have romanced on screen. We used to do our scenes (on Jamai Raja) with music playing in the background," Nia says, "now we will be competing with each other in dust and mud."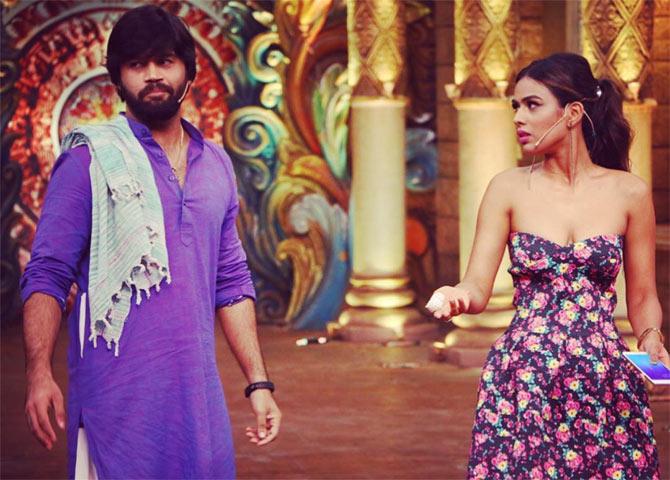 IMAGE: Balraj Syal and Nia in Comedy Nights Bachao Taaza.
Lately, Nia has been doing different kinds of shows.
"After Jamai Raja, I wanted to experiment, hence tried my hands at Comedy Nights Bachao Taaza. I also dabbled in a short Web series. There is one bigger project on the way, but I can't give out details as I have only shot the pilot so far."
Point out that her comic act did not do well, and she says, "The whole purpose of Comedy Nights Bachao Tazza was not to get comedians on the show, but faces like Karan Wahi, Anita  Hassanandani and Ssharad Malhotra. All in all it was fine," she feels, "I did not lose anything."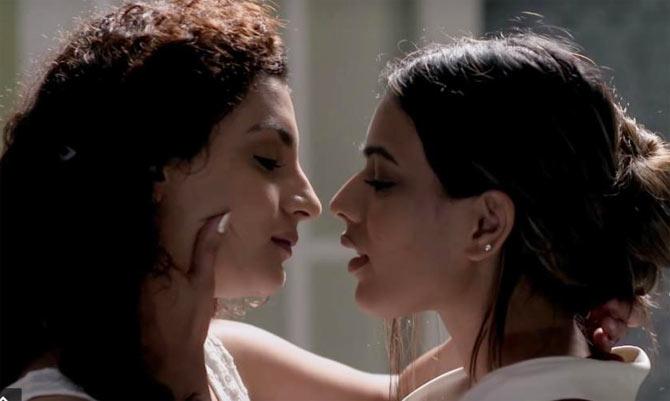 IMAGE: Nia Sharma and Isha Sharma in Vikram Bhatt's Web series, Twisted.
The conventional television bahu startled fans with her portrayal of a supermodel in Vikram Bhatt's Web series Twisted. The video of her liplock with co-actor Isha Sharma went viral.
"It's good to be in the news for whatever reason," says Nia. "I can't pretend that I am not enjoying the attention. Being popular is a good thing."
"But that was not the idea (behing the liplock scene). I have no idea what the hue and cry was all about. It was just a 30 second kiss. I don't have to give anyone an explanation, but I want to thank everyone who talked about it and made it so popular."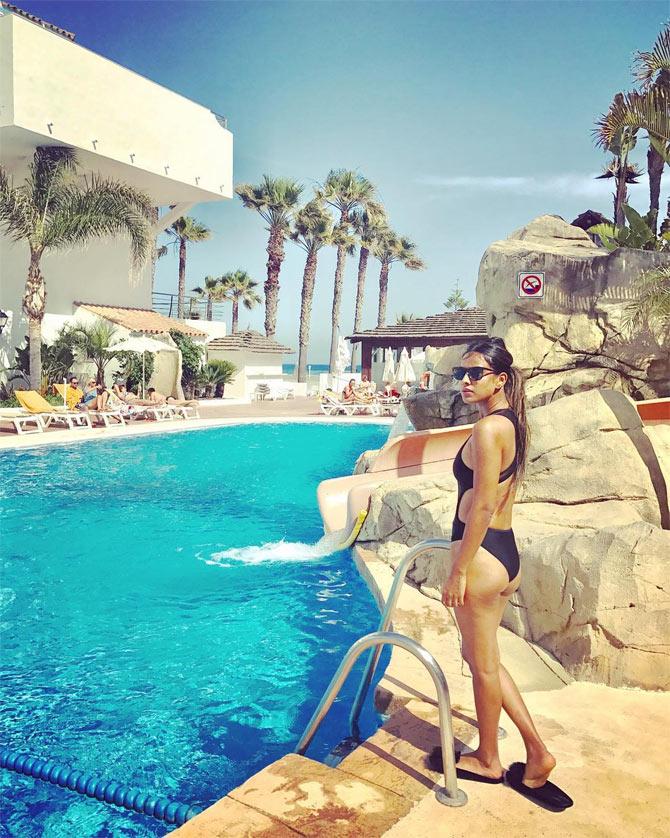 IMAGE: 'Ironically, the hardest part of a pool is 'water',' Nia notes along with this picture from her Spain travel diary for her new show. Photograph: Kind courtesy Nia Sharma/Instagram
Nia says she is experimenting big time with herself, her looks, her body.
"I give myself credit," she says. "I don't take a stylist along to dress me. I pick up my own stuff. It goes well sometimes, bombs at times. It's part of growing up,"
"Yes, my fashion sense is outrageous, but I am a rebel. I am young and still growing up. Maybe at 30, I will look back at my mistakes, but it will all be on me. I will be responsible for the way I look."