'Shooting the Golmaal songs are the happiest phase of the shoot because everyone is together and there is lot of fun.'
Rediff.com's Patcy N gives us a close look at all that fun in Hyderabad.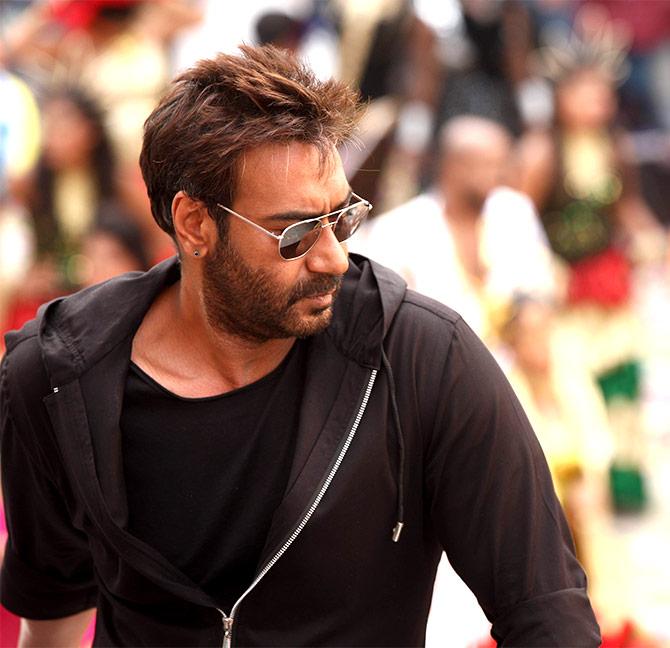 IMAGE: 'I am not a dancer,' Ajay Devgn tells us modestly.
I'm not a fan of media junkets.
They can be very hectic or simply, a waste a time.
But the junket to Hyderabad for Rohit Shetty's Golmaal Returns was the best I've been to in my 10+ years as a movie journalist.
The trip began with me reaching Mumbai airport very early. When one lives in distant Belapur in Navi Mumbai, you need to leave your home even before the other journalists have woken up.
In Hyderabad, as he drove the media party to the Ramoji Film City, Ramesh pointed out to a temple on a hill where he said Chennai Express was shot.
Then he directs our attention to a location where Kangana Ranaut's Manikarnika is being shot.
He drives by the place where 'Baahubali' Prabhas is shooting for Saaho.
After we freshen up, we are invited to the Golmaal Again sets.
A song is being shot.
Like as it happens in Rohit Shetty's films, the song is very colourful.
It is set in the Goa carnival. Men and women wear loud costumes and make-up.
Some men are beating drums. Everybody is dancing.
The stars are missing. We are told they are on their lunch break.
We are served lunch as well -- there is chicken pulao, chicken sukka, rajma, dal and steamed rice on the menu.
Post lunch, the shoot resumes.
IMAGE: 'I will not blow a single car in this one,' promises Rohit Shetty.
The first shot requires Ajay Devgn to make his entry.
The junior dancers do their rehearsals while someone stands in for Devgn.
Rohit is busy guiding the dancers, but it is choreographer Ganesh Acharya at the helm of everything.
He dances, blows confetti around and checks its flow.
Later, in the scene, we see Devgn blows confetti.
Ganesh wants to keep the song "bigger and better" since it is the fourth installment of the hit Golmaal series.
"We have 300, 400 dancers," he tells us.
The film will, in fact, start with the carnival song.
"Ajay Devgn is very comfortable while dancing," Ganesh says of Devgn who has a reputation for being a non-dancer.
"I learnt dance from Kamal master," Ganesh says. "He taught me that I must set my dance according to the dancer's capability. What will look good on them because they would be on the big screen."
"So it's my duty to make their dance look beautiful," he adds.
Shreyas Talpade, who has been a part of the second and third Golmaal films, is the first to meet the media.
"All the dance steps in the Golmaal title tracks are Western, but this time, it will be more desi," Shreyas shares with us.
Golmaal 3 appeared on screens seven years ago, in 2010, and Shreyas says the actors' camaraderie is even better this time.
"There is more masti. We shouldn't stop making Golmaal movies, they are really good," he says.
"Shooting the Golmaal songs are the happiest phase of the shoot because everyone is together and there is lot of fun!" exclaims Tusshar Kapoor who has been a part of alll the films in the series.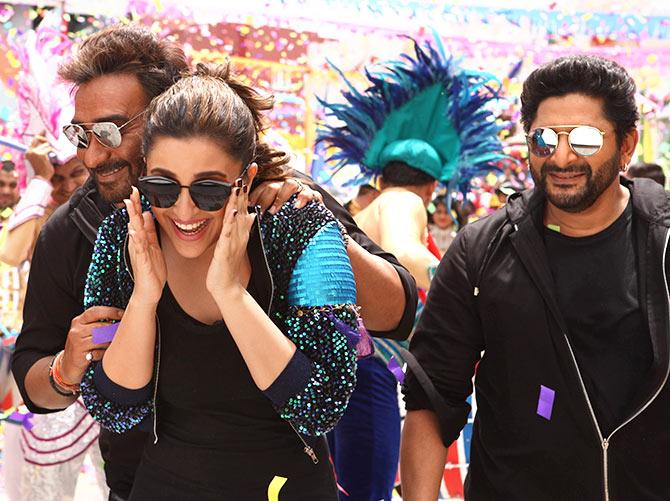 IMAGE: Ajay fools around with Parineeti Chopra as Arshad Warsi looks on.
Parineeti Chopra enters wearing sunglasses, and finds the room very dark.
Then, she explains, "Golmaal is not complete without sunglasses."
It is hot in Hyderabad, and Parineeti tells us the earlier schedule for Golmaal was worse. Temperatures touched 40 degrees and the scenes were being shot in an open field at Ramoji Film City.
"It was difficult to even breathe," Parineeti, who is making her debut in a Golmaal films, says.
"We are all wearing black which adds to the heat. Also, the kind of dance we were doing, we were automatically doing cardio. It was madness!"
Kunal Khemmu, who joined the series in the third film, says, "Working on Golmaal is like a joyride. The last scene looks like you are in an amusement park. The film (shoot) is coming to an end and there is sadness. But there's also excitement to see it in theatres."
There are a slew of high-end cars on the sets. How many of them will be blown up in this film?
"Main detox par hoon," Rohit Shetty says with a straight face. "I will not blow a single car (to be blown up) in this one."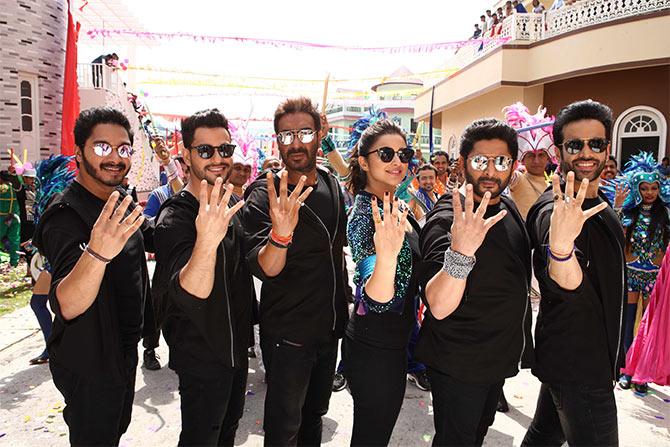 IMAGE: Are you ready for Golmaal 4?
Shreyas Talpade, Kunal Khemmu, Ajay Devgn, Parineeti Chopra, Arshad Warsi and Tusshar Kapoor promise to provide the laughs.
It's time for the actors to start dancing.
Ajay Devgn takes his mark. He just has to move his hand and blow confetti. On his third attempt, the shot is okayed.
After that, Devgn strolls over to the media for a chat.
"Mujhe jitna aata hain main utna karta hoon (I do what I can). I am not a dancer," the action hero tells us.
The next shot is ready, now, the other actors have to joins Devgn.
Arshad Warsi, Tusshar Kapoor, Shreyas Talpade, Kunal Khemmu and Parineeti Chopra have to do the signature Golmaal step.
"The music is mass-y," Ganesh says. "We have done the Golmaal signature hook step, but with a difference. This time, we will repeat the hook step twice."
The song also has Singham's signature step. That, Ganesh adds, was Rohit's idea.
Rohit, of course, directed the Singham movies as well.
The actors do the hook step, but something is amiss.
Parineeti is asked to lip sync as the camera is on her. The actors have to go through it twice before the take is okayed.
"Pack up!" Rohit yells.
The spotboys come over to sweep the confetti and dismantle the cameras, wires, lights...
The next day, the call time is 9 am.
The actors return to their vanity vans.
It's 6 pm and we return to our rooms.
We're scheduled to meet the actors at 8 pm for an informal dinner.
We'll save that story for another time.