''Out of three women in India, one is assaulted.'
'This is a state of emergency that needs to be addressed.'.'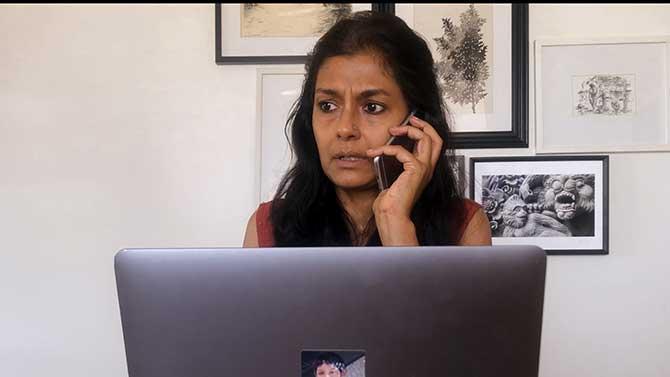 With domestic violence cases on the rise since the lockdown, several film personalities have lent their voices to help those suffering.
Nandita Das has made a seven-minute film called Listen To Her, addressing the situation.
Nandita features in it, along with son Vihaan, and with voices from Amruta Subhash, Ali Fazal and Swanand Kirkire.
"Domestic violence is not something that is specific to a particular group of people or class, religion or the language they speak," Nandita tells Subhash K Jha.
What is Listen To Her about?
It is about the lives of women during the lockdown that are unseen and unreported.
The film focuses on two important issues that women are grappling with -- the overburden of work and increasing domestic violence, both physical and mental.
This abuse has existed before, but are magnified (now) and their dynamics have changed as a consequence of the lockdown.
During this period, many women find themselves locked up with their abusers and/or with a twofold increase in their workload.
How did you shoot the film during the lockdown?
There were more challenges than I had imagined.
Since this film was conceived as a response to these trying times, and because I wanted to produce something spontaneously, I decided to shoot the film in lockdown.
This meant that I used my iPhone's camera to record myself as I acted, used my old phone to record the sound separately and coordinated with two members of my team on Zoom, who used software to be able to view the footage while I was shooting it.
The scenes were shot in my living room, as it is the best lit place in my home.
We had to shoot over three days once we realised that the light would dramatically change by noon, becoming warmer and more yellow.
Once I found a steady perch for the phone to capture the perfect composition, I requested my cook Bharat to help me.
I would then run to my position, give my son instructions as he was a part of the frame, turn the audio recorder on my other phone, ask Bharat to start recording, clap to ensure that the sound and video will synch and begin to act.
Amidst all this chaos, I realised that it was difficult to remember the dialogues I had written word for word, so I found myself improvising. That was not very challenging because I knew the crux of what was being said.
This ordeal reminded me once again that film-making was, after all, a collaborative process.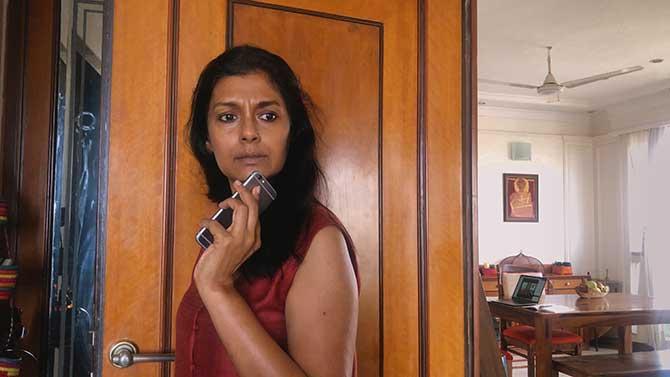 Did you get a lot of 'virtual' support?
(Laughs) Plenty. The easiest part of the process was reaching out to other professionals, some of the best in the industry, who readily agreed to contribute to this film in the post production stage.
I was given the opportunity to collaborate with people I have worked with, like (editor) Sreekar Prasad, and as well as new people like (sound designer) Kunal Sharma and (composer) Sagar Desai.
Your film is on domestic violence. How did you decide to make it? Did you actually get such a call?
When I read an article in The New York Times, 'When Mom's Zoom Meeting is the One that has to Wait', it reaffirmed that this overburdening of work is also a form of abuse.
So I brought these two issues together to spontaneously respond to the idea of 'STAY HOME, STAY SAFE'.
The irony of it should not be lost on us.
I made the film with the hope that the film sparks conversation around it to encourage women to speak up and for us to listen when they do.
Such short films can help spread awareness and we can share helplines numbers widely.
The film is fiction, but based on many real lived and heard experiences.
One does not need to get an actual call to know the plight of women and the abuse they are facing.
And women juggling relentlessly is so common. We all do!
Instances of domestic violence have increased during lockdown. What is the solution?
The issue of gender-based violence is not new and does not have a simple solution.
The problem is that we don't even recognise it is an issue and having these conversations in the public space, removing the stigma around it will help survivors access resources that they never do. For example, helplines.
It is really about lack of equality and equity.
This film encourages us all to do our bit to break the silence.
Then slowly, the needle will move and we will see the shift in society.
It would be delusional to think that this shift can occur overnight, but drop by drop, consistently, our pro-activeness to the situation can help things change.
The film is just adding one more drop to the much needed shift.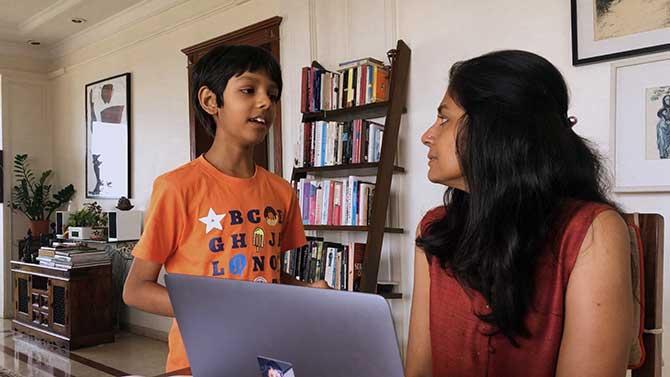 Interestingly, why do we only see violence against women in films, when in reality, men also get beaten and raped.
In an ideal world, it should be gender-neutral. But the reality is very skewed.
Many more women suffer abuse in their home.
Out of three women in India, one is assaulted. So this is a state of emergency that needs to be addressed.
But this is not to say that if a man is assaulted, he should not be heard or get justice.
No one should have to suffer any violence or abuse, but we can't generalise when the women are the primary victims of this looming violence, both physical and mental.
In your film, your partner is shown to be fairly apathetic to your work and space.
Domestic violence is not something that is specific to a particular group of people or class, religion or the language they speak.
Over-burdening of work is not seen as abuse by the law, but it drains many women, who relentlessly work for their family.
If they also do a paid job, that adds to the burden.
No one talk about this. They take it for granted as the woman's responsibility.
The unequal care burden is a reality women face across classes, where they juggle between work and home chores.
It leads to mental and physical exhaustion.