'I didn't want to use contemporary Bollywood music.'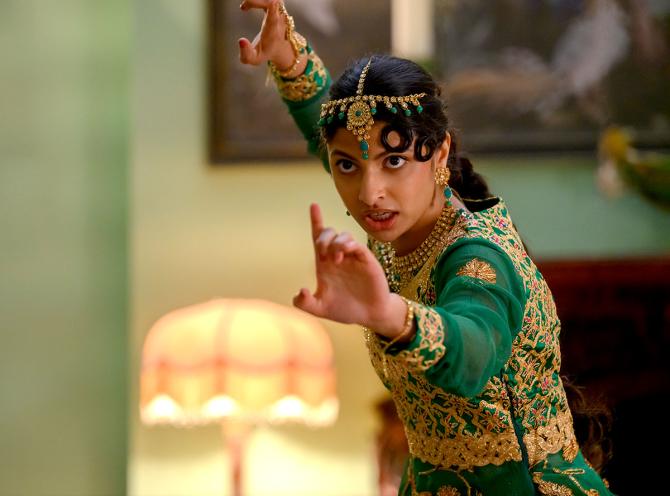 Nida Manzoor is exploding with talent.
At 33, the British-Pakistani film-maker has a hit TV sitcom We Are Lady Parts about the members of a Muslim female punk band. The show won three BAFTA awards in 2021.
Now, she is ready with A terrific debut film Polite Society, a story of two British-Pakistani sisters. The younger one, Ria (Priya Kansara) wants to become a stunt woman while the older Lena (Ritu Arya) is a failed artist and wants to settle in for an arranged marriage.
In this crazy concoction, Manzoor mixes Bollywood songs, gossipy nosy aunties, and a potentially evil, handsome, doctor Salim Shah (Akshay Khanna), plus his conniving mother Raheela (played by Pakistani actress Nimra Bucha).
Polite Society is a huge entertainer and has all elements to make it a box office success.
Polite Society premiered at the Sundance Film Festival earlier this year and now Focus Features, the art house studio of Universal Pictures, is releasing the film in the US, UK and India today, April 28.
"I remember when I wrote the first draft of the film, one of the notes I got from an executive was to make it a white family. That was 10 years ago. Now you could get fired for saying something like that," Nida Manzoor tells Rediff.com long-time contributor Aseem Chhabra from her home in London.
Nida, you have an older sister who is a musician in Berlin. How does this relationship translate into a story where one sister is into martial arts and wants to become a stunt woman while another sister is a failed artist? And you trickle in the South Asian culture of arranged marriages.
Yes, I drew inspiration from my relationship with my older sister. She is one year older than me and we are extremely close. But we can also be -- as you can imagine -- the worst of enemies.
It is a love-hate relationship.
I wanted to show that kind of closeness and the sort of violence you can experience in that relationship.
At the heart of the film is the idea of women's agency.
Sometimes in our cultures, especially like the South Asian Diaspora culture, you are not always encouraged to follow your dreams if they are in the arts. The parents want you to be a doctor or a lawyer.
So I wanted to explore that.
I experienced some frustration early on in my career when I felt my parents didn't see what I wanted to be, but it was because they didn't see people like me succeeding in the industry.
I don't blame them at all.
They were being reasonable because they couldn't see the world of film-making for me.
I wanted to show that on screen. But I also wanted to make sure the parents in the family had love and warmth.
It wasn't just that they were villainous parents shutting down their daughters. They wanted the best for them.
What do your parents do?
My dad is in finance. My mother is a doctor.
Both are incredibly creative people.
My dad bought me a guitar when I was eight years old.
My mother writes poetry and paints.
I feel lucky that they nurtured my sister's and my creativity. But it was never really an option for them, as it is for us.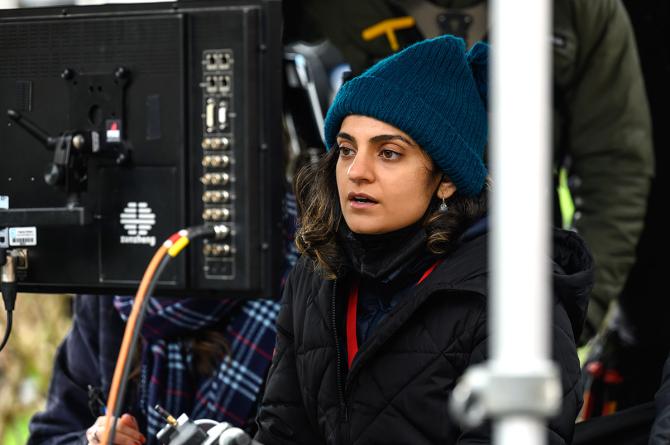 What do you think has changed in the recent years that has made it easier, especially for South Asian immigrants, to join the entertainment business? There are big stars like Mindy Kaling in the US and Riz Ahmed in the UK. What do you think is leading to that change?
I feel very lucky that I have stood on the shoulders of people who have opened the door for me -- Meera Syal and Sanjeev Bhaskar, who did Goodness Gracious Me and iconic South Asians like Gurinder Chadha.
I feel the tide has shifted with the industry wanting to present under-represented voices in a way it never did before.
I remember when I wrote the first draft of the film, one of the notes I got from an executive was to make it a white family.
Can you just make it?
Why does it have to be South Asian? No one is being punished or experiencing trauma.
That was 10 years ago.
Now you could get fired for saying something like that.
So I felt in my career -- I have been in the industry for just over 10 years -- (there's been) this palpable shift of being told that we would like you to write about Muslims. And it doesn't have to be misery porn or the trauma of forced marriage or honour killing.
How about a show on Muslim women being joyful?
There is an appetite for new points of view, moving away from a white male-centric kind of art.
There is so much South Asian art, Bollywood, the idea of arranged marriages... Was it easy for you to put that in your script? Did any executive say the audience will not get it? What's impressive is that this is going to be a mainstream release by Focus Features.
I feel very fortunate that Universal, Focus Features and Working Title have supported this film.
They were 100 percent on board and never questioned any of the South Asian elements.
If anything, they loved that it brought a certain point of view, a texture, a real kind of authentic world to the film.
I wanted to celebrate South Asian culture.
That final wedding set piece is a showcase of not only the films I love, but also the clothes and the culture I love. There was never any kind of pushback about that.
The main questions were around that I am trying to work so many genres into this film -- the heist, action, family drama...
They wanted to know how these genres can sit together cohesively in the film. We worked to make sure it felt all unified.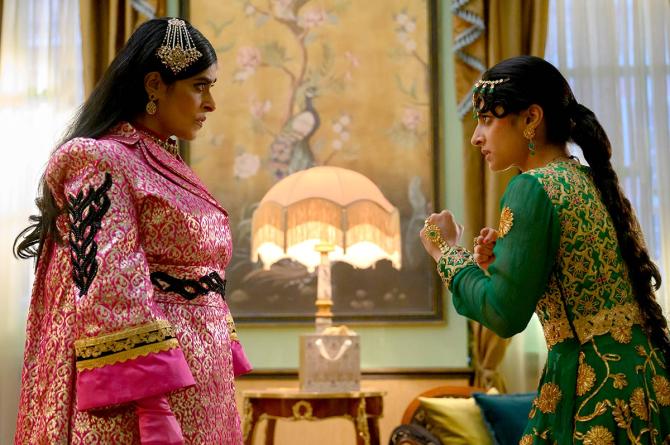 Was the Devdas song Maar Dala in your mind all the time? Did you think when I have this wedding scene in the end, I am definitely going to create a sequence around that song?
I didn't have any alternatives.
The first thing I said, 'We need to clear the song. I need to do my homage.'
I could see Ria in the green outfit doing the moves in a teenage way.
I love Devdas so much, the cinematography, the blocking, the lyrics are just perfection. So yeah, that was there from the beginning.
It is remarkable and beautiful with the green costume. And then you use another Bollywood song towards the beginning: Gulabi Ankhein from The Train.
Yeah, the moment of having a slightly older Bollywood song from the '70s.
It brings a texture and a mood to the film.
It's like a slightly heightened, retro film that nods to not only new cinema but also old cinema.
I didn't want to use contemporary Bollywood music.
I love Nimra Bucha. I first noticed her in Churails and she's married to the Pakistani author Mohammad Hanif. Tell us about casting her. She plays the villain with so much panache.
She has panache. That is the word.
She understands how to walk that line of being a larger-than-life villain but still remaining on the right side of a great performance.
I don't know how she does it.
It's really down to her incredible talent.
She has an insane screen presence.
She could be a Bond villain and be the best thing ever with her razor-sharp cheekbones.
She brought a kind of sensuality to the part which wasn't necessarily on the page. And that was something that added another dimension to the character.
She wasn't just like an auntie in a boring, old-fashioned way. It was a dream come true to get to work with her.
What did your parents think about the film? And how do you think the older generation would react to it because while you are telling a South Asian story, you are putting a lot of the ideas upside down? You are having fun with the culture, while also showing respect.
My parents loved it.
They watched it with me at the cast and crew screening.
I could hear them crackling the whole way through.
The reason I love comedy is because my parents are extremely funny people and have such a great sense of humour.
I was nervous about showing it to them.
I was worried that they would take offence, but they just embraced it and loved it, and are Instagramming their friends to go see it.
Did you know that Disney was producing the Miss Marvel series? How did you react when you heard about it?
Oh, I was thrilled!
I was a big fan of the comics and the script.
My friend Bisha Ali was the show-runner on the series, so I knew all about it.
Its success only strengthens a film like mine and other films to come through.
When one succeeds, all of us succeed in some way. I felt very lucky to be making my film at the same time as that show was getting made.
Are you working on other scripts?
I am currently writing Season 2 of We Are Lady Parts.
Beyond that, I am keeping my options open. I am excited to continue working in genre, comedy and action.