Akshay Kumar seems to be the closest to inheriting the brand appeal and position enjoyed by the Big B. Sandeep Goyal tells you why.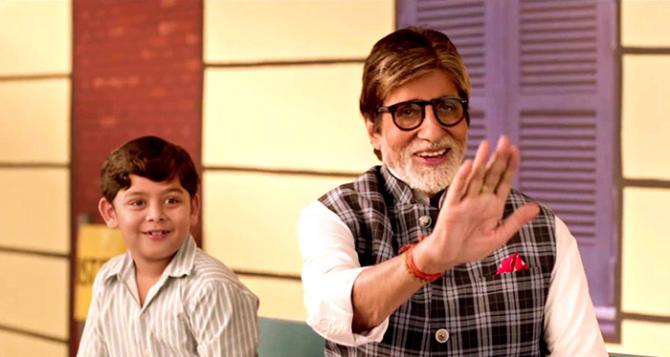 IMAGE: Amitabh Bachchan in a Swachh Bharat ad
Amitabh Bachchan turned 75 in October. While it was an occasion for much joy and celebration, and Bollywood went to town in deifying its tallest star, it also set many brand custodians thinking.
Bachchan is currently the face of almost a dozen-odd brands, including government campaigns for goods and services tax and Swachh Bharat. The inevitable question comes: Who next after Big B?

In a earlier piece, I had written how Bachchan had emerged the most 'trustworthy' celebrity, winning across geographies, demographics and income classifications in a study on human brands conducted in the end of 2015. This study covered about 2,500 respondents across five cities.

For a septuagenarian, who less than 20 years ago was almost consigned to the dung heap as a spent force, it is no mean feat to be described as being 'trustworthy'.

In that research, 'trustworthy' mapped each celebrity over 64 parameters, was a combination of 'I-trust-him' and 'others-trust-him'. Plus, it was an amalgam of 'trusted', 'honest', 'reliable' and 'dependable'.
Bachchan scored extremely high on most parameters and his combined score left all the Khans, all cricketers and all of Bollywood trailing.

What, I had asked last year, was the secret behind Big B's lasting pull? I had then put 'gravitas' at number one.
Gravitas, interestingly, is one of the Roman virtues along with pietas, dignitas and virtues -- translated variously as spiritual, dignified and virtuous. Respondents, I was surprised, referred to the Big B's 'inner strength', one that gives them comfort, confidence and trust.
Earlier this year, the Human Brands Study was updated across five cities with a sample size slightly exceeding a thousand respondents. For the purpose of this piece, I segregated some of the attributes specific to Big B.

Bachchan leads across almost all the parameters above. 'Gravitas' remains his strongest asset. His closest competitor on that is Rahul Dravid, with Akshay Kumar in third position.


IMAGE: Akshay Kumar and Bhumi Pednekar in Toilet: Ek Prem Katha
Interestingly, Bachchan's score on 'credibility' is matched closest at second place by Kumar.
In fact, Kumar outscores Bachchan on parameters of 'approachable' and 'fun'.
On 'authority', Kumar is just next to Shah Rukh Khan after Big B.
His 'honesty' scores are also very close to Bachchan.
From the above chart, Kumar is the closest to becoming Big B's inheritor.

Bachchan's big advantage has been that, despite his age, he remains current and contemporary.
His movie roles have been meaty and he is most times a central character in his films.
His contemporaries are either gone -- Rajesh Khanna and Vinod Khanna -- or are too old -- Dharmendra, Jeetendra and Shashi Kapoor.

Some of his peers have meandered into full-time politics like Shatrughan Sinha.
Rishi Kapoor could have stepped into Bachchan's shoes as he is a good 10 years younger than the superstar, but he scores poorly on 'gravitas', 'credibility' and 'authority'.
The only other older Bollywood star in the active endorsement space is Hema Malini, who has largely stuck to advertising for a water purifier and a few other brands. She may also not have the brand stretch that Big B has across categories.

Last year, I had said that Shah Rukh and Aamir Khan are almost at the age when Bachchan started anchoring Kaun Banega Crorepati. But neither is transiting to mature (read older) roles. They are still struggling to look 10-15 years younger.
Naseeruddin Shah seems not to have the desired charisma.
Irrfan Khan seems too niche.
In sports, the likes of Sunil Gavaskar and Kapil Dev, closer to the Bachchan age bracket, are narrowly focused on cricket, with an entire generation not having seen them play.
Sachin Tendulkar and Rahul Dravid are too young, in their mid 40s, to encroach into Bachchan's space.

KBC has been Bachchan's most enduring brand asset. It changed the 'Angry Young Man' of the 1970s into a dignified, friendly and supportive elder. This man is approachable, affable and adorable.

If Kumar has to progressively move towards becoming a successor to Bachchan, he needs a mass outreach vehicle larger than his recent movie, Toilet: Ek Prem Katha.
The good thing about Kumar is that he is controversy-free, is seen to be a good family-man, has been a box office draw consistently over the last few years and plays the action hero as well as comedy roles.

Kumar has essayed some interesting roles in Rustom, Airlift, Baby, Jolly LLB 2, Oh My God! and even Special 26. They go beyond the romantic-hero mould that holds back most top stars and limits their versatility.
Kumar turned 50 earlier this year and is beginning to grey.
If he handles his personal brand well, he could easily be the first choice to replace Bachchan in most brand endorsements. And perhaps even take his place in KBC.
Kumar probably needs to find his own KBC equivalent.

Sandeep Goyal is a senior advertising professional and currently working on a PhD on Celebrities as Human Brands from FMS-Delhi.