'Vinod Khanna, Rishi Kapoor, Ranjeet and Shakti Kapoor were eating biryani.'
'Suddenly, all of them jumped to their feet.'
'Sridevi had entered.'
'It was almost like a top army general had walked in.'
'The kind of respect she commanded without demanding it was incredible!'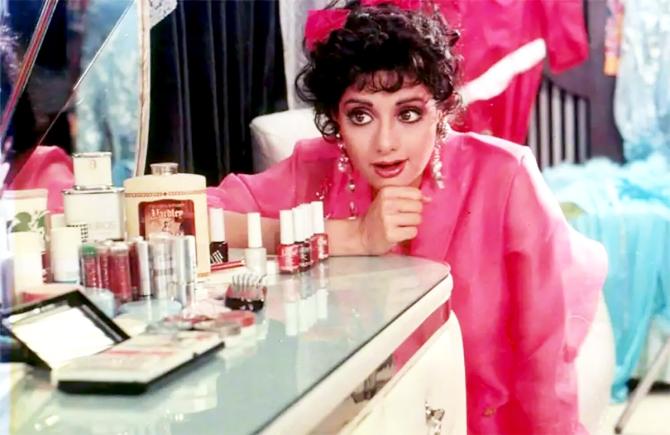 It's been five years since Sridevi left us.
But she has left behind a treasure trove of films to remember her by.
Among them was the 1989 laugh riot, ChaalBaaz, which featured her in a double role, a performance that bagged her the Filmfare Award as Director Pankaj Parashar had predicted.
On her death anniversary on February 24, Pankuj Parashar recalls moments from that exhilarating journey with Bollywood's then reigning queen in a revealing conversation with Rediff.com Senior Contributor Roshmila Bhattacharya.
'Can you get me Sridevi?'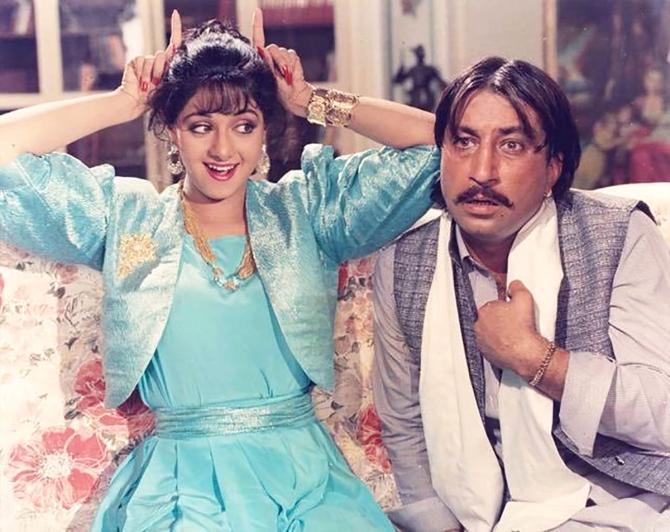 L V Prasad (the respected film-maker) saw my film Jalwa and recommended my name to Producer A Poornachandra Rao.
He was remaking South films in Hindi, like Maang Bharo Sajna, Ek Hi Bhool, Andhaa Kaanoon, Aakhree Raasta, Sansar. L V Prasad suggested he make something out-of-the-box with me.
So during his next visit to Mumbai, Poornachandra Rao called my dad (producer J L Parashar) and asked him to send me across.
Dad told me not to discuss or argue, 'just say yes to whatever he says because he is among the top producers'.
I knew Poornachandra Rao was close to Amitabh Bachchan, and on my way to the meeting, the actor was on my mind.
But as I was walking up the stairs, Sridevi suddenly popped into my head.
When he asked me what I wanted to do, I responded, saying, 'Can you get me Sridevi?'
Without batting an eyelash, he nodded, 'Pappi, like house.'
Pappi was Sridevi's nickname, and by 'house' he meant she was ghar ki ladki (like family).
I was suitably impressed.
He asked me what kind of a film I wanted to make with her.
I had no idea but given all the work she had done, I knew only a double role would be a challenge for her.
So I quipped, 'Seeta Aur Geeta.'
Poornachandra Rao was a very sharp man. He instantly called his manager and asked him to make a cheque of Rs 11,000 to me.
He then made a few calls and learnt that Sridevi was in the US.
'I'll get her,' he assured me.
Poornachandra Rao kept his word, proving just how much clout he wielded.
He spoke to Sridevi in New York and told her he had signed me.
I guess she knew about Karamchand and Jalwa and gave her nod to the film.
Before I knew it, my producer was telling me he had her dates for July and September.
She had feathers in her hair and was wearing blue contact lenses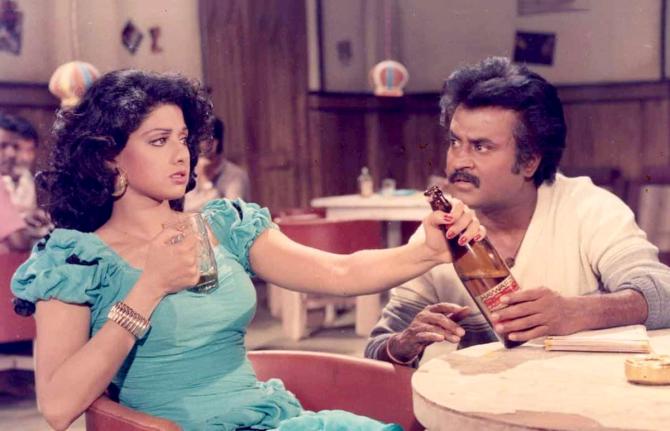 One day, just as I was getting ready to leave for an ad shoot in Hong Kong, Poornachandra Rao called to say Sridevi was in Mumbai and wanted to meet me.
I drove to Essel Studio where she was shooting.
Her mother was there and started speaking to me in Telugu.
I didn't understand a word.
After a while Sridevi came in, feathers in her hair and wearing blue contact lenses.
She said just one word, 'Tell.'
I had no story; ChaalBaaz had yet to be written.
But I had seen Seeta Aur Geeta a couple of times with my writer Kamlesh Pandey.
So I narrated that story to her.
It was quite an experience narrating a story to those blue eyes and seeing her go through myriad expressions sitting just two feet away.
I finished the narration and was told by Poornachandra Rao to wait outside.
He came out after about 15 minutes and said, 'Pappi okay.'
I breathed a sigh of relief.
I thought I had conned Sridevi into doing the film.
Later, she confided that she had known all along that it was Seeta Aur Geeta and had played along.
She liked my confidence, that there was no hesitation and I had rattled off the story in one go.
'Don't change the base story', Kamal Haasan advised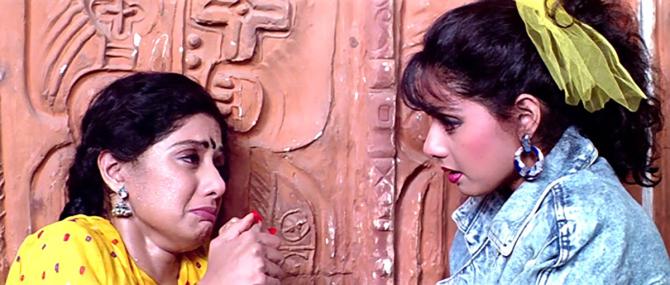 Poornachandra Rao then asked me about my writers and I mentioned Kamlesh Pandey and Rajesh Majumdar.
The latter had written Tere Mere Beech Mein and Andheri Raat Mein Diya Tere Haath Mein for Dada Kondke, both jubilee hits, and my own film, Peecha Karo.
'When will you start writing?' my producer asked.
As soon as I was back from Hong Kong, we would start, I promised.
He sent us to his beach house in Chennai where ChaalBaaz finally took shape.
I had become friends with Kamal Haasan, who was a big fan of Karamchand.
He had invited me for dinner once to discuss the camera and editing techniques of the television series in detail.
I called him when I was in Chennai since he had worked with both Poornachandra Rao and Sridevi, and was a master of double roles.
I would call him every evening and narrate what we had written.
He was aghast and told me one day, 'Why are you changing the Bible? Ram Aur Shyam... Seeta Aur Geeta... You are going wrong... You will fail if you change the Bible.'
I told him I didn't want to copy these films.
He reasoned, 'You are not Ramesh Sippy and Sri is not Hema Malini. The film will change automatically. Don't change the base story, put your madness in it, what you did in Karamchand and Jalwa, have confidence in your craziness.'
I took his advice.
'I couldn't sit next to her or even talk to her directly'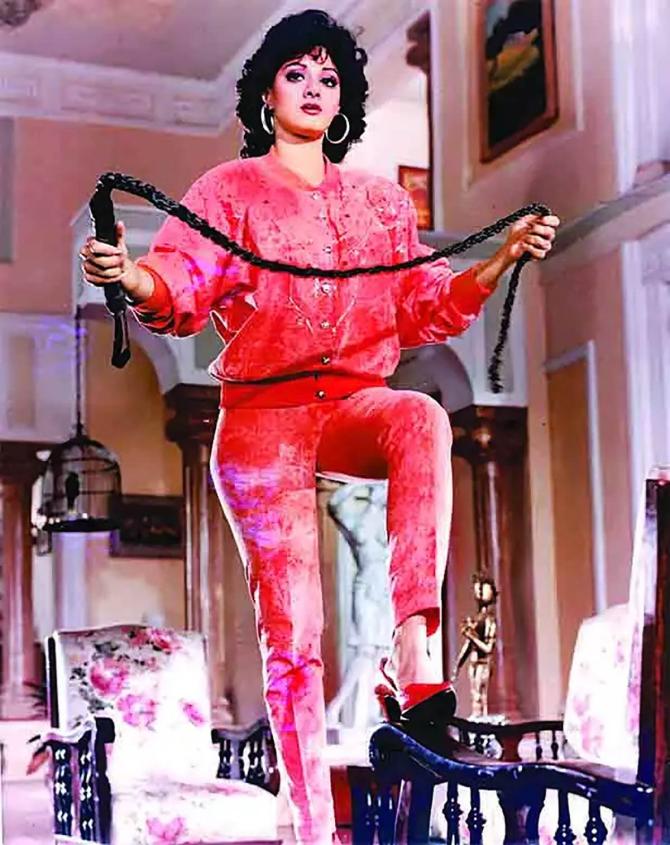 Himmatwala, Sadma, Tohfa, Mr India, Nagina had all been released by then and Sridevi was the reigning queen.
I had once gone to discuss some scenes with her in Film City Studio, where she was shooting with various actors.
It was lunchtime and Vinod Khanna, Rishi Kapoor, Ranjeet and Shakti Kapoor were sitting together and eating mutton biryani, which had come from Rishi's home.
Suddenly, all of them jumped to their feet.
Sridevi had entered.
It was almost like a top army general had walked in.
The kind of respect she commanded without demanding it was incredible!
The first schedule was in Chennai and Sunny Deol was there too.
The first day was terribly exciting for me, a young director of 30-31, living out his dream.
But Sridevi was cold and distant.
There were no 'good mornings' and I couldn't sit next to her or even talk to her directly.
Everything had to be conveyed through her make-up man or assistant.
Sridevi realised this film was different, that I was different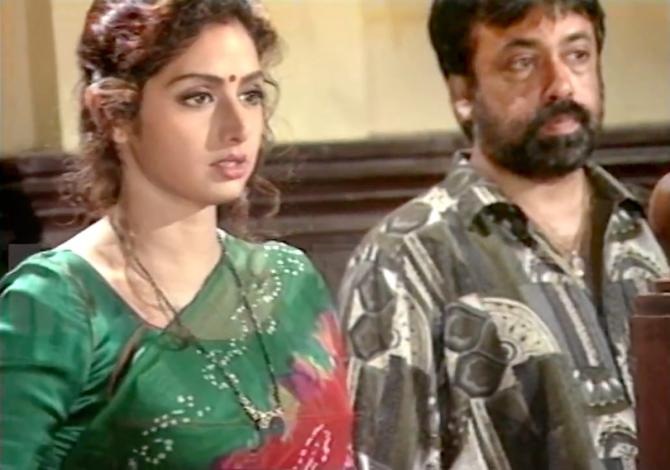 I was wondering how to breach the divide when we shot the scene where Shakti Kapoor tries to rape Anju, and her pet dog jumps to her rescue and is killed.
After the shoot, I called my editor down from Mumbai and got the scene edited overnight.
I had added some wacky background rock music, and did a rough mix of the scene.
I had it arranged to be screened the next afternoon.
I had to walk from AVM Studio Number 8 to the auditorium.
Sridevi drove down in her car, but didn't offer me a lift.
She sat stone-faced and watched the scene.
When it was over, she simply said, 'Again.'
We rewound the film and played it again.
She remained silent.
On her way out, she looked at me and I could see that something had changed.
Her look was warm and appreciative.
I guess, while watching that scene, she realised that this film was different, that I was different.
The next day, lunch came for me from her house.
She told me later that she had been blown away by it.
From that point, we became friends and she would push me to give her something extra.
But when I would go with a scene and tell her she had never done anything like this before, Sridevi would laugh and say she had done everything.
She was only 25, but had already acted in 240 films by then.