Sukanya Verma revisits Chaalbaaz where Sridevi was such a pleasure to watch, twice over!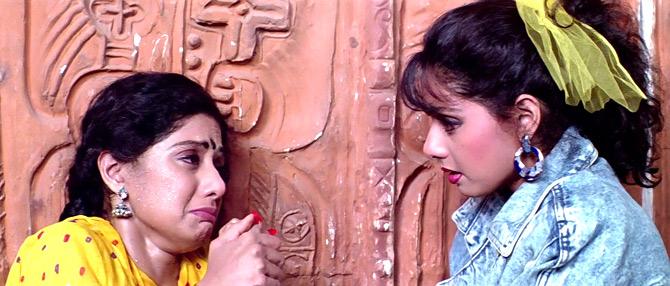 A goddess in a transparent raincoat, a mouse in a sari and pure electric as both, Sridevi dives from one extreme to another as easily as turning the pages of a book.
The star's unswerving charisma, emotional agility and flair for humorous touches in Chaalbaaz highlight how two Sridevis are even better than one.
When Chaalbaaz released in 1989, audiences knew what to expect from the twins-separated-at-birth formula, thanks to Dilip Kumar's hijinks in Ram Aur Shyam and Hema Malini's mood swings in Seeta Aur Geeta.
Yet, Sridevi's flamboyance as Manju and jitters as Anju steeped in the 1980s kitschy vigour lent Chaalbaaz abundant appeal and inimitable individuality.
Already riding high on the success of Yash Chopra's Chandni, which came out a couple of months before, Chaalbaaz's double role cemented her superstardom for good.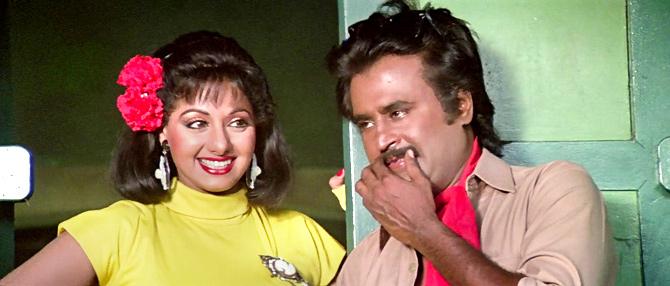 The idea to do the remake came about just like that.
After Producer A Purnachandra Rao promised to get Sridevi on board and quizzed Director Pankuj Parashar about the subject, 'I just blabbered we would remake Seeta Aur Geeta. He agreed. That was it,' Parashar told Rediff in 2003.
Parashar's buddy and actor Kamal Haasan gave him a lot of tips during the filming.
One of them was to stick to the tried-and-tested tropes of the original.
So, a pair of orphaned twin sisters is raised in different households oblivious to one another's existence -- one is a brutally treated Cinderella living in a bungalow, the other a beer-glugging slum gal proficient at getting in and out of trouble.
Anju shudders and squeals at the continuous abuse doled out at her by greedy uncle (Anupam Kher), his wily aide (Rohini Hattangady) and her creepy nephew (Shakti Kapoor).
Her kid nephew (Aftab Shivdasani) and domestic help (Annu Kapoor) are Anju's only sympathisers after her protective Pomeranian Moti meets the same fate as a horse in The Godfather.
There's no reason for the cruelty to go on for as long as it has, but Chaalbaaz's busy schemes insist you buy into the contrivances and Anju's curious compulsions to break into feverish Bharata Natyam at the drop of a hat.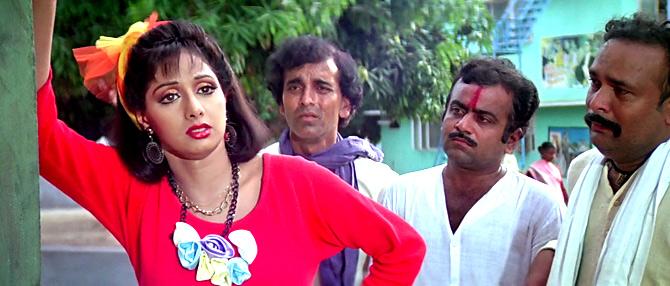 Everyone loves a bully tamer.
Manju's whiplashing payback is tailor-made for whistles and applause. But it's the defiant soul in her spirit loving ways that awes and amuses.
It's how she explains in her sloshed state and slurred speech, 'Seeta, Salma ya Suzy, naam se kya farak padta hai? Main toh bas ek aurat hoon jo mardon ki banayi is duniya main apne shart se jeena chahti hoon.'
'Aur doosron ki beer peena chahti hoon,' the bartender adds his bit.
Chaalbaaz is full of such delightfully droll add-ons.
Sridevi has a ball moving between the two ends of a spectrum.
Her expressive face changes its view to convey feelings of fear, mischief, madness, vivacity, trickery, seduction, despair, disbelief, nerve, coolness and daredevilry.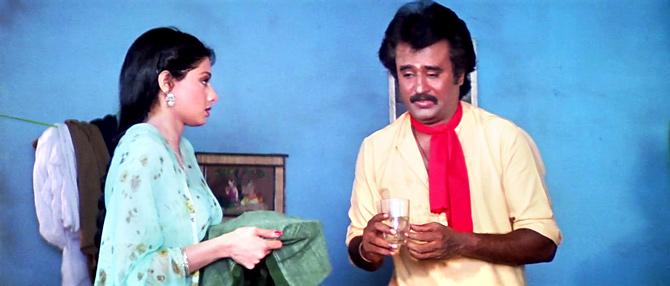 Chaalbaaz is testament to her showmanship.
There are a great many scene-stealing moments.
But I just love how movingly she distinguishes between the two sisters, especially in the scene where they finally reunite and Anju tells Manju she's poisoned.
They may look alike, but they are two different people.
Sri never forgets that.
Compared to the flamboyant one, the timid twin is bound to come out looking like a complete bore, but the submissive Sridevi uses her character traits to generate laughs with co-star Rajnikanth.
His exasperation over the swapped sisters provides as much mirth as his 'Aaj Sunday hai daru peene ka din hai' maxim.
The duo share excellent timing and it's a joy to see them engage in a Tom and Jerry-ish banter.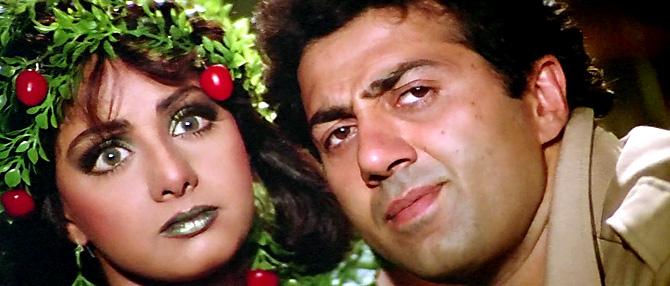 Sri's equally reciprocating of Sunny Deol's romantic overtures over imaginatively choreographed dance numbers like Najane Kahan Se and Tera Bimaar Mere Dil.
Often, she mocks the stereotypical Hindi film heroine and leaves us chuckling with her quirky interjections.
Like the scene where she's coquettishly cooing, 'Chhodo na, Chhodo na' to her affectionate beau and when he does let go, a surprised Sri wryly notes, 'Chhod diya?'
But there's something unbecoming about how the boys react to the lookalike confusion and presume infidelity.
Rajni's boorish tongue finds a match in Sunny Deol's sudden aggression, both revealing an inherent chauvinism that believes it's okay to hit a woman.
It may be characteristic of the films of that decade, but problematic in retrospect.
Sridevi's flogging the bad guys takes precedence over everything.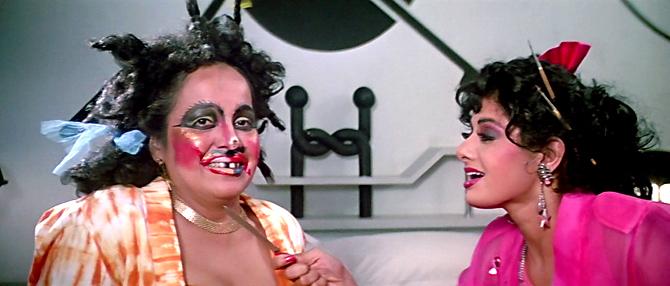 Anupam Kher and his prosthetic nose, Rohini Hattangady's hideous hair and fashion and Shakti Kapoor with his Main ek nanha sa, pyaara sa, chhota sa bachcha hoon/Ceeti baja ke/Balma catchphrases dedicate themselves to wholehearted villainy.
Moments like Sri and her stoned enemies in the picnic ditty, Gadbad Ho Gayi, Sri uglify Hattangady's face while doing a take-off on Raaj Kumar come to mind.
'Pankaj told me to put on some really bad make-up for the scene. I did some things like a black tooth, made one eye big... but Pankaj was not happy with it. I was wondering what else I could do when Sridevi asked if she could try. She asked her make-up artist to bring her old wig and gelled it and then did the make-up on my face. When Pankaj saw it, he loved it,' says Hattangady.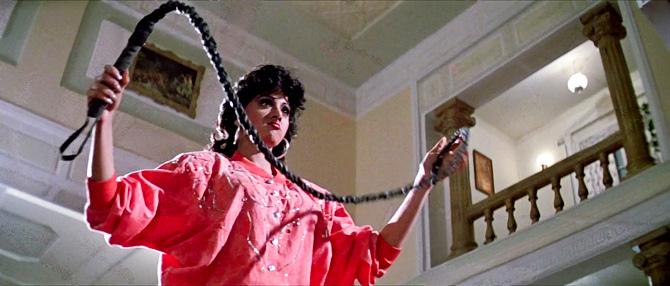 Although the plot is full of loopholes and prides itself on caricatures, Parashar's stylish packaging gives it a distinct look and feel.
Monsoon, exorcism, ad world aesthetics, cannabis induced shenanigans, Michael Jackson-meets-Madonna concert -- every single Laxmikant Pyarelal chartbuster penned by Anand Bakshi is crafted to an exquisite mood and function.
Where Viju Shah's background score lends spunk, Manmohan Singh's brightly-lit choreography and saturated frames capture the over the top trends and glamour of the 1980s in Sridevi's candy-coloured costumes and cosmetics.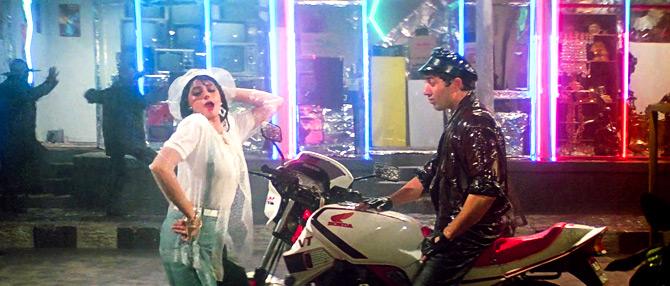 As I revisit the late star in those denim pedal pushers and lace socks, whirling her see-through umbrella, fluttering her big, beautiful eyelashes, flashing her impish smile while dancing away to glory, her words, 'Badi chhoti hai mulakaat. Bade afsos ki hai baat. Kisi ke haath na aayegi yeh ladki,' are a sad reminder of how quickly, suddenly she went away.
I don't know if the world remembers All India Star Manju Michaeli Jacksoni, but Sridevi is forever.