After Irrfan Khan passed into the ages, actors and movie colleagues tweeted their homage to one of the finest actors of our time.
Some revealed fascinating stories about Irrfan while some shared unseen pictures.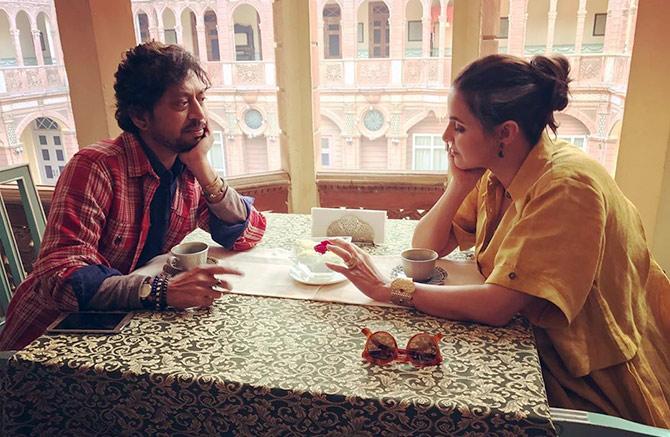 Neha Dhupia, who worked with Irrfan in Qarib Qarib Singlle, posted some on-set pictures and tweeted, 'Still can't believe you have gone ... this has got to be the lowest of the lows... spent last night watching the work we did together, was a blessing to have spent time with you on a set.'
'My heart is still so full after seeing these images... thank you for your brilliance, your patience, your encouragement, your craft and most importantly the laughs...'
'Whenever you are Irrfan, I hope you are in a less painful place... #gonetoosoon.'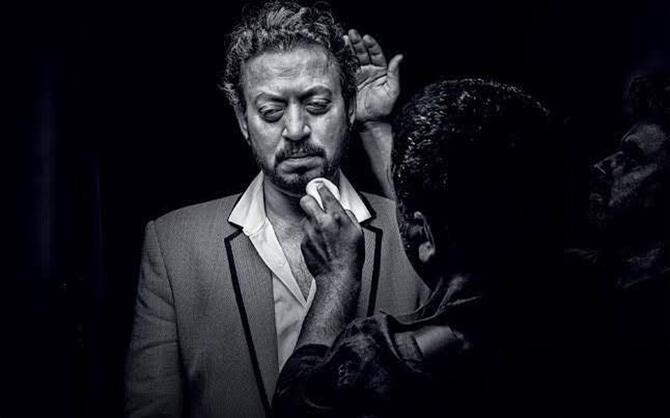 The Lunchbox co-actor Nimrat Kaur shared a beautiful, unseen, picture of Irrfan and simply wrote, 'The endless possibility of a human life. #IrrfanKhan.'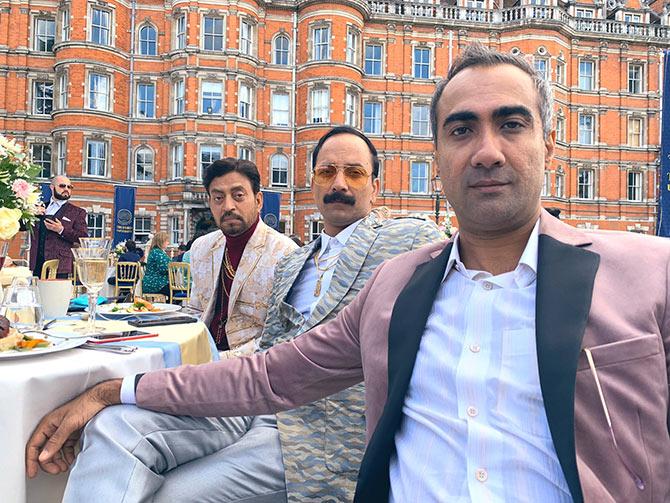 Ranvir Shorey, who shared screen space with Irrfan in Angrezi Medium, revealed he fought the deadly disease throughout the shoot of their film.
'Irrfan, Deepak Dobriyal and me on location for #AngreziMedium. He fought so bravely through the making of the film.'
'Irrfan was a man whose humanity shone through his being. He was more soul than human. And souls live on. #Legend.'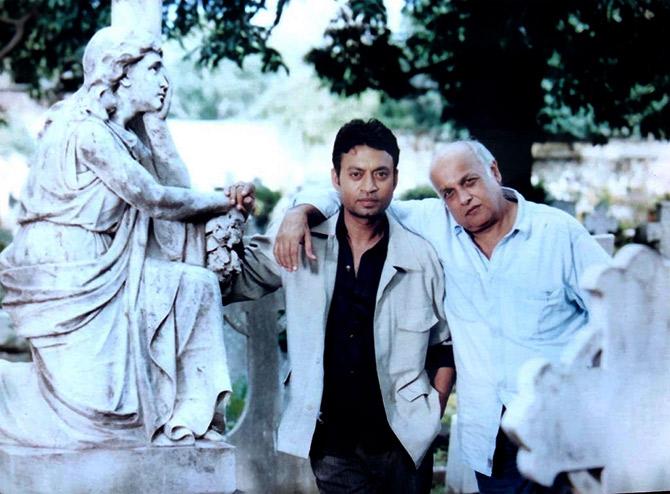 Mahesh Bhatt shared a throwback picture of Irrfan and him, recalling, 'Maine dil se kaha, dhoond laana khushi Nasamajh laya gum, to yeh gum hi sahi... Remember singing this song holding his hand when I met him after he was diagnosed. He smiled.'
'The warmth of your smile will forever linger, my friend. Alvida dost.'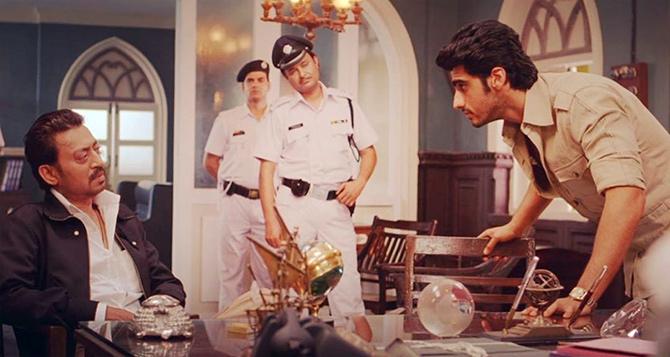 Arjun Kapoor worked with Irrfan in Gunday and the young actor clearly remembers how he felt on the first day of the shoot.
'My 3rd film, my first day on set & I had the pleasure of standing in frame with you. It felt surreal then & it feels gut wrenching now to know that's all the time we had together.'
'Thank you for all the amazing work. Hope the pain is lesser wherever you are. RIP Irrfan Sir.'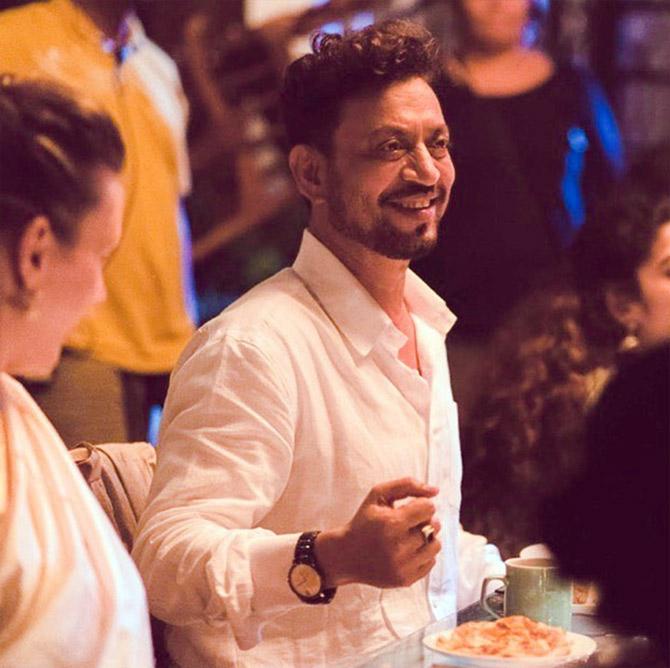 Dulquer Salmaan, the South Indian movie superstar, made his Bollywood debut in the Irrfan starrer Karwaan
He shared a candid click of the legendary actor on his Instagram feed and wrote, 'Can't wrap my head around this. You were this humongous talent, a living legend, an international movie star. And yet, you treated all of us on Karwaan and everyone you met, as equals.'
'By some ease of your nature, you made us all feel like family.'
'You were kind, witty, charming, curious, inspired, compassionate and always fun.'
'I observed you the entire time like a student and a fan. Thanks to you, all through the shoot I had a constant smile plastered on my face.'
'I laughed endlessly, struggled to keep a straight face, and so often stared at you in absolute awe.'
'In return you always had that grin. That amused grin at the world. Almost like it surprised you at all times.
'It's how I'll always remember you. #thehappiestofsouls.'
Pakistan actor Adnan Siddiqui shared a sweet story about his first meeting with Irrfan on the sets of Michael Winterbottom's Hollywood film, A Mighty Heart.
'Disturbed and gutted!! A fine soul gone too soon.'
'I had the honour of first meeting Irrfan as a co-star on the sets of A Mighty Heart.'
'For one of the scenes after learning his lines I saw him doing the scene again and again which left me puzzled.'
'I asked him, Irrfan Sahab ye kya kar rahe hain aap?'
'He replied We're both playing CID agents which means we'll be showing our ID cards everywhere. I'm practicising the scene so I don't look clumsy while showing the ID card.'
'And that was the first time I realised what a fine actor he was.'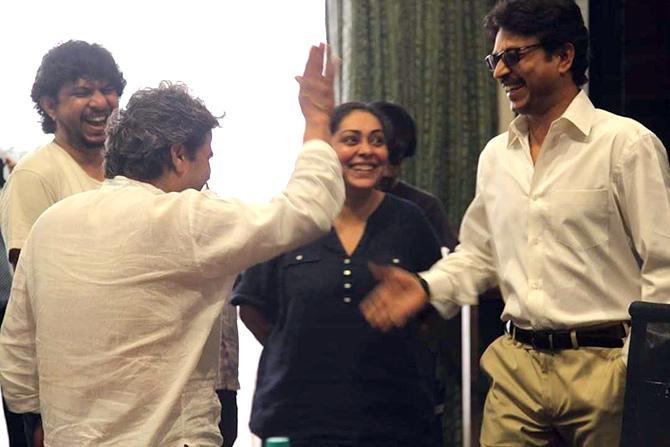 Vishal Bhardwaj, who directed Irrfan in Maqbool, 7 Khoon Maaf and Haider, posted a candid picture and tweeted, 'Dekhi zamaane ki yaari, Bichde sabhee baari baari. Phir milenge Irrfan saab.'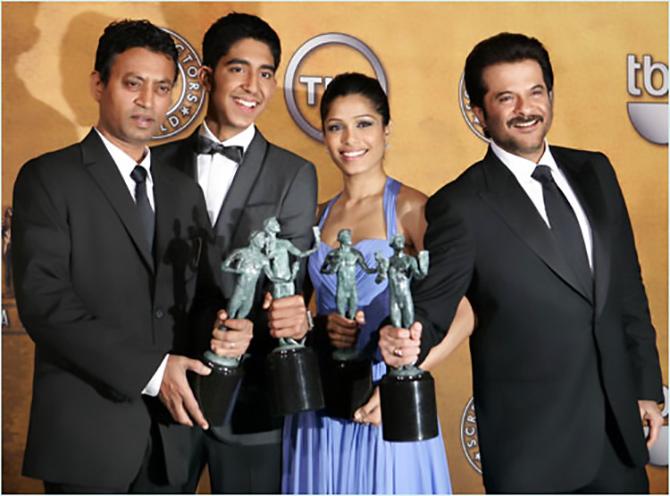 Irrfan's Slumdog Millionaire co-actor Freida Pinto took to Instagram to pay her respects.
'This one has hit me hard. A VOID that can NEVER be filled because there was simply no one like Irrfan Khan.'
'His grace and dignity along with his monumental talent as an artist, actor - a portrayer of humanity in all its shapes and forms made me not only have deep admiration for him but I instinctively wanted to emulate that grace in my career as well.'
'There is a picture from the SAG awards (Irrfan, Dev, me and Anil) that sits on my book shelf in Mumbai and everytime I look at it, I am taken down a memory lane of all things so beautiful and joyous about Slumdog Millionaire and the awards celebrations.'
'And in all of it I have this one beautiful and powerful memory of Irrfan. Unfazed by the glitzy glamour, no matter which Hollywood icon walked past us. Quiet but not silent -- his responses to every interviewer were so meaningful and never lacking humour.
'He was representing India with achingly high levels of grace and dignity. He stood grounded in reality on every world stage, every red carpet.'
'Grateful and so collected! How lucky was I, a complete little mess of a newbie, to have him as a role model.'
'For those who know of his talent, you know it cannot be replaced.'
'For those who have not yet been introduced to his talent...Oh, do not deprive yourselves please! His repertoire has something for everyone.'
'Warrior, Namesake, Piku, Maqbool, Life of Pi, The Lunchbox, Paan Singh Tomar and, of course, Slumdog Millionaire.'
'Start somewhere, anywhere! I promise you...Irrfan Khan will be FOREVER carved in your memories too.'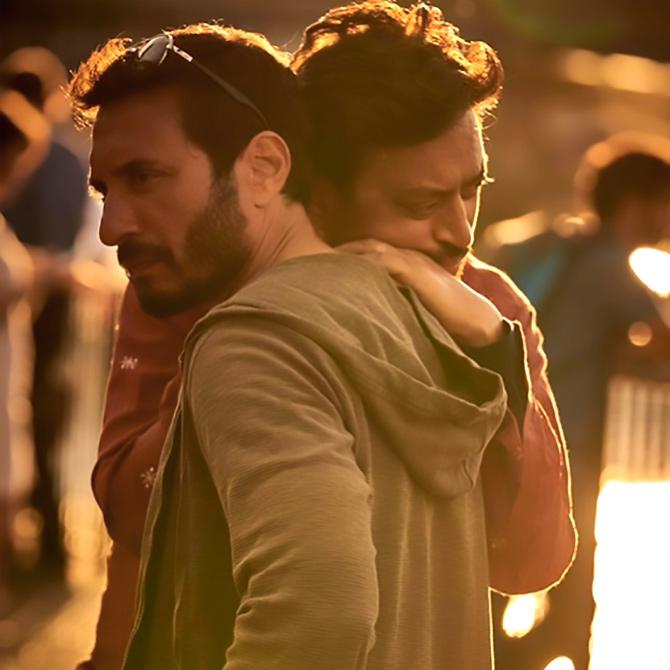 Angrezi Medium Director Homi Adajania paid a beautiful tribute to Irrfan.
'We laughed about you dying... in fact we often abused your "uninvited guests" .... But I didn't think I'd feel so fuckin broken when I heard what I was expecting to hear for a while now.'
'I am eternally grateful for walking a few steps of your journey with you.'
'I am eternally grateful that I could call myself your friend.'
'I am eternally grateful for memories stuffed with so much joy, so much laughter in such little time.'
'You once told me how you had an inexplicable love for your craft, but didn't want the stardom anymore.'
'Well, you never needed to be a star my friend, because you shone brighter than anything in the universe. RIP #irrfan.'