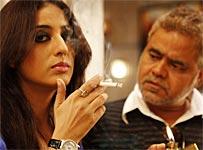 Preeti Arora reviews Utt Pataang.  Post YOUR reviews here!

Five years ago with Bheja Fry, Vinay Pathak as the common man had the audience in splits. It's an avatar Vinay revisited in Dasvidaniya where he succeeded in evoking a few chuckles.

This time with Utt Pataang the actor, who has a double role in the film, fails to tickle the funny bone.

 Playing the normal Mumbai white-collared office-goer Ram, Pathak is hoping his ex-girlfriend Mahie Gill might just see the error of her ways and return to him. His buddy Saurabh Shukla plays a private detective who keeps tabs on all those around him.

One day Mahie calls up Pathak wanting to collect her belongings from his flat at the earliest. This innocuous request leads to a series of bizarre events where crores are found and lost, guns are brandished but never fired and bags are either packed with money or lacy lingerie.

 The large ensemble cast also features Mona Singh as the dazed small-town girl who breaks off her engagement and then roams the streets of the city with reckless abandon. Pathak re-appears in the film as the gangster Saldanha. But his character is modeled more along the lines of Mr Clouseau, the bumbling detective of the Pink Panther series rather than a petty gangster in the larger framework of Mumbai's underworld.

When large sums of money are involved behaviour tends to border on the bizarre. And most people would willingly entertain thoughts about decamping with the money. The characters in Utt Pataang are no different. The deterrent in most cases would be the fear of brutal punishment. But the bad guys Sanjay Mishra and Gautam Namdeo have been made out to be buffoons. As a result in many places the film appears to be more of a spoof rather than a comic thriller which it purports itself to be.

 Utt Pataang has been scripted along the noir tradition and is restricted to

little over one night which turns into a nightmare for all those involved. The narrative moves in a non-linear fashion and especially during the first half of the film manages to keep you involved. The second half of the film especially once Saldanha makes his appearance runs out of steam. But it picks up pace again and ends with an ingenuous climax...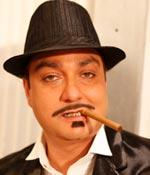 Mahie Gill, the gangster's moll and also the sole glamour quotient in the film lacks verve, a pity because with Dev D she proved the spontaneity she can bring to any role. And in her interactions with Saurabh Shukla, he had all the punch lines. Shukla has a large role but he's also the screenplay writer of the film, which explains it all!

 

Mona Singh shows no skin and has very little to do in the film. Yet the sequences between her and Vinay Pathak, two fellow sufferers who have been recently wounded but hope to recover are endearing. It is Pathak's other avatar which doesn't amuse or entertain, and only manages to irritate.

 

But debut director Srikanth Velagaleti does get one thing right. The script is tight and remains focused. No extraneous characters, no unnecessary incidents and no moral judgments, either.

 

The background score by Sanjoy Chowdhury is well done but could have been used in a more subtle manner. Drama cannot be created with background music alone. The editing is flawless and helps keep the film short.

 

Utt Pataang is interesting provided you enjoy comic capers with a hint of romance.

 

Rediff Rating: