The White Tiger makes a stinging commentary on New India's half-baked vision, but Ramin Bahrani isn't telling a Slumdog fairy tale here, observes Sukanya Verma.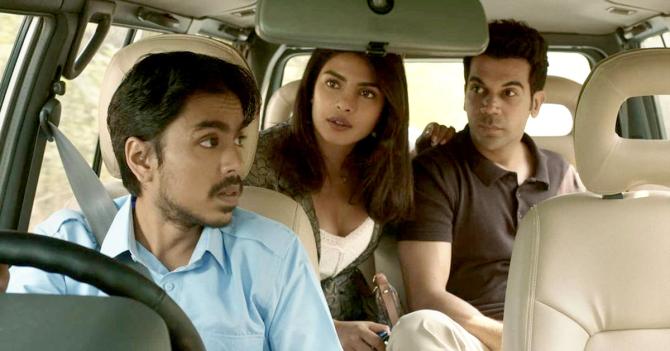 Things are in a state of disarray now.
But in the early 2000s, India Shining appeared to be the mood and motto of the country's booming global standing.
Alongside China, it was expected to challenge the West's monopoly, which forms the backdrop of Aravind Adiga's Booker Prize-winning novel, The White Tiger and its sharp observations on the age-old divide between rich and poor through the prism of a master-servant relationship.
The sentiment Ramin Bahrani's savage adaptation of the novel dedicated to him by Adiga (the two have been friends since their undergrad days at Columbia University) unleashes is a familiar one and has found wide and varied expression across genres from quintessential Bollywood masala ('No man is born a criminal, society makes him one') to superhero blockbusters ('You're all going to wonder how you ever thought you could live so large and leave so little for the rest of us') but achieves far more resonance and rage in The White Tiger's dark determination to escape the fate of a rooster in a coop.
There are no prospects for a 'poor man in a free democracy.'
Balram (Adarsh Gaurav), a low-caste Indian conditioned for servitude, knows this better than anyone else.
'The desire to be a servant had been bred into me, poured into my blood, hammered into my skull,' he rues.
Fascinating how when he does break off it, the brutality in his words mirrors his actions but on someone else's account.
Though impoverished, he is intuitive, a master eavesdropper and reader of minds through rear view mirrors.
In the jungle of big and small bellies, he is a rare creature -- a white tiger whose violent coming-of-age is not as much his folly as the people who have the better of him. The families he is born into and regards as one betray and exploit his devotion.
Where his folks in the village force (embodied in Kamlesh Gill's ruthless matriarch) the brilliant Balram to give up studies and thrust himself in labour and, later, transfer a bulk of his salary to run his large brood, his employers in the city whom he chauffeurs and cares for prove his theory right -- eat or get eaten up.
Among the three brothers, the Stork (Mahesh Manjrekar) and Mongoose (Vijay Maurya) -- as Balram refers to them -- display a typical feudal mindset throwing their weight around and expecting services they don't pay for. But the America-returned Ashok (Rajkummar Rao) and his wife Pinky (Priyanka Chopra) are on the gentler side.
He is never an equal, of course.
They humour him, dress him like a Maharaja doll for their fun, reprimand his lack of manners.
As Balram tellingly quips, 'A good man? He's a rich man!'
But his deeply-entrenched belief of a servant being nothing without his master while holding a Buddha statue under a tree of possible enlightenment are forever shattered following an unpleasant episode.
The entire film is Balram's e-mail to Chinese Premier Wen Jiabao, visiting India as part of an economic summit.
What it feels like though is being inside a head full of voices -- candid, caustic and sinister.
Balram's exposure into a world full of hierarchy and inequities makes him increasingly aware of his shabby position wherein he occupies a cockroach-infested, dingy corner in the basement whereas his masters cosy up under luminous chandeliers of plush high-rises -- extremes that are masterfully captured in Paolo Carnera's cinematography.
It's only when he hits a breaking point, The White Tiger's stinging commentary on New India's half-baked vision rears its ugly head.
Bahrani isn't telling a Slumdog fairy tale here.
And makes it a point to rub it in through a humorous jab at Danny Boyle's Oscar winner: 'Don't believe for a second there's a million-rupee game show you can win to get out of it.'
Rather, it bears semblance to the unapologetic cunning of Sudhir Mishra's adaptation of Manu Joseph's Serious Men.
Adarsh Gaurav is excellent as the man whose 'face could be the face of half of India'.
There's a calm air to his display of obsequious zeal as well as menace which makes his inner-most turmoil and outbursts over expecting better an exciting conundrum to watch.
The White Tiger revolves entirely around him and the people he comes in contact with.
But in seeing them through his eyes we don't always get to see their side of the story, which is no less complicated.
Rajkummar Rao's Ashok is a sort of insecure, feeble figure, a pretender whose motivations are left vague in The White Tiger's greater pursuits of power across barriers.
Rao's accent is a bit of a distraction, but Priyanka Chopra does just fine in hers.
She too keeps it enigmatic and heartfelt except Pinky's ambiguous moral stance helps to keep the mood curious.
One of the best things about this profoundly contemptuous drama is how indigenously Director Ramin Bahrani captures the events.
There's none of that outsider's view of India, none of the exotic tropes and Balram speaking in English isn't a peculiarity.
It's an advantage his character and the movie plays up to and highlights India is two countries in one -- India of light and India of darkness.
Once they coexisted, now they collide.
The White Tiger streams on Netflix.
Rediff Rating: