Madhavan doesn't try to be Charlie, and makes Maara stand out like a fresh film, feels Divya Nair.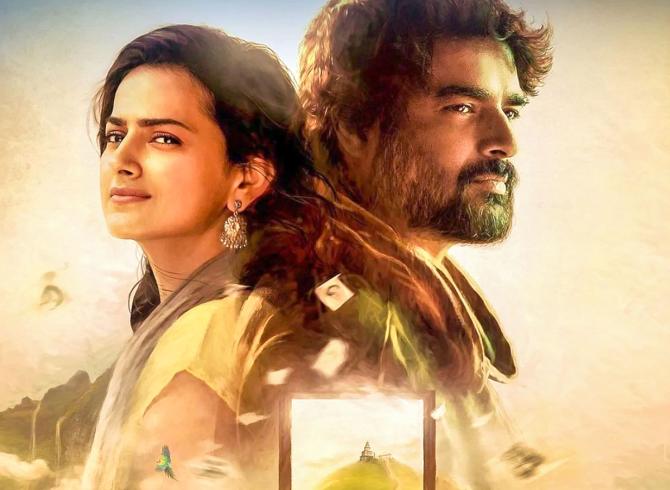 When I first saw the trailer of Maara, I cringed.
Why would anyone risk remaking a beautiful film like Charlie?
I have watched Charlie at least a dozen times and every time I watch it, it's hard to take my eyes off the screen or fast forward the sequences because each frame is so beautifully shot, every scene is so captivating and so are the characters.
But I love R Madhavan and I really wanted to watch something to get over his last debacle Nishabdham.
There is Madhavan, a 40 something, out of shape hero, trying to play a character who is at least 15 years younger and better looking than him in the original.
And there is a story I already know.
Can Maara even compete?
But let me tell you how wrong I was.
More than a remake, it would be safe to say that Maara is an adaptation of Martin Prakkat's original film.
Four years into making the film with an entirely new cast and crew has minimised the loopholes and fixed all possible loose ends from the original, making Maara stand out as a fresh film.
Maara begins with a fairy tale told by Aunty Mary (played by Padmavathy Rao) to a young girl named Paaru (later played by Shradha Shrinath) about how a soldier who won a war travels past the hills, crosses the seven seas and oceans in search of a fish he lost, who incidentally is also the secret to his mortality.
Paaru grows up believing in fairy tales while pursuing a career as a restoration artiste.
To escape the pressure of marrying a random stranger, she scoots to Fort Kochi under the pretext of work.
Unlike in the original where Tessa is forced to stay in Charlie's heritage accommodation, Paaru discovers Maara's den like she Is part of a fairy tale that she has been chasing since her childhood.
This is exactly where Maara surpasses the original in terms of its story.
I could relate to Paaru's character better because she has every reason to feel connected to Maara, who piques her interest and charm in a real way.
Unlike Charlie whose character who calls himself a 'djinn', a wanderer full of intrigue and mystery, Maara comes across as someone who is real, with a deeper sense of human relationships and purpose.
While most of the scenes in Maara are borrowed from the original, Madhavan doesn't try to be Charlie.
He solves problems in his unique, age-appropriate way, but he has his weaknesses and vulnerabilities too.
The original sequence where Charlie confronts Dr Kani (played by a drab Aparna Gopinath) when she attempts to end her life failed to grip me, but in Maara, Madhavan beautifully reminds Dr Kani (played here by Sshivada) about the larger purpose of her life and how he is jealous of her.
At the same time, Maara fails to do any justice to both the character and story of the sex worker Selvi (Abhirami), originally played beautifully by Kalpana.
So there are stories and multiple sub plots, all of which eventually build up to the climax.
Maara, an orphan who was taken care of by Vellaya (Mouli) a retired post master, has a single purpose in life.
He wants to find Meenakshi, Vellaya's only and true love, from whom he was separated more than 50 years ago.
Does he manage to do it?
And what does this journey mean for him and Paaru?
Do they also meet?
Do they fall in love or go separate ways?
Madhavan leads the film with his impeccable performance, followed by Sshivada and Mouli.
While Shraddha does her part to bring the characters together and bind the story, somehow, you don't feel the magic of romance or longing in her eyes or actions.
In fact, it is Mouli, who restores your faith in old school romance.
When he rewrites the letter he wrote to Meenakshi 50 years ago because the ink is fading away and he doesn't trust his memory, he brings out his fears, his anxieties without wanting to give up on his only desire in life -- to find and give the letter to Meenakshi one last time.
Gibran's music is interesting, but not as beautiful or uplifting as the original.
But full credit to writers Bipin and Dhilip Kumar, especially Dhilip Kumar, who delivers a blockbuster start to his career.
Dhilip Kumar's Maara does cinematic justice by adapting the original story and turning it into something more meaningful and better for the audience.
It answers a lot of questions that Prakkat's Charlie fails to touch upon or didn't intend to.
Maara is not abstract. It gives you a set of interesting characters and sub stories to remind you about how different people come into your lives and add meaning and colours to your life.
Ultimately, we are all chasing something, maybe love, a sense of belongingness, maybe a higher purpose.
And Maara reminds you that you may be crazy for the rest of the world, but don't give up on your dreams just yet.
Rediff Rating: