'It felt very surreal when I met Priyanka Chopra for the first time at her house.'
'She was so genuine, but I was in a daze.'
'When you are working with such a big celebrity, it takes some time to normalise yourself.'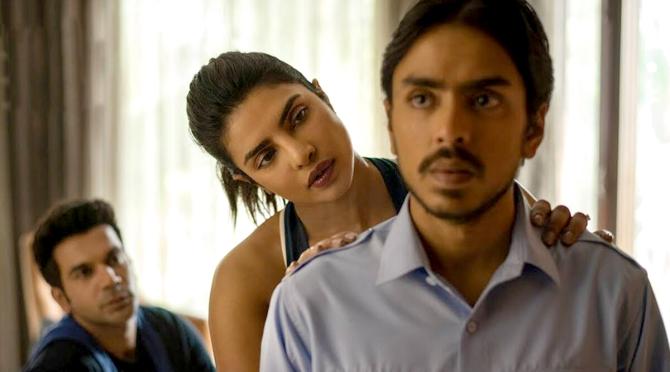 Adarsh Gourav, 26, is one of the most talented actors of his generation. But you may not have heard his name yet.
All of that should change on January 22 when his new film The White Tiger drops on Netflix.
Based on Aravind Adiga's Man Booker Prize-winning, unsettling novel, the film is directed by the author's friend Ramin Bahrani (Man Push Cart and Goodbye Solo).
Adiga's novel is dedicated to Bahrani and the two have been friends since they were undergrad students at Columbia University.
In the film, Jamshedpur-born Gourav plays Balram Halwai, a smooth-talking, aspirational villager, who does menial jobs until he gets hired as the driver of a wealthy NRI (Rajkummar Rao) and his Indian American wife (Priyanka Chopra) in Gurgaon.
Things are initially good for Balram. But then, he feels trapped in his job, often humiliated after being mistreated by his employers.
In desperation, he takes matters into his hands.
In a dramatic move, Balram manages to do the impossible.
He becomes a successful entrepreneur in Bangalore.
The entire film is narrated in the form of an e-mail Balram writes to the Chinese prime minister, who is set to visit India.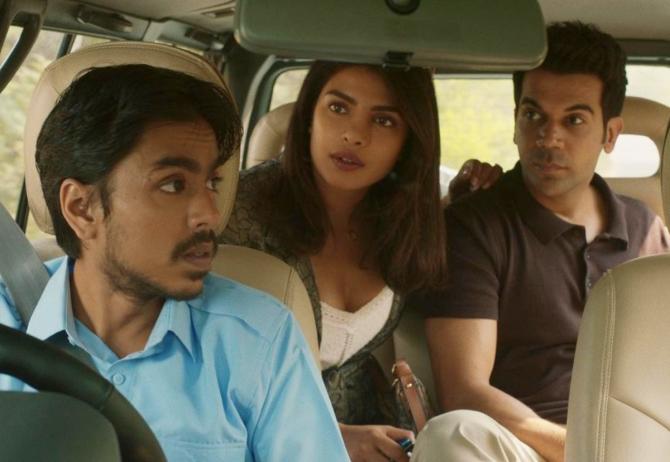 It is a demanding role as Gourav is practically in every frame of the film.
His charming, likeable, yet explosive performance has earned him rave reviews in the US where the film had a small theatrical release.
The Museum of Modern Art's chief film curator Rajendra Roy tweeted this about Gourav: 'I guess we can talk about Adarsh Gourav in Ramin Bahrani's stunning 'The White Tiger' now... this kid is the real damn deal.'
'It's a difficult journey, because (Balram) does something very immoral,' Bahrani told EW.com talking about his lead actor's performance. 'And we're asked not to agree, but to empathize with what he does. (Gourav) pulls us on that journey.'
The White Tiger's casting agent Tess Joseph looked at many actors to play Balram's role.
She has this to say about Gourav's audition: "Adarsh's very first audition had promise, he was cheeky yet naive, he felt like he 'belonged' to the world having grown up in Jamshedpur and areas around."
And she adds this about the actor: "Adarsh listens, he invests in instructions but also makes brave choices when asked to do a wild take."
A graduate of the Narsee Monjee College of Commerce and Economics in Juhu, north west Mumbai, Gourav is also an alumnus of The Drama School in Mumbai.
He has been appearing in films and commercials since he was a teenager. His first film break was the brief role of young Rizwan Khan in Karan Johar's My Name is Khan (2010).
In 2016, he acted in Clean Shaven, a segment directed by Anurag Kashyap in the anthology Madly.
Kashyap saw an audition tape of Gourav when the actor was still in college.
When he offered him the job, Gourav asked the director for a favour.
"He made me speak to his mom and say that he will have a future in acting, and she need not worry," Kashyap recalls, adding, "He works really hard on his roles and has an actual curiosity for the characters he wants to play."
"Acting for him is much more than just a career. Fame and stardom are not his pursuits. He really wants to go all out and be the best he can be in that character. That passion and pursuit is very rare. I hardly see it."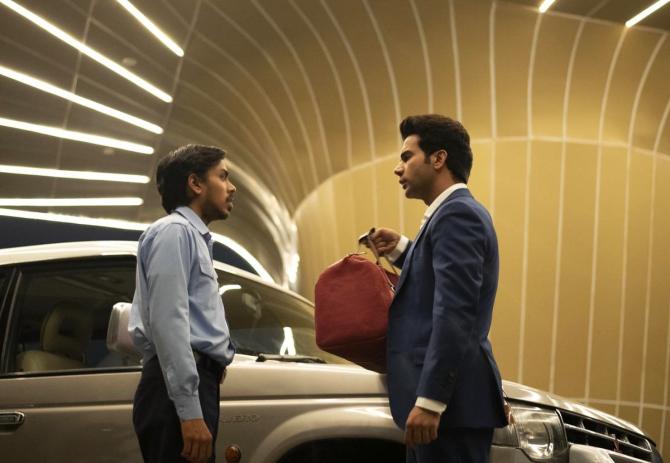 Gourav's strongest performance to date was in Atanu Mukherjee's Rukh (2017).
He played a quiet, yet emotional role of a high schooler, who investigates the death and the past of his father (Manoj Bajpayee).
It is streaming on Netflix and deserves a watch.
He has also acted in Mom (2017) and in a small role in Deepa Mehta's Netflix series Leila (2019).
Mehta had originally auditioned Gourav for the role of Shehan, the Sinhalese gay man in her latest film Funny Boy.
"His interpretation of a poetic, strong young man so assured of his sexuality blew me away," she says. "I cast him immediately."
But the Funny Boy project got delayed.
When Mehta began to work on Leila -- a dark political tale about India in the future, based on the novel by Prayaag Akbar -- she offered Gourav the smaller role of Naz, the angry, persecuted brother of Rizwan Choudhury (Rahul Khanna).
"I knew Adarsh's passion for his craft would bring an unexpected turn to the character of Naz," she says.
The White Tiger was shot in 2019. More than a year later, the film is ready to be seen by the audience.
Gourav has been waiting patiently for this moment.
Adarsh tells Rediff.com Senior Contributor Aseem Chhabra , "I never imagined I would get a big break like this."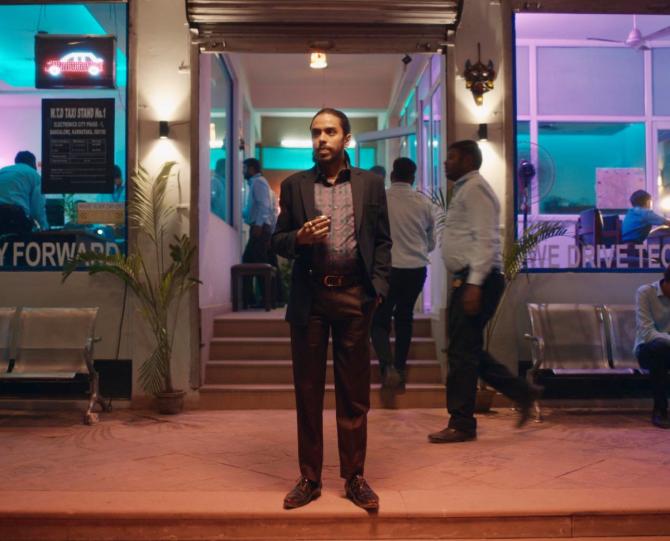 Adarsh, I talked to Tess Joseph about your audition for the role. What was the process like for you?
I was called for the audition in June 2019.
The months leading up to the audition were clouded with a lot of self-doubt and uncertainty because I was auditioning left, right and centre. But I could not convert any audition.
I was trying to explore other verticals, just to make some money, and keep myself busy.
All of a sudden, three projects came to me and one of them I was really interested in.
Around the same time, I got a call from Tess's office about The White Tiger audition.
My first instinct was to focus on what I had since there was no point in auditioning for The White Tiger. It was a really big project.
It was way out of my league and I was probably not going to get it.
So what was the point?
But then I said that I had been trying to get an audition with Tess for the last three years. I should be thankful that I had been called.
I might as well use the opportunity to show her that I was a decent performer and she can call me for more auditions after this.
My biggest motivation was to impress her.
I went in thinking that I would never get this part.
I had some context to the character and the arc of the story since I had read the book as a teenager.
Oh, you had read the book? Not many actors read books.
I had read it when it had come out.
I went for the audition and a month later, Ramin told me I was to play Balram.
So it was just one audition?
No, there were four or five rounds of auditions. Ramin came in for the third round.
We would always do scenes of the driver Balram and the Bangalore Balram since Ramin wanted to see the spectrum in which I would operate.
After the third round, I went to Andheri station (north west Mumbai) and bought a kurta and pants, each for Rs 100. I would wear them for every round after that.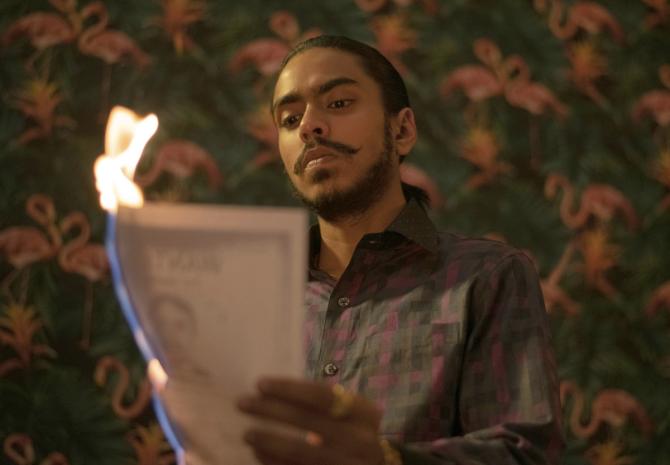 How did you prepare for the role before the shoot started?
I had three-and-a-half months to prep for the role.
That luxury of time you don't get.
Usually, you have a month and then you jump right in.
I have the most fun in the homework period of the prep.
I explore all the possibilities.
I decided to go to a village in Jharkhand called Jhalkari Basti.
How I went there was very random because I befriended a person who lived next to my building.
In our third encounter, I told him I wanted to visit his village.
He was taken aback.
He was like 'I barely know you.'
In our conversations, we talked about what home meant to us and what our parents did. We had clicked and he trusted me.
I went and stayed at his house in the village.
I requested him not to tell anybody that I am an actor.
I lived there as his friend under an anonymous identity.
I met people, saw the village through him.
I spent two weeks there. It was beautiful.
After that, I came to Delhi and worked at a small redi in Saket, where I was cleaning plates, the floor and helping with some menial stuff.
How did you land that job?
When I came to Delhi, I asked the film's stylist to send me Balram's clothes and footwear.
By then, my stay at the village had already created an impression on me.
Whenever I am playing any role, I don't identify that character as a third person.
From the moment I get the part, I start believing that this is me.
Once I came to Delhi, I wanted to make sure I understood what Balram felt.
He was trapped in the village and wanted to get out because he knew that he deserved better.
I walked up to about 20 thelawallahs to give me a job, but all of them wanted me to show them my ID.
I couldn't do that because my ID had my real name, and I presented myself as Balram.
Finally, on the third day, I found a job, with a guy who didn't ask for my ID.
I worked there for Rs 100 a day, 12 hours each day for two weeks, cleaning plates and using as less soap as possible.
He would get very riled up if I used more soap.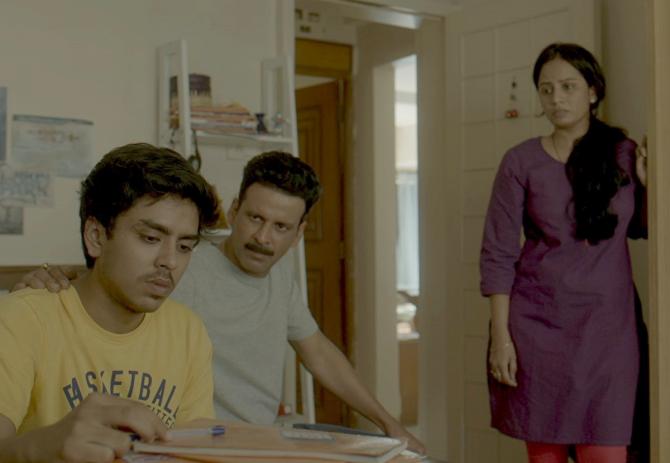 Wow. What was that job like?
(Note: Anurag Kashyap later said that he knew of no other actor who would do such preparation, except Vineet Kumar Singh who spent two years training as a boxer for Mukkabaaz.)
I didn't tell Ramin until the third day.
He was quite taken aback but he said, 'Great, I am really glad you are doing this.'
It was horrible.
I hated every second of it.
I would think what in the world am I doing sitting next to a nallah, being shouted at for using more soap and the food is being adulterated.
And I am seeing it all happen in front of me.
For a year after that, I couldn't eat street food because I saw how it was prepared. That's a separate conversation (smiles).
I called the boss, 'Seth'.
He told me I could eat as much food as I want. I didn't want to do that since I knew how it was prepared.
During lunchtime, I would run back to my hotel.
I would get a salad the previous day, and eat it, and run back to the stall.
I would survive on fruits and salads because I also had to lose weight.
So what did you learn from this job? How did it inform you to play Balram?
The idea was to do something I absolutely hated and to feel that I didn't have any way to get out of here.
I also wanted to become invisible, a part of the crowd.
In India, there are so many people.
Unless you are famous or dressed in a certain way, nobody would turn and look back at you. That's the feeling I wanted to achieve.
I would wear Balram's clothes, ride the metro, sit in random places for hours and talk to strangers.
My biggest validation was when a man, who had just parked his (Tata) 407 (truck) saw me and asked me to help him carry some construction rods.
He offered me Rs 20 for chai-pani.
I didn't speak to him or convince him that I am somebody else.
That moment I believed I was Balram.
This was a month before the shoot.
Then we had a bunch of readings and workshops.
There are so many shades of Balram you bring into the film. But two scenes stand out for me.
In one, you are singing with Rajkummar Rao in your room in the basement of the building. In another scene, you yell at an old lady who is begging on the street.
Those are two very different scenes. How did you approach them?
Both those scenes were improvised.
The scene where I would start singing was not written.
First, Raj started singing and in one take, I had the impulse to sing.
I made up something and I sang.
Then I told Ramin that I want to sing something more definite.
The AD (assistant director) on the film Rohit is a writer, so I asked him to pen three lines for me.
I quickly composed them and from the next take, I started to sing that song.
That's the beauty of this film.
Till the last day, Ramin would sometimes say 'I don't know how this scene will be. Let's search for it together. Let's see where it goes.'
When a director gives you that amount of freedom, you feel liberated as a performer.
That's when movie magic happens.
You decide everything but let things evolve on the set.
Even the scene where I exploded on the street, it was written as a simple scene where I tell the woman, 'Aage badiye.'
But I was just thinking about what happened before that.
That feeling of being trapped and controlled by somebody kept playing in my head. And you can't do anything about it.
At that moment, this woman is being pushy and hassling me.
I just exploded.
I didn't know I was going to explode like that.
There were real people on the street.
We were shooting with a hidden camera. People genuinely thought I was some guy who was going crazy.
On camera, there's an aunty who walks up to console me.
That's when I realised she must think this is real.
I turned and saw some cops standing.
I involved the cops in the situation. So everything was just improvisation.
Nobody planned for the scene to happen like that.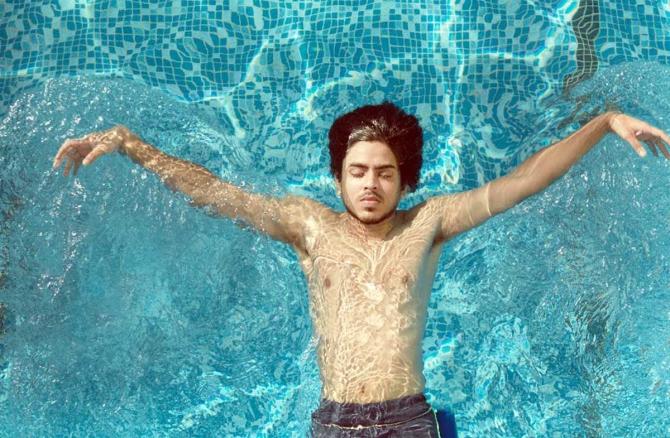 What are your memories of working with Raj and Priyanka?
I am extremely lucky to have worked with both of them, especially Priyanka.
Throughout my childhood and after I came to Bombay, I would say 'Hum Jamshedpur sey hain. Wahan sey Priyanka Chopra aur Imtiaz Ali bhi hain.'
I took so much pride in the fact that they belonged to the same town (as me).
It felt very surreal when I met her for the first time at her house.
She was so genuine, but I was in a daze.
It took me five minutes to snap out of it and think it will be okay, I will be in a film with her.
From now, I am Balram and she's Pinky and that's how I have to look at it.
Of course, when you are working with such a big celebrity, it takes some time to normalise yourself.
I have been a big fan of her performances in Kaminey and Barfi.
Similarly with Raj, I have been a huge fan of the films he's done.
He made some incredibly bold choices and played really complex characters, the kind of characters I would love to play and explore as an artist.
I had been watching your career for some time and hoped you would get recognition sooner than this. Now you have an international project on Netflix, how does it feel? I am sure you were waiting for a big break.
No, I wasn't, to be honest.
I harboured the aspiration to work internationally with people all over the world. And that language should never be a barrier for me as an actor.
I think cinema is a universal medium and it doesn't matter what language you are speaking.
At the end, the emotions are the core to it.
But I never imagined I would get a big break like this.
I wasn't waiting for it.
When you are working on a film, you are so close to the character.
But the film releases after a long time.
By that time, you start to look at things objectively.
You sort of get detached from the project.
You have worked on some really interesting films. What was it like acting with big-name directors like Anurag Kashyap and Deepa Mehta?
Anurag sir loves not to decide things. He loves to go on the set and let things happen organically.
When I was working on Clean Shaven, I would be very stressed that I need to prepare and become the character, Allwyn.
I remember meeting Anurag sir two weeks before the shoot and he asked me to relax and not overthink. Let things affect you on the set.
Even if he's written a scene, if he feels different on the set, he will rewrite it for you.
It's a very refreshing experience to work with him.
With Deepa, it was like the other side of the spectrum, where we did a seven-day workshop trying to find the spirit of the character and how the scene could be performed.
I had a small role, but it was a profound experience to work with her.
It gives you a lot of confidence when the filmmaker thinks you have the potential to play the role.
You were very young when you worked with Karan Johar. What was that like?
(Laughs) That was just pure excitement.
It was my first time on a movie set.
Three days of shoot, I had five relatives coming on the set.
Everybody wanted to see what a movie set was like.
'Oh you have a vanity van?' they said. 'Okay sharing, but still vanity van.'
They took photos inside the vanity van.
'Achha Karan Johar to asli zindagi main aur bhi lamba hai. Achha aise sunglasses pehenta hai. Achha yahan sub saath main khate hain. Kitna achha hai.'
It was a new experience for all of us, something I will cherish.
I think it was about everything but playing Rizwan. The excitement was so much.
Feature Presentation: Rajesh Alva/Rediff.com