'Wonder of wonders we finished the Janmashtami song and can you believe it within the next few days it so happened that Dilip Sahab walked into my life, gazed into my eyes and asked my grandmother and mother for my Hand in marriage.'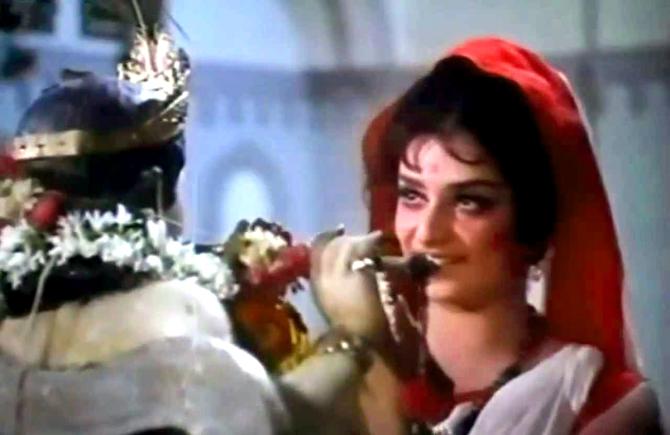 In a recent social media post, Saira Banu shares her love story with Dilip Kumar and its special connection with Janmashtami.
'The picturisation of Kanha the Janmashtami song in the film "SHAGIRD" was coincidentally and miraculously on the very day of the festival,' she writes.
'We were shooting at "Filmistan Studios" with Nazir Hussain Sahab, an outstandingly famous character actor and a father figure to me who was also shooting at the same time in Madras (Chennai) with Dilip Sahab in "RAM AUR SHYAM".
'We had date problems and Nazir Sahab would shoot with me late in the night and fly in the morning to shoot with Dilip Sahab in "RAM AUR SHYAM". Nazir Sahab treated me like his own kid and vibed very easily on the sets with me.
'As I sang the Bhajan on Janmashtami night in front of a beautiful statute of Lord Krishna with Lataji's melodious enthralling voice in the playback, I turned to Nazir Sahab and with a mischievous smile on my face asked him for a favour!
'"You are working with Dilip Sahab, Oh! you are so lucky enough to be working with Dilip Sahab, please request him that Saira is dying to work with him and if he doesn't do this then ask him to marry me!"'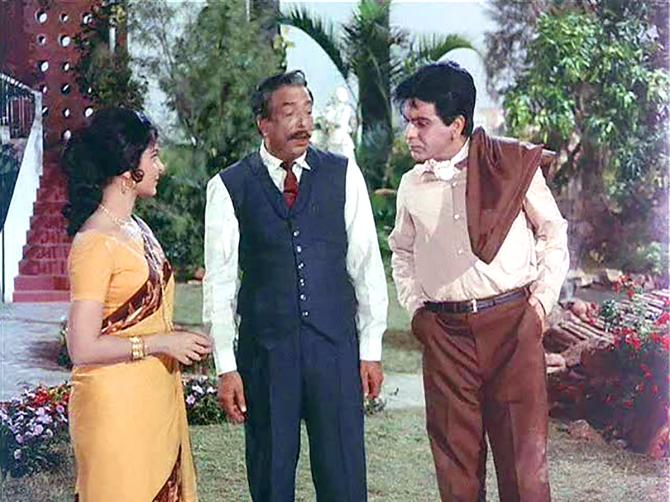 'Nazir Sahab was dumb-struck and then he rolled from side to side with the resounding laughter that he was famous for. If you see a scene from "RAM AUR SHYAM" where Dilip Sahab and Nazir Sahab are outdoing each other in loud laughter you will see what I mean,' she adds.
'So Nazir Sahab travelled to Madras the next morning and dutifully conveyed my impudent message to the Shahenshah.
'Dilip Sahab, I am told, gracefully smiled and acknowledged my cheeky message, to probably cover his embarrassment -- although I think you could have knocked him down with a feather!
'Next evening again Nazir Sahab came onto the set of "SHAGIRD" to shoot with me and told me that he had conveyed to Dilip Sahab my exact imploring message... "Dilip Sahab there is a Gudiya who is crazy about you"!
'Wonder of wonders we finished the Janmashtami song and can you believe it within the next few days it so happened that Dilip Sahab walked into my life, gazed into my eyes and asked my grandmother and mother for my Hand in marriage. This was nothing short of a miracle!'