'I can still recall my eyes falling on Saira, looking breathtakingly beautiful in a brocade sari.'
'She had indeed grown to full womanhood and was in reality more beautiful than I thought she was.'
A romantic excerpt from Dilip Kumar: Peerless Icon Inspiring Generations.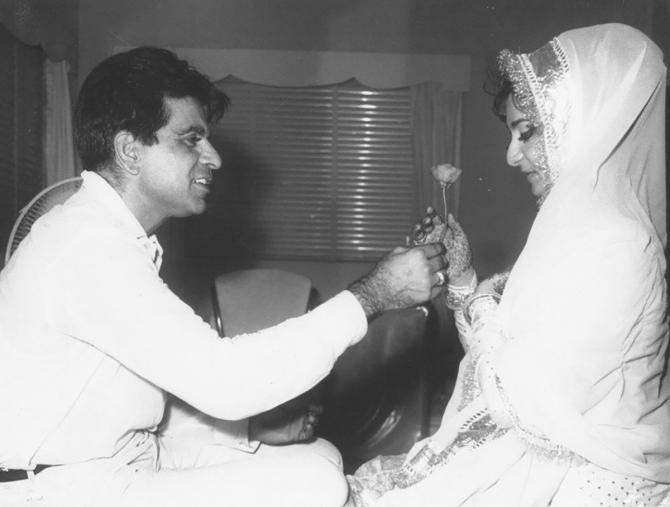 Reportedly, Saira Banu had a crush on Dilip Kumar from her growing years when she met the thespian on the sets of Mughal-e-Azam.
While in London, Saira watched Mehboob Khan's Aan at the Scala Theatre and was mesmerised by Dilip Saheb's performance and personality. After completing her studies in England and upon her return to India, she engaged a scholarly Maulvi to make her proficient in Urdu and Farsi ostensibly to get closer to Dilip.
There was some talk of Dilip Saheb accepting to cast Saira Banu as early as when Gunga Jumna was launched and later in Leader and thereafter for the second lead role of Shanta in Ram Aur Shyam (it eventually went to Mumtaz).
At a party hosted by Mehboob Khan in those days, (film-maker) S Mukherjee had hinted to Dilip Kumar that the young girl, Saira, was crazy to work with him.
Dilip Kumar reportedly told some scribes at that time that Saira Banu was too young to be cast opposite him. He also jokingly pointed to his greying mop of hair to dissuade Saira from pursuing ideas of starring opposite him.
* * *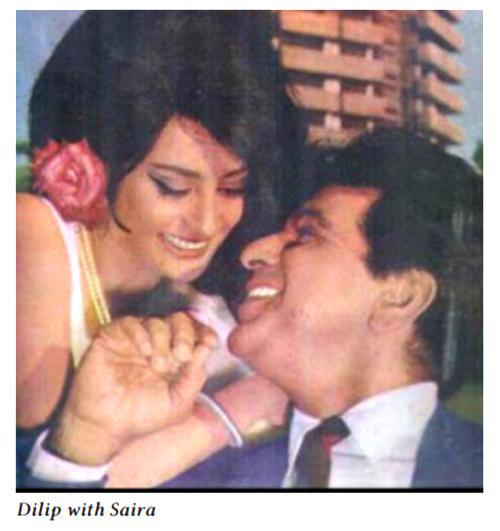 Saira Banu kept sending frequent requests to Dilip Kumar via some popular producers for doing a film with her. On the other hand, Dilip Saheb kept sounding clapper boards at the mahurats of Saira Banu's films.
Dilip Kumar kept on working with heroines matching his age and maturity.
Nevertheless, at that juncture, Dilip Kumar did confide in S Mukherjee that he wanted to cast Saira in a subject specially written for her in a film titled Song Of The Valley, which was set in the backdrop of the picturesque Kashmir valley. But, the movie never took off.
Then, the unthinkable happened.
Dilip Kumar was in Chennai shooting for Ram Aur Shyam when he received an invitation from Naseem Aapa (Saira's mother, actress Naseem Banu) to attend Saira's birthday bash in Mumbai on August 23, 1966.
Dilip Saheb decided to specially fly down to attend the event which later turned out to be the one that changed the course of his life.
To quote Dilip Saheb, 'When I alighted from my car and entered the beautiful garden that leads to the house, I can still recall my eyes falling on Saira standing in the foyer of her new house looking breathtakingly beautiful in a brocade sari.
'I was taken aback because she was no longer the young girl I had consciously avoided working with because I thought she would look too young to be my heroine. She had indeed grown to full womanhood and was in reality more beautiful than I thought she was.'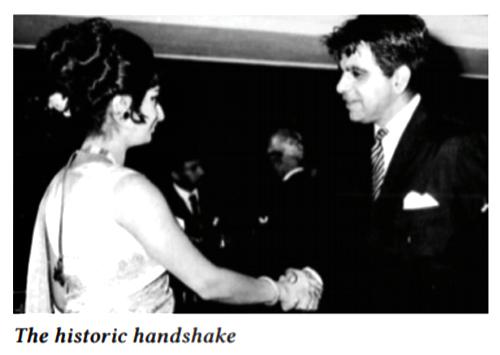 As Dilip Kumar shook hands with Saira Banu and congratulated her, time stood still and in that very propitious moment Dilip Kumar found his wife and Saira, her husband. They looked into each other's eyes and that was it. The celestial stars smiled on the star-pair and the moment froze.
Later, ushered into the spacious drawing room of Saira's house, Dilip Kumar met many of his friends such as Dev Anand, Rajendra Kumar, music directors Shankar and Jaikishen, Manoj Kumar, Fali Mistry, Subodh Mukerji, R K Nayyar, etc, and exchanged pleasantries.
But Dilip Saheb's mind went racing back to the year 1955 when film-maker S S Vasan had introduced him to an astrologer in Coimbatore who had predicted that he would marry in his forties and the girl would be extremely beautiful but half his age. He also said the girl would be from his profession only.
His predictions were coming true, he felt.
If ever there was a whirlwind romance in Hindi film industry, it had to be Dilip and Saira's.
Back in Chennai, Dilip Saheb kept regularly phoning Sairaji while she was shooting at Mehboob Studios for the Lekh Tandon-directed Jhuk Gaya Asmaan.
One fine evening, he flew down to Mumbai and took Saira Banu out for dinner at the Taj Hotel's Sea Lounge (in south Mumbai), followed by a drive to the Cuffe Parade seafront where the most eligible bachelor of his time proposed to the Beauty Queen.
The acceptance came readily.
Then Dilip Kumar lost no time in officially obtaining the consent of Naseem Aapa.
The first person he informed in his own family was his younger brother, Nasir Khan, and in the film industry, he told his old friend Abhi Bhattacharya 'Gobindo'.
All his friends were pleased to hear the good news except Naushad Saheb, a close family friend. Dilip Saheb did everything required to assuage the feelings of his family members, particularly (his sister) Sakina Aapa.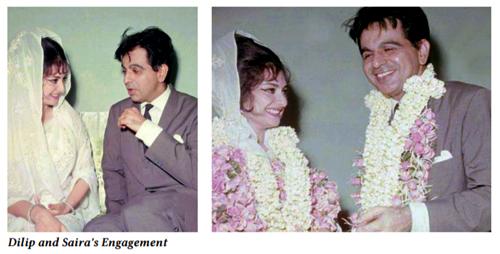 Dilip Kumar and Saira Banu got engaged on October 2, 1966.
The engagement was a simple and private affair with only close friends and relatives attending the austere ceremony held at Saira Banu's Pali Hill residence, which was smack opposite Dilip Kumar's residence.
The guest list included S Mukherjee, Nasir Hussain, Sardar Akhtar, Mehboob Khan, Pran, H S Rawail, Abhi Bhattacharya, Subodh Mukherjee, Joy Mukherjee and an assortment of friends and relatives.
Dilip Saheb wore an elegant suit and Sairaji wore a gorgeously sequinned white brocade sari presented by Sakina Aapa.
At 7 pm sharp on that day, Dilip Kumar slipped in a diamond and ruby ring on Saira's engagement finger and she in turn slipped on a diamond ring on his. They then exchanged the traditional garlands of roses and jasmine, completing the brief and solemn ceremony.
The wedding date was originally set as November 4, 1966.
However, with the clamour of Dilipian fans reaching a crescendo and the couple getting mobbed at every public appearance, it became imperative not to wait so long.
Eventually, they married on October 11, 1966, with much fanfare.
Dilip Saheb's good friends Hiten Choudhary, Ramesh Saigal, Abhi Bhattacharya, Satish Bhalla and Balraj Kohli supervised the arrangements.
Saira Banu's close friend, Shibani (daughter of S Mukerjee) astutely handled the responsibilities at the bride's home.
It was a fairy-tale wedding, the likes of which had never previously been witnessed.
Since the date was hurriedly fixed (the announcement was made only on the day of the engagement on October 2, 1966, barely nine days before the wedding), there was no time even to print formal invitations. Thus, friends and well-wishers were invited over the phone.
Some 500 guests were expected but a huge number of celebrities, luminaries, politicians, media and friends turned up besides milling crowds which thronged the areas around the Pali Hill houses of the celebrated couple. Despite a police bandobast being in place, it was extremely difficult to control the crowd.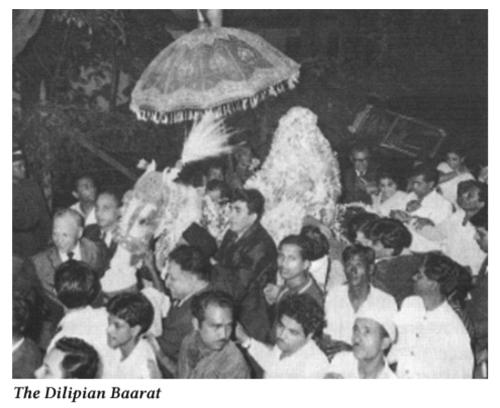 Dilip Kumar's luxurious limousine was tastefully decorated with flowers but the megastar was compelled to ride a mare from his house to Saira Banu's house, across the road, by his relatives.
A huge contingent of famous personalities were present at the baraat which included Prithviraj Kapoor, Raj Kapoor, Dev Anand, Bharat Bhushan, Raj Kumar, Shashi Kapoor, Nargis, Nimmi, Nanda, Pran, Jairaj, Nanda and Sadhana with R K Nayyar, Shakeel Badayuni, etc.
Dilip Saheb wore a kulla saafa, the Pathani headgear.
Prithviraj Kapoor led the baraat with Shashi Kapoor holding the reins of the mare.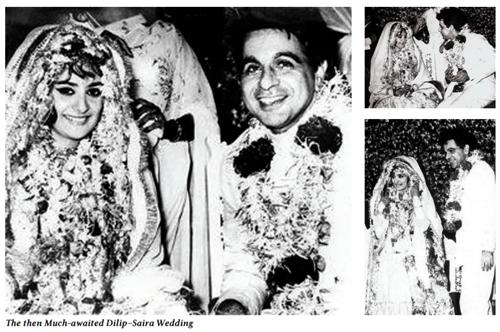 The baraat was scheduled to start at 5 pm but it got delayed by one hour since the bridegroom's apparel was not ready as the order was placed only one day before.
The ubiquitous Raj Kapoor danced with gay abandon and energetic enthusiasm to heighten the revelry.
Qazi Mugrey performed the nikaah.
Shah Nawaz Khan, the then minister of labour, employment and rehabilitation, signed as a witness to the marriage.
Raj Kapoor had once jokingly told media that the day his dear friend Dilip Kumar would get married, he would walk up the stairs leading to his house on his knees. To the great amusement and delight of all present, Raj Kapoor actually did that.
When actor Raaj Kumar, who was a bachelor then, went to congratulate the newly-weds, Dilip Kumar asked for a glass of water and made Raaj Kumar drink it.
He told him about a deep-seated belief that if a bridegroom offers a glass of water to a bachelor friend on his wedding day, he too would get married soon.
Raaj Kumar got married shortly thereafter.
The wedding celebrations went on till the wee hours of the morning.
Next day, a sumptuous Dawat-E-Walima (wedding feast) was held which was attended by all the well-wishers, friends and luminaries including the then chief minister of Maharashtra, Vasantrao Naik.
In a candid tongue-in cheek manner, Dilip Saheb has described the change in his life post-marriage as follows:
'As a bachelor I would sit up with friends... We used to have sessions running deep into the night. So, often magnanimous friends would invade my austere little cottage in the middle of the night and out of pity for my 'insomnia ridden' loneliness drag me along, often in pyjamas, to informal get-togethers at their homes. Those delightful, mad sessions have ended.'
This edited excerpt from Dilip Kumar: Peerless Icon Inspiring Generations by Trinetra Bajpai and Anshula Bajpai has been used with the kind permission of the publishers, Bloomsbury India.