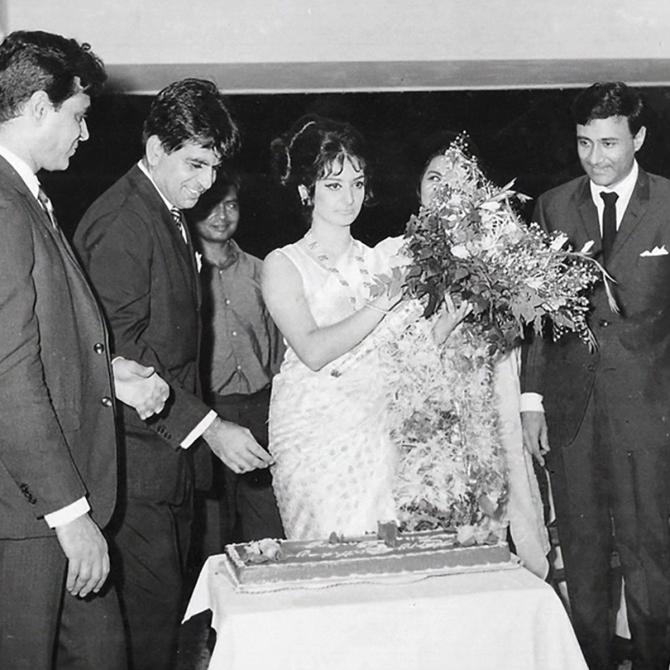 Saira Banu turned nostalgic on her 79th birthday on August 23.
She shared pictures of throwback birthday celebrations with her husband Dilip Kumar along with Rajendra Kumar and Dev Anand, and wrote just why the special day held so much meaning for her.
'As far as I can remember, birthdays have been so "Special" for me --- my mother Pari Chehra Naseem Banuji went to the ends of the world to always give me the best fun time with my friends whether here in Mumbai or in London School --- not to forget once a towering layered cake that would have put the "Qutub Minar" to shame!' she writes.
'We were a very close knit small family that lived doting on each other --- my grandma, my grand-aunt, my mother and my darling brother Sultan.
'Then Hey Presto! What good luck! No sooner than I finished my London School and came back home to Bombay I had the sheer luck of getting to do "JUNGLEE" the super hit Eastman Colour Film that became the rage of the time. Until now Black and White films were the order of the day and held the roost.
'Soon life became a blast of light and joy and occasions such as birthdays blossomed into a flood of appreciation, flowers, messages from friends and fans making the whole house into a "Garden of Eden".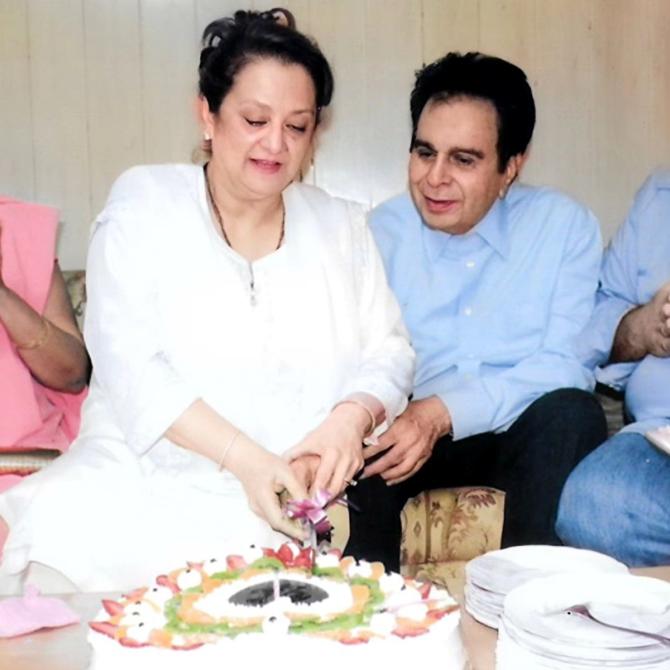 'On 23rd August, 1966 such a quality evening, the House Warming of our new residence at 34-B Pali Hill was on, the house was made intentionally and absolutely Dilip Sahib's 'Dar Kay Saamney' (Ghar Kay Saamney). He was shooting in Madras and on my mother's invitation flew into town to attend my birthday.
'Life became besieged with good luck, one miracle after another and can you imagine that the "Emperor Of Acting" for whom the world was his stage. Mr. Dilip Kumar who knew me since I was a little girl and consequently refused to work with me but soon after meeting me at this House Warming Party, exclaimed, "You have grown up into a beautiful girl!".
'The next couple of days he travelled on whirlwind flights from Madras to Bombay every other night and had dinner with me. On one of these magical evenings he popped the question "Will you marry Me?"
'Here came the realization of a dream that I had nurtured ever since I was in my teens. We were happily married and I started my life from an admiring fan to a devoted wife. I got to see the different aspects and qualities of this great human being. He was unlike any person that I had ever met ---- a man who oozed a royal halo of understated elegance.'