'We are all here to hustle.'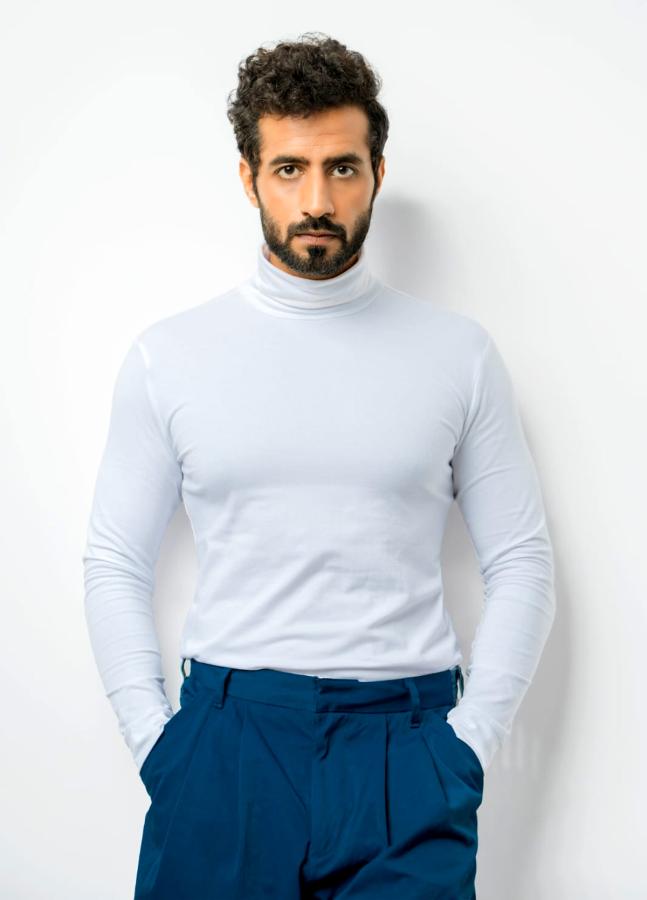 The road is seldom easy for outsiders to break into the Hindi film industry. But when they do, their success is glorious.
One such story is scripted by Bhuvan Arora, who is enjoying the limelight after his breakthrough performance in Raj Nidimoru and Krishna DK's latest Web series, Farzi.
Bhuvan plays the whip-smart Firoz and simply steals the frame from everyone else in the show, which has a stellar ensemble cast of Shahid Kapoor, Vijay Sethupathi, Kay Kay Menon, Zakir Hussain and Amol Palekar.
After making his debut in 2013 with Yash Raj Films' Shuddh Desi Romance, Bhuvan played supporting roles in films like Tevar (2015), Naam Shabana (2017), Bank Chor (2017), Chaman Bahaar (2020), Haathi Mere Saathi (2021) and the Web series The Test Case (2018).
When Farzi came to him, Bhuvan thought it would be yet another run-of-the-mill character of a hero's friend, but he was convinced of its potential after reading the script. The show's success finally gave Bhuvan his footing as an actor after a decade-long journey in Bollywood.
The 36-year-old actor, a Film and Television Institute of India alumnus, feels his hard work has finally paid off.
"I haven't seen this much love and adulation coming my way. But deep down, this is something actors always desire, no matter how much they deny it," Bhuvan tells Mayur Sanap/Rediff.com.
Has your life changed after Farzi?
I don't know if my life has changed but I have gotten a lot of love, which is a new addition to my life.
Otherwise, my life remains the same.
What does this moment of fame feel like?
It feels great. It felt a little uncomfortable, to be honest.
I haven't seen this much love and adulation coming my way.
But deep down, this is something actors always desire, no matter how much they deny it.
So I feel it was a great experience for me. I'm glad it's not dying down; it's increasing every day.
Yesterday, I was walking on the road and suddenly this car stopped, and a man asked, 'Firozbhai?' Then, he took a picture.
I have got love from people, but never like this.
It feels really great, yaar.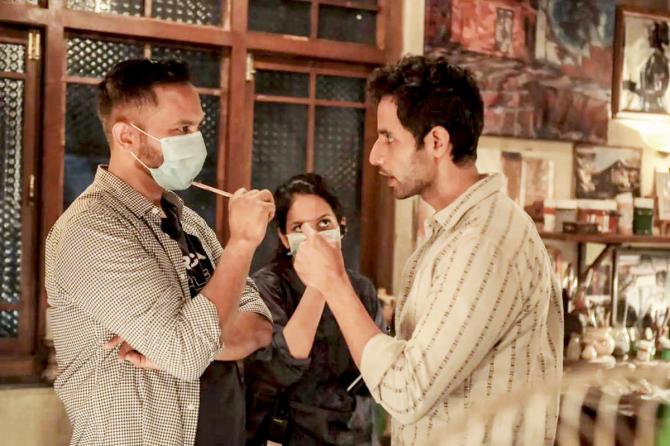 Did you anticipate the character of Firoz would become so successful?
No, definitely not when I was auditioning.
My focus at that time, or at any time in my life, was to find meaty and primary parts.
I was unsure about (the character of Firoz), but they assured me that it's a good part.
But the day I met Raj and DK for the first time after the auditioning process, they made it very clear that this is a parallel lead.
That was when I understood that it was a pretty chunky and promising part.
When I read it for the first time, I realised they were not saying it just to convince me. There was actually something.
A hero's friend usually gets typecast. Did this thought cross your mind before signing the show?
I have done a lot of videos and films where I played such a character, so it is nothing new for me.
I stopped taking these roles five years ago because I didn't enjoy them.
When Farzi was offered to me, I told them about this dilemma, but Mukesh (Chhabra, the casting director) said it's not just a hero's friend part.
See, it's basically a perspective. I understand that Shahidbhai has a bigger part. He has been around for much longer. There shouldn't be comparisons between him and me.
If you see the story from Sunny's perspective, you'll probably find Firoz different. But if you see the story from Firoz's perspective, which we do in a couple of scenes, Sunny is different.
The length of the role is actually equal between Shahid and me.
The tendency of the audience is that if they have seen one actor before, the other actor gets tagged as a friend. But I don't think this was the case here. It's a two-man job.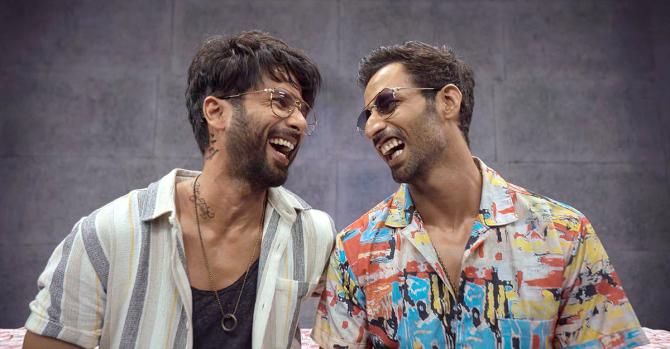 Sunny and Firoz share a perfect bromance. What was the process like to get that equation right?
Shahidbhai and I used to talk a lot. We were in the same hotel, but we didn't get a lot of time.
I told him I come from a schooling where I need to be sorted before going on sets and he said, 'Don't worry, we will go slow.'
I told him to think of me as Ishaan (Khatter, Shahid's half-brother), and he said, 'Yes, yaar, of course.'
It was so easy.
He gave me a lot of space. He is also very warm and welcoming, which helped me open up.
Kudos to Raj and DK for that.
They were very sure in terms of how much is going to look nice and what is going to translate on screen.
They've done their thing with The Family Man (2019), 99 (2009) and Shor in the City (2010).
Raj and DK understand bromance very well; they have their own bromance going on between them.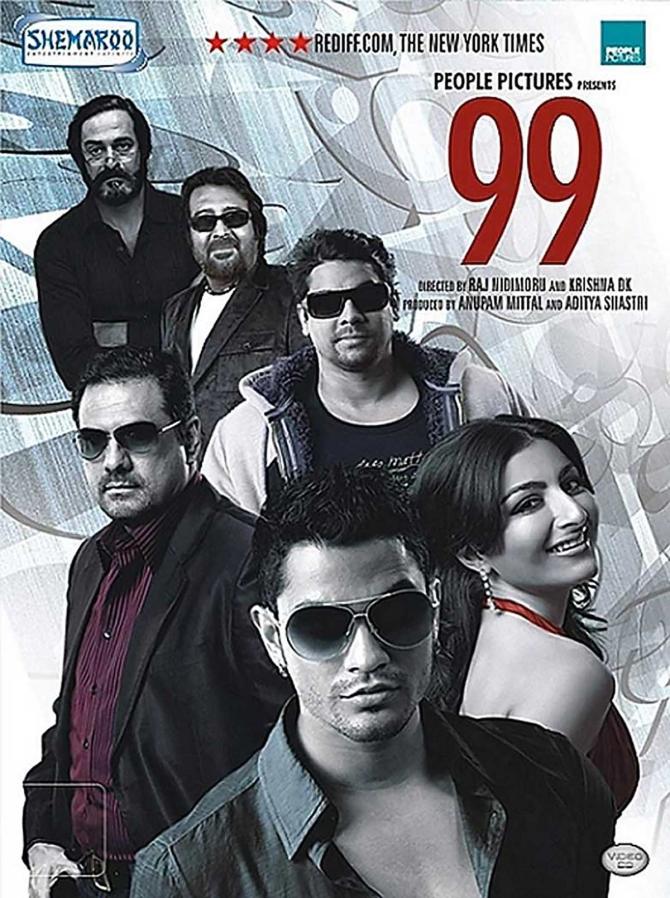 How did you prepare for the role? How much time did it take for you to perfect that Mumbaiya dialect?
I am from Delhi, and it did take me time. But I've been at it for years.
I don't think an actor should be preparing just for a particular role. Everything that happens in daily life is fodder for an actor.
When I go out, and see somebody who's doing something interesting or working in a certain way, I try to mimic it.
I make a conscious effort to learn it, so that I can use it later when it's required. It is like a bank, where you keep storing stuff.
With the Mumbaiya accent also, I was storing it for years.
I've been in Bombay for about nine years now, but there's a lot of difference between listening to words and actually saying them.
For example, this b*****d word that I say in the show was picked up from someone I heard almost five-six years ago. It sounded very interesting. I thought whenever Firoz is going to use this cuss word, it's going to be exactly like the way that guy said it.
So I practiced and practiced.
Also, it was a conscious choice between Shahidbhai, Raj and DK sir and me that we're not going to go to the typical, clichéd Mumbaiya zone. A lot of films have been made in that zone, right? You have heard dialogues like: 'Apun aisa karega re baba.'
We didn't want to stick to that because that's not how people in Bombay talk. I think only five per cent of the population in Bombay probably talk like that, the rest talk normally.
I tried to imbibe the neutral Bombay accent.
Then, of course, we had to learn how to print the notes.
I also put on five-six kilos.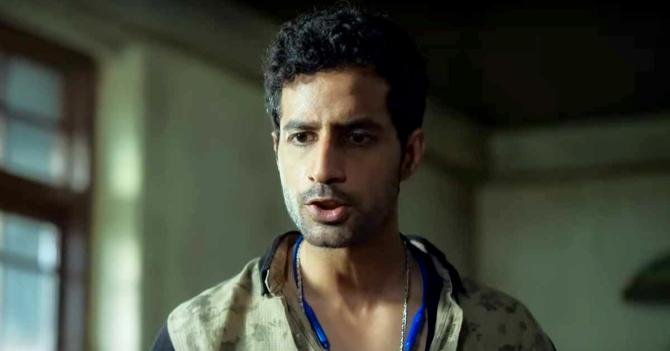 Which is your favourite line or moment from the show?
My favourite moment has to be the chai scene (when Firoz and Anees go for a business deal meeting together
Raj sir came up with this idea and asked me, 'Should we try this, Bhuvan?'
I said, 'Sure, why not?'
We did it in one take and it worked.
The ship negotiation scene is another favourite of mine. I used a lot of Delhi language in that. I literally translated those lines in English.
The scene when Jamaal takes us to the safe house to kill us was emotionally draining.
It was a difficult scene to shoot because it was raining constantly and we were shooting in a godown, so many technical issues were happening.
It's my favourite because eventually, the scene came out well despite the problems we faced.
How hard is the wait for that one big opportunity to arrive? Tell us about your pre-Farzi days.
I've never really seen it as an opportunity; I have always been honest to my job.
As an actor, we put 100 per cent into all our projects because there's no other way.
We are all here to hustle.
We are all here to prove ourselves.
I've gotten a lot of love for my previous films also. When Chaman Bahaar (2020) came, it worked really well with the audiences. It came out during the COVID era and a lot of people saw it.
But Farzi is on another level altogether.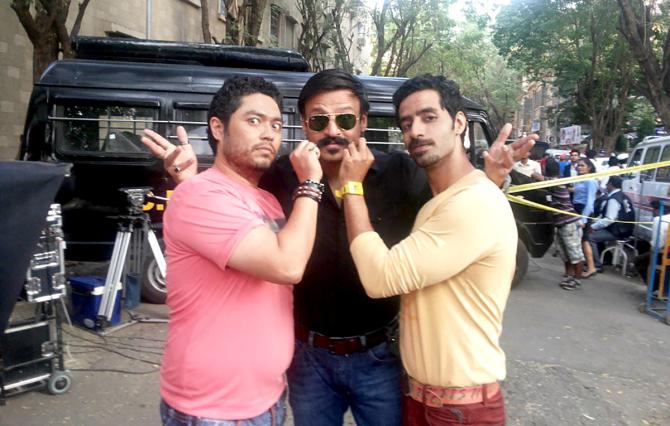 How do your friends and family react to your newly-found fame?
My friends are mostly pulling my leg (laughs). I have a lot of actor friends.
They keep pestering me, messaging me, teasing me by saying: 'Kaisa lagta hai bhai star banke? Thoda hamen bhi bata de.' (How does it feel to be a star, mate? Let us also know.)
I feel they're happy.
A dear friend of mine, Sayani (Gupta, actor) put a long post for me on Instagram saying, 'If one of us wins, all of us win.'
Another friend Gyanendra Tripathi threw a party for me. They decorated the house with a big Farzi banner.
I feel the people that I have collected along my journey are really happy with my achievements.
My mom is really happy.
What's next for Bhuvan Arora?
A lot of things.
I'm currently reading scripts.
There's a film with Vicky Kaushal that I have shot. There are two more films that I have finished.
There is a Web show that I am doing for ZEE5.
I am signing a lot of new stuff. If you call in a week, I can give you solid names.