'It is difficult to speak about Sushant in the past tense.'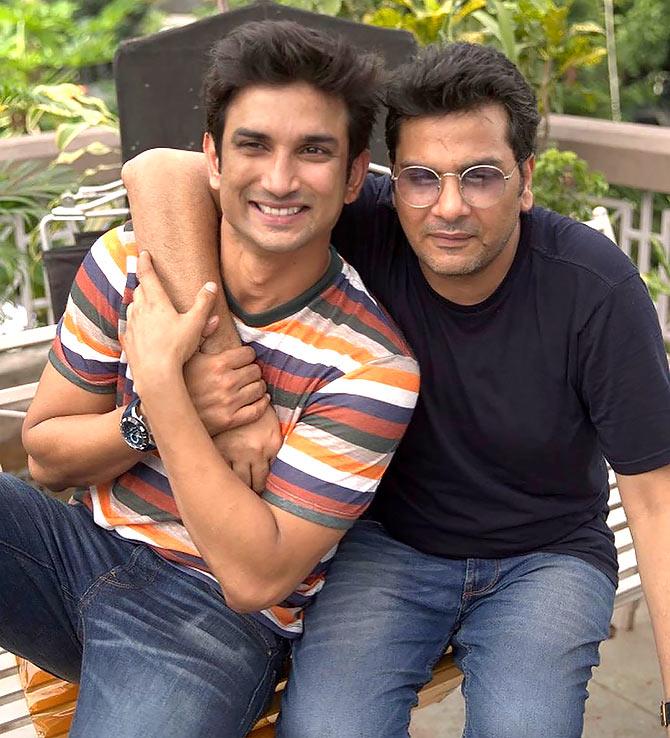 Mukesh Chhabra is feeling the pressure.
He directed Sushant Singh Rajput's last film Dil Bechara, which begins streaming on Disney + Hotstar on Friday, July 24, and he can feel everyone's eyes on him.
"The country is looking at this film very differently, so I feel responsible. I want to make Sushant proud. I want everyone to feel proud of Sushant's last film," Mukesh tells Patcy N/Rediff.com.
Was Sushant Singh Rajput always a part of Dil Bechara?
Sushant had promised me in 2017 that whenever I would make a film, he would be in it.
In 2018, when the script came to me, I called him.
He said, let's do it.
I asked him to read the script, but he said, I trust you.
He said yes without even reading the script.
When did you first meet Sushant?
I don't follow television much because my work is very hectic. So I had not watched Sushant in Pavitra Rishta.
Shobha Films had fixed a meeting with Sushant. At the time, I was casting for a film, but it did not happen.
After seven-eight months, I met Sushant again.
I felt he was very charming.
I told him I was casting for a film called Kai Po Che!, so was he interested?
He came for the audition the next day, and I loved it.
Then Rajkummar Rao and Amit Sadh gave their auditions.
After they were selected, they gave their auditions together.
I was blown over with the way they were behaving together.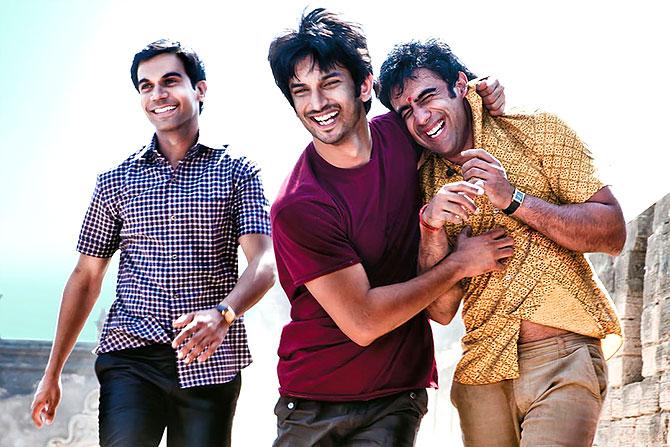 While working with Sushant in Dil Bechara, did you ever see him unhappy?
Never. He never spoke about depression.
What memories has he left behind?
There are so many memories!
He was there at all my birthdays.
He used to come home to meet my mother.
We went to Goa together.
We spent so much time together, from Kai Po Che! to Dil Bechara.
We had a lot of fun on the sets.
He was a huge fan of Shah Rukh Khan.
In between shots, he would dance to Shah Rukh's songs.
Dil Bechara is finally releasing but Sushant is not there to enjoy it. What are the thoughts in your mind?
It is a bittersweet feeling.
We would dream that we would watch my first film together.
I don't know whether I should be happy with the response because it's all due to love for Sushant.
The country is looking at this film very differently, so I feel responsible.
I want to make Sushant proud.
I want everyone to feel proud of Sushant's last film.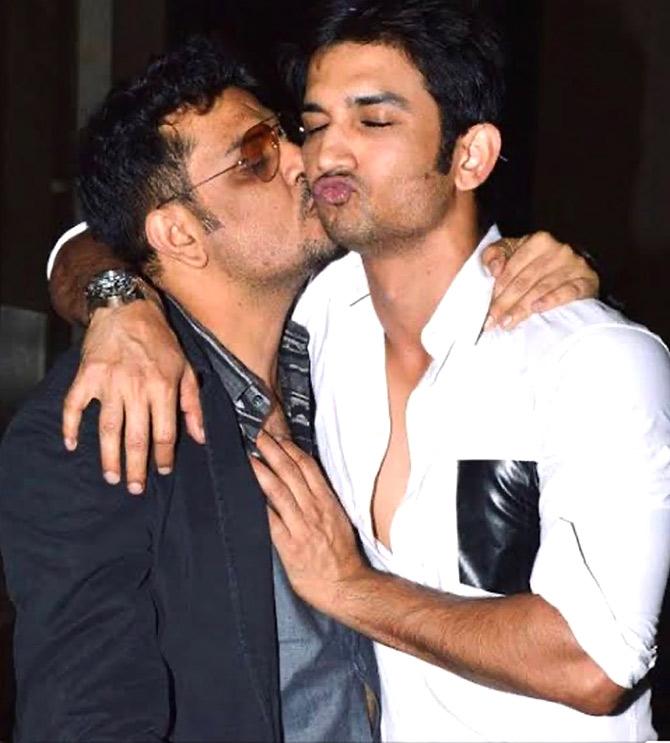 You were very close to Sushant.
I still can't believe he is gone.
Since I am promoting Sushant's film, I am paranoid that nothing should go wrong.
It is difficult to speak about Sushant in the past tense.
It's still not set on my tongue, in my heart or in my brain.
I am so used to saying 'Sushant bahut ache actor hai.' Now, I have to say 'Sushant bahut acha actor tha.'
Did he ever talk about how difficult he was finding it to survive in this industry?
Not at all.
Dil Bechara is a remake of The Fault In Our Stars. What made you want to remake it?
To be honest, I hardly watch Hollywood films, so I hadn't seen that film.
After I read the script, I came to known about that film.
I watched its trailer and thought its heart was the right place, so I should make this story.
Not everybody has seen The Fault In Our Stars in our country.
When Fox Star Studio approached me 2018, I was emotionally moved by the script, so I couldn't say no.
Yes, it's quite a tragic film.
The scenes were very emotional, so to unwind after the shoot, we would play games like cricket, we would drive around Jamshedpur, eat food...
We were all emotionally invested in the film, so we needed to get out that zone.
Actors are vulnerable, so it is necessary that they come out of such scenes.
How did Sanjana Sanghi came on board?
I always believe in new talent.
When I was thinking of an actress, I thought I should use a new face.
Sanjana had done Rockstar when she was 13 years old. Then she did a few ads and enjoyed acting.
I wanted an innocent face, so when I saw Sanjana again, she was in the third year of college.
Her face was absolutely right. That's why I went with her.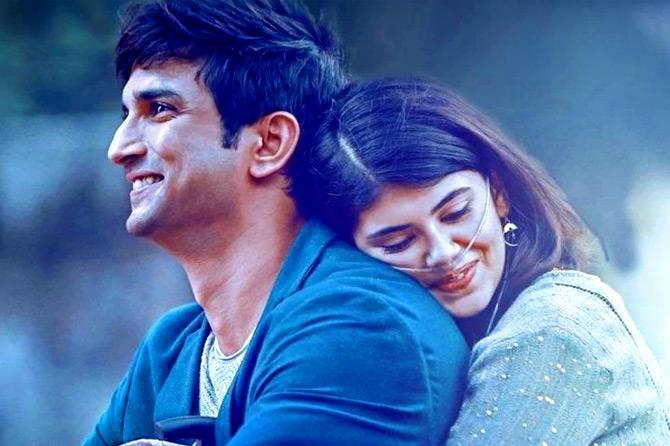 Why did the film take two years to make?
We started shooting on July 9, 2018 and we're releasing it on July 24.
It takes time to adapt a film and write it.
I think an appropriate amount of time was used to make this film.
The Dil Bechara trailer has got amazing eyeballs. How hopeful are you about the film?
I am not thinking about anything right now.
The trailer is breaking records, and it's all because of Sushant.
I am waiting to see how people will react to the film on July 24. My focus is on that.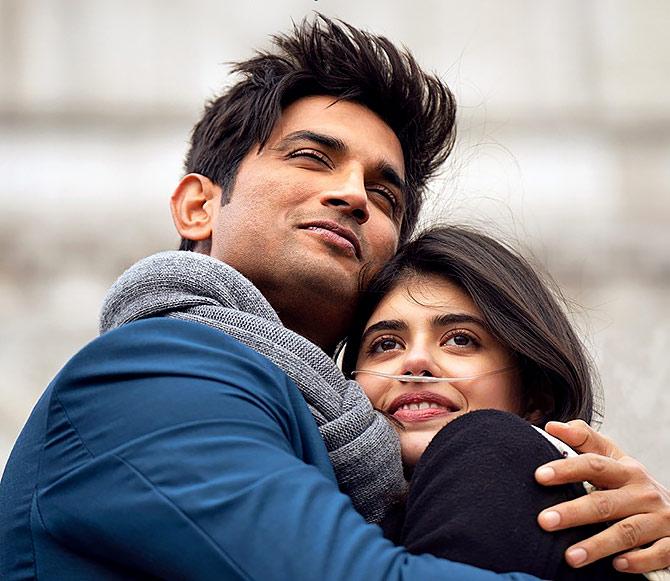 Are you upset that the film is releasing on a digital platform, not in theatres?
The condition of this country and the world is very different now, so it's a practical move.
No one knows when the theatres will open.
What is the point in waiting?
Also, once the theatres open, we don't know how many people will come to theatres.
I am getting a good response on the digital platform.
Tell us about your journey from casting agent to film director.
There is a company in NSD called TIE (Theatre In Education Company). If you want to work there, the minimum qualification is a diploma in acting.
So I did an acting course to get a job there.
While doing the course, I enjoyed it.
But I was not interested in acting.
When I came to Mumbai, I started assisting directors and my main job was to handle the casting department.
Once in a while, directors would ask me to small roles, like I did for Anurag Kashyap in Gangs of Wasseypur 2.
While casting actors, I enjoyed directing them in the auditions. That's why I thought of direction.
I did not plan my life.
I just came to Mumbai thinking, 'Let's see what happens.' And things fell in place.
Will you continue casting?
Whatever I am today is because of casting. I will never leave it.
Which actor are you most proud of discovering?
There are so many of them.
For me, every casting is important, whether it is a child (Harshaali Malhotra) in Bajrangi Bhaijaan or the children in Chillar Party, Dangal and Super 30.
Or Kai Po Che!'s Sushant and Rajkummar...
Or the actors in Wasseypur...
Or Laila Majnu...
Every actor is important.
Every film is important.
I love finding talent.
Now you will see '83 has so many new talents.