Seventy six-year old Singeetam Srinivasa Rao is a legendary filmmaker from the south having made films in Telugu, Tamil, Kannada and Hindi. He started his career fifty years ago as an assistant director to K V Reddy in the classic Maya Bazar.
He won a National Award for his second film, Dikkatta Parvathi, based on Chakravarthi Rajagopalachari's (Rajaji) famous novel. After making many socially relevant films, Srinivasa Rao switched to humorous films.
One of the most memorable films made by him is Pushpak, a film without dialogues. Other films include Apoorva Sahodarargal, Michael Madana Kama Rajan and also an English film Little John for Pentamedia.
His latest animation Ghatotkach-Master of Magic will be screened at the Cannes Film festival on May 17 in the Palais C section.
Shobha Warrier chatted with the talented filmmaker to know more. Excerpts: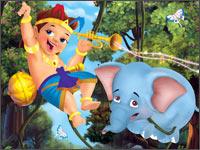 Why did you decide to make an animation film now?
This is not my first animation film. I had made The son of Aladdin for Pentamedia. Animation films are raw and exciting to explore. You know I am futuristic.
How did Ghatotkach happen?
Vinod Surya of Sun Animatics wanted to make an animated film on Maya Bazar, a Telugu film (produced by B Nagi Reddy and Chakrapani, and directed by K V Reddy with NTR as Krishna, ANR as Abhimanyu and S V Ranga Rao as Ghatotkacha and Savithri as Sasirekha) which was later made in 11 languages. That was 50 years ago. I started my career as an assistant director with that film.
Now after a full circle of 50 years, when Vinod asked me to do this film, I was really excited. That was because what he wanted was an animation film. I immediately accepted the offer. (Ghatotkach is co-produced by Shemaroo)
The most important character and the main attraction in Maya Bazar was Ghatotkach, the son of Bhima.
I felt some of the characteristics of Ghatotkach -- he is full of fun, magic and he likes to eat -- will be liked by kids. So, I wanted to write a screenplay starting with Ghatotkach as a baby, and then developing the storyline with him going through adventures of a 5-year old to that of a 12-year old. He is a jungle boy and brought up in a jungle. This will occupy 50 minutes of the 100 minute film. The rest of the 50 minutes will be on Maya Bazar where Ghatotkach is all grown up though his adventures continue. So, the entire film has lots of fun and magic.
How different is it writing a screenplay for an animation film and a regular feature film?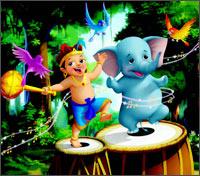 There is more creativity in writing a screenplay for an animated film because sky is the limit and opportunities are great. You can achieve as much as your producer and art director can put in. In an animation film, I can have a pillar of 600 feet which the hero can jump from. I can create any type of expression on his face. Anything is possible in an animation film which is impossible in a live action film.
You are a 76-year old man. Do you find it more exciting to make an animation film?
Absolutely. There are so many challenges in making an animation film. There is more creativity involved. I am 76 yet I feel I have suddenly become a kid! When you see the film, you will not believe that a 76-year old has made it.
Why did you decide to be the music composer of Ghatotkach?
Such a fun loving film should have fun music too. There aren't any Indian films without songs and music. Animation is no different. In fact, it has more. I was in search of a good music director with a kid's mind. I searched and searched and finally I found that I am the best person with a kid's mind! (laughs) So, I proposed to the producer and he wholeheartedly supported it. I have composed eight foot-tapping songs.
We have songs in seven languages as the film will be seen in Hindi, English, Tamil, Telugu, Kannada, Malayalam and Bengali. Dalker Mehndi, Shaan, Shriya Ghosal, Suniti Chauhan, SPB, Chitra and Srinivas to mention a few have sung the songs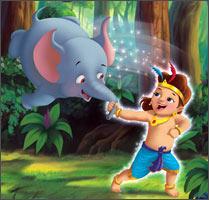 Where did you do the animation?
A major portion was done in Philippines and some in the UK, Canada and Singapore. We also worked in Chennai and Hyderabad.
Do you feel animation industry in India still lags behind?
It does. We are five years behind as far as technical expertise is concerned. We have not yet mastered the correct expression, body language etc. We have lots of talent here.
On the other hand, we have rich content. India is the best place for this. I have read the folktales of the entire world but what we have is unique. Within five years, we will get technical expertise too. After that, we will be world masters in animation.
Ghatotkach is going to be shown at the Cannes film festival. Are you going to be there?
I am happy that Ghatotkach will be screened at the prestigious Cannes film festival on the 17th. I have not yet decided about the trip.