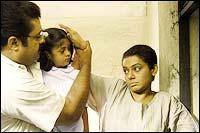 One of the most famous films in which National Award winners Shobhana and Suresh Gopi acted together was Fazil's Manichitrathazhu. Now, the two actors come together again in another National Award winner, Jayaraj's, film.
Incidentally, Gopi won his National Award for his performance in Jayaraj's Kaliyattam.
Makalkku (To my daughter) is based on a real story. T Rajan Poduval, a photographer working for the Malayalam daily Mathrubhumi in Kerala, had clicked a woman clutching a bundle on the verandah of a Trivandrum mental hospital. Two tiny legs dangled from the bundle. That was in 1990.
Fourteen years later, Poduval met the grown up girl, the mother and the doctor,
Dr Warrier
, who helped the girl through her growing up years and the mother in resuming a normal life.
Suresh Gopi plays Dr Warrier and Shobhana the mentally challenged woman.
In the entire film, Shobhana utters only one word, 'killeri,' so everybody calls her killeri. Perhaps Shobhana is on her way to bag her third National Award!
Chicago-based director at IIFI, Goa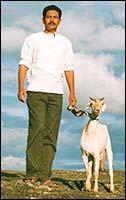 Chicago-based software engineer Anup Kurien's passion for films took him to the Pune Film Institute from where he passed out as the topper in 1998.
He floated a film company called Visual Possibilities along with Satish Menon and brother Arun Kurien. The company's first venture was Menon's Malayalam film Bhavam, which won several awards.
The second film is Mansarover, an English film, by Anup Kurien. Interestingly, most of the technical crew of Mansarover -- like the cinematographer, sound designer, editor and art director -- are newcomers.
The film stars National Award winning actor Atul Kulkarni and Neha Dubey (Monsoon Wedding).
Mansarover has won a couple of awards though it has not had a formal release in India yet. The movie has been selected for the Indian Panorama at the International Film Festival which starts in Goa on November 29.
Now, a Malayalam film on lesbianism
Ligy C Pullappally
, like Anup Kurien and Satish Menon, is also a Chicago-based filmmaker. While Anup chose to make an English film, Ligy made a Malayalam film -- 
Sancharam
(
Journey
). The film is about two friends from a small town in Kerala whose relationship goes beyond just friendship. Unlike some Hindi films, Ligy Pullappally treats the issue of lesbianism sensitively.
The film was selected for the best local film award at the Annual Chicago Award from four feature films and eight short films as a part of the 40th Anniversary of The Chicago International Film Festival.
Madhu Ambat debuts as director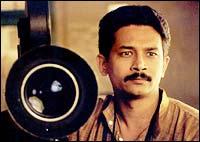 Noted cinematographer Madhu Ambat, who manned the camera for filmmakers like Manoj Night Shyamalan (Praying With Anger, 1992) has turned director.
1:1.6, An Ode To Lost Love is an aesthetically shot English film. Usually, when cinematographers turn directors, they pass on the job of cinematography to others (For example, Rajiv Menon made Ravi K Chandran shoot Kandu Kondein). But Madhu Ambat chose to shoot his first film himself. He also wrote the story and screenplay.
The film stars Atul Kulkarni as a cinematographer. It also stars Sonali Kulkarni, Gulshan Grover, Rati Agnihotri and Masumi.
Karunanidhi makes his 75th film
DMK President M Karunanidhi might be in a private hospital with a stomach complaint, but the work of his 75th film, Mannin Maindhan, is progressing well.
Satyaraj will play the lead role in Karunindhi's film, and the writer has admitted that he had Satyaraj in mind when he wrote the story and dialogues. Satyaraj's son Sibiraj will also play an important role in the film.
Bharath: Hot property!
Shankar's film Boys threw up a surprise. It was not the much hyped hero Siddharth who became the most sought-after actor but Bharath, whose dancing skills might make Prabhu Deva look pale in comparison!
Bharath starred in Jayaraj's Malayalam blockbuster 4 The People, opposite Gopika. The song Lajjavathiye by Jassie Gift was a hit in Kerala; as was Bharath's amazing dancing. The Tamil version of the film 4 The Students did not fare as well as the original, but it was also a success. Now, Jayaraj will be remaking the film in Telugu, as Yuvasena.
Bharath's performance as an obsessed teenage lover in the surprise hit Chellamey has also been much appreciated. Incidentally, in spite of a great career phase, the 20 year old was caught cheating in a university exam!