Home > Movies > Bollywood News

Christina Aguilera to come to India!

November 29, 2004 13:25 IST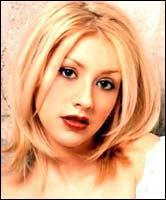 US pop sensation Christina Aguilera will be visiting India in the first week of December.
The Grammy and MTV Video Music award-winning artist will visit the Sahara Amby Valley Lake City for three days to explore 'mysticism and spirituality.'
"This is Christina's first visit to India on the invitation of our group and I am sure that she will enjoy her stay thoroughly and discover the cultural diversity of India," said Sahara's Head of Corporate Communication Abhijit Sarkar.
© Copyright 2006 PTI. All rights reserved. Republication or redistribution of PTI content, including by framing or similar means, is expressly prohibited without the prior written consent.



What do you think about the story?








Read what others have to say:





Number of User Comments: 2








Sub: Detail it rediff!!

At least mention the cities that she'll be visiting..why do u post reports in sucha haste?!?


Posted by Haris









Sub: Welcome to INDIA

Its great to hear about her coming to india, moreover I'm great fan of her WelCome to INDIa Miss Christina Aguilera!! Prabu D M TECH ...


Posted by Prabu D






Disclaimer