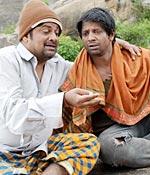 Shruti Indira Lakshminarayana reviews the Kannada film, Veera Bahu.
S Mahender returns to direction after a three-year break with this week's major release,
Veera Bahu.
Like late actor Rajkumar's film
Satyaharishchandra
film, the hero of Veera Bahu is a grave digger whose name is Veera Bahu.
Veera Bahu (Vijay) is an orphan who is brought up by a grave digger, Amavase (Rangayana Raghu). Veeru grows up to become a simple and happy-go-lucky man. His fondness for Devi (Nidhi Subbaiah), his childhood pal turns into love. While Veeru is as affectionate as before, Devi can't look at him as anything other than her childhood companion. The union between a grave digger and the daughter of a temple priest is something that she cannot envisage anyway. But ultimately will she or won't she?
Veera Bahu
preaches how love should go beyond caste and class barriers. Even though the film is packed with sentiments, there are a number of comic sequences that provide some relief from the heavy subject matter. In fact, comedy is the saving grace of the film.
Rangayana Raghu and Raju Thalikote are in their element here. Dialogues by M S Ramesh also tug at your heart strings. But there are a few dull moments in this department too. A song featuring a bunch of kids is lively. None of the other songs by V Harikrishna, however leave an impact.  
Veera Bahu
sees Vijay shedding tears more often than bashing up the baddies. His 'innocent' act borders on over-acting in some parts though the scene where he withers in shame after he and Raghu are trashed by villagers is an exception. All the same he is still the best when it comes to action sequences. After seeing Nidhi play a meaty role in
Pancharangi,
it's sad to see her reduced to song and dance rountines
.
The melodramatic and stretched climax also works against the film.
Veera Bahu
could have been an out of the box flick given the coming together of powerhouses like Mahender and Vijay. Sadly, though it disappoints.
Rediff Rating: