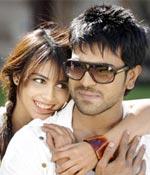 Radhika Rajamani reviews the Telugu film, Orange. Post YOUR reviews here!

Orange is yet another contemporary urban love story -- a so-called 'sweet-sour' take on love. It is a youthful tale, which reflects the state of the youth and their predicament, to some extent.

Director Bhaskar has tried to depict a new kind of love by exploring the attitude of the youth towards love through the lead protagonists Ram (Ram Charan Tej) and Jaanu (Genelia). 

Although he has attempted to capture the pulse of the youth, he falls short. He seemed confused in his writing about what he wants to say. Due to this, the story drags particularly towards the end. Bhaskar seems to have lost his magical touch and the end result is disappointing.

Ram sees Jaanu and is smitten by her but doesn't believe that love will last forever -- more to the point that he could love a girl forever. Jaanu thinks the opposite. Ram nevertheless woos Jaanu in unusual ways -- takes her on a wildlife safari, and skydiving from giddy heights. Since he's a graffiti artist, he has even painted Jaanu's face on a huge wall!

Ram is an honest guy who believes in telling the truth even though he has had nine girl friends before. There's one flashback with Rooba (Shahzahn Padamsee, who makes her debut in Telugu) when he was a student. He had fallen in love with her but couldn't sacrifice his friends for her. So in the case of Jaanu too, the point of tussle is love...

To prove points of compatibility/incompatibility, other examples are shown like those of Ram's sister and husband (Manjula and Swaroop), Jaanu's parents (father played by Prabhu), Ram's neighbour (Nagababu-Charan's uncle) and so on. There are other friends of Ram and Jaanu's to also prove the point that it's fair to lie in love -- one thing which Ram doesn't believe in.

Pushkar (Srinivas Avasarala) who says he's in love with Jaanu since the age of 12, is the only character who sticks out and somehow doesn't gel much with the narrative.
The first part of the film is breezy and engrossing. Brahmanandam regales the audience as Pappi, and the laughs are triggered by some rip-roaring lines built in the narrative. It's towards the last 40 odd minutes that the film slackens despite the refreshing presence of Shahzahn in the flashback.
It becomes a bit monotonous to hear the lines on love over and over again. The confusion over the 'love' issue slows down the proceedings. Perhaps here the editor, Marthand Venkatesh could have used his discretion a bit more. The meandering over the love issue reminds one of Arya 2. The arguments seem trivial and non-justifiable.
Ram Charan is convincing as Ram. He plays the role with style, dances with elan and does the deadly skydiving stunt with confidence. He has put in his best no doubt. Genelia lights up the screen with her enormous joie de vivre. She carries off yet another bubbly-cum-serious role with elegance and ease. Charan and Genelia make a good pair on screen. Shahzahn is a new face, and therefore, brings a certain freshness to the screen. Her role is limited, though. Others like Brahmanandam, Prabhu, Manjula, Swaroop, Vennela Kishore do what is expected of them. 
Kiran Rajasekhar's camera work is pleasant and has captured most of the well known spots of Sydney and Mumbai well.
Harris Jayaraj's music sounds go very well with the visuals. Art direction by Anand Sai is fine.
All in all, Bhaskar delivered a brilliant Bommarillu a few years ago. Pity, Orange is no patch on Bommarillu or even his second film Parugu.
Rediff Rating: